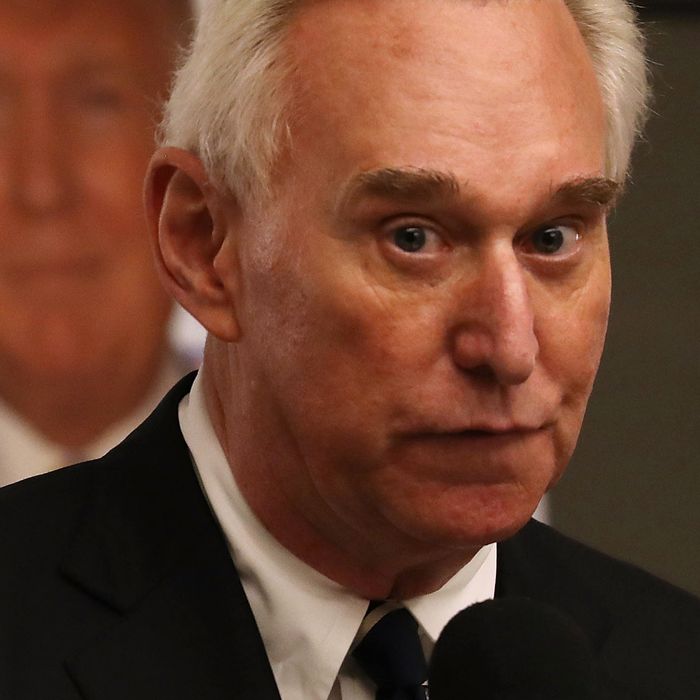 A Twitter tirade too far.
Photo: Joe Raedle/Getty Images
Longtime Trump adviser and self-proclaimed political "agent provocateur" Roger Stone has been permanently banned from Twitter after he used the social-media platform to attack and threaten CNN journalists on Friday night, according to The Hollywood Reporter and other news outlets. Stone's account currently shows a message that it has been suspended, and when reached on Saturday, Stone initially told Daily Intelligencer that the suspension was only temporary. "While I am uncertain why, sometimes the stark truth offends some people," Stone said, adding that, "I'll be baaaaaak." But according to a Twitter source "with direct knowledge of the situation" who talked with THR, the ban is permanent.
The "stark truth" Stone claims to have been suspended for was, in fact, a series of vulgar, homophobic attacks on CNN staffers on Friday. Stone went on a tirade after CNN anchor Don Lemon tweeted out the network's then-exclusive report that special counsel Robert Mueller had, for the first time, filed criminal charges against someone as part of his investigation into Russia's meddling in the 2016 presidential election. It is not yet known what those charges are, or who the indicted individual is, and that information will not be made public until Monday at the earliest. Stone is believed to be one of the people under investigation for possible links to Russia's attempts to influence the election — links he has repeatedly denied.
Stone responded to Lemon's tweet about the indictment by calling him, among other things, a "dull witted arrogant partyboi" and an "ignorant covksucker [sic]" who "must be confronted, humiliated, mocked, and punished." (Earlier in the week, Lemon filed a police report after receiving death threats from a Trump-supporting white supremacist on Twitter.)
Though Stone's tweets are now deleted from the network, some took screenshots of the tirade before his account was taken down:
Lemon and Charles Blow weren't Stone's only targets at CNN on Friday. Deadline captured additional attacks on Jake Tapper, Ana Navarro, Bill Kristol, and famed Watergate reporter Carl Bernstein. (Stone once advised Richard Nixon, as well.)
Furthermore, as Politico's Blake Hounshell pointed out on Saturday, Stone's Friday meltdown was not the first time he had violated Twitter's terms of service, which seems to be why Stone was finally banned for good. As it has done before, Twitter told inquiring news organizations on Saturday that it doesn't comment on individual users' accounts, and instead highlighted its policy on abuse:
We believe in freedom of expression and in speaking truth to power, but that means little as an underlying philosophy if voices are silenced because people are afraid to speak up. In order to ensure that people feel safe expressing diverse opinions and beliefs, we do not tolerate behavior that crosses the line into abuse, including behavior that harasses, intimidates, or uses fear to silence another user's voice.
Twitter has faced repeated criticism over how it does — or more often, does not — enforce its terms of service, though the company has been insisting recently that it would do better, with founder Jack Dorsey promising earlier this month that they would "take a more aggressive stance in our rules and how we enforce them." The company has also released new policies aimed at increasing user safety.
As for Stone, following his permanent ban, he has vowed to take Twitter to court. Reached via email by Politico, Stone said that he had spoken with "prominent telecommunication attorneys" and that "the battle against free speech has just begun."
Pointing out that he and his family have also been subject to threats on Twitter, without action by the company, Stone added that "this is a strange way to do business and part and parcel of the systematic effort by the tech left to censor and silence conservative voices."
Indeed, following the Stone ban, a torrent of criticism will likely be directed at the company from Trump allies, Trump supporters, and possibly even Trump himself. Along those lines, expect to hear a lot more about censorship, double standards, free speech, and Twitter harboring a liberal bias in the coming days and weeks, including from another Stone-linked account which remained online as of Saturday night: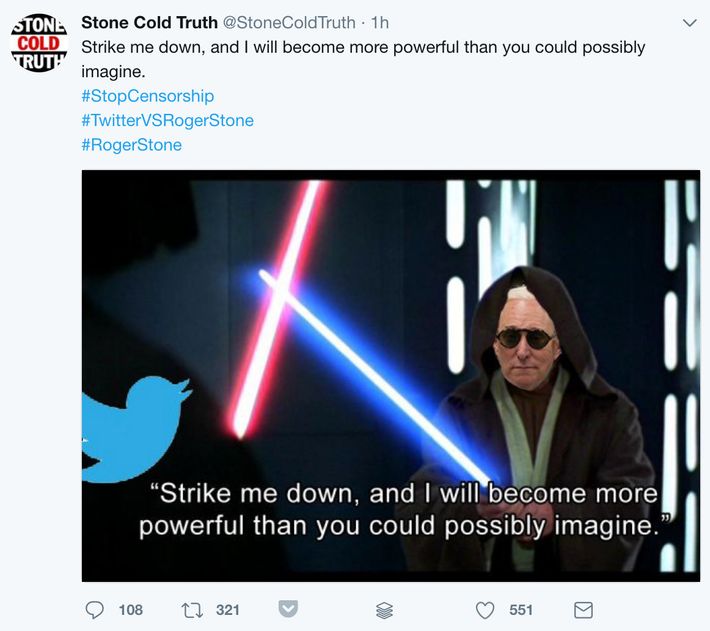 Then again, the Stone ban will also likely encourage, or enrage, critics on the left and center who continue to point out that President Trump is arguably the world's biggest violator of Twitter's abuse policy.
This post has been updated to include Stone's threat to sue Twitter.