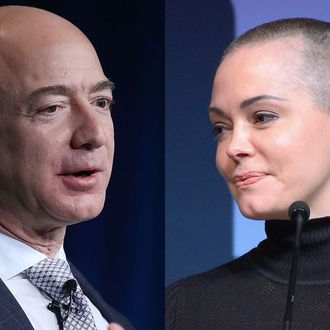 Jeff Bezos and Rose McGowan.
Photo: Mark Wilson/Getty Images/Andrew Toth/Getty Images for Sundance Film Festival
On Thursday, actress Rose McGowan broke what was widely presumed to have been a nondisclosure agreement and openly accused the disgraced movie producer Harvey Weinstein of rape. She did so, interestingly enough, in a thread of tweets directed at Amazon CEO Jeff Bezos. "I love Amazon," she tweeted at Bezos, "but there is rot in Hollywood." It sounded, appropriately enough, like a warning. There certainly is rot in Hollywood. But, as Bezos is likely already acutely aware, there's plenty of rot in Silicon Valley, too.
It's no secret that the tech industry has set its sights on the movie business. Over the last few years, Netflix and Hulu have spent billions of dollars to become major players in television and movie production; Apple, Google, and Facebook are all starting to throw money around as well. Amazon is among the most ambitious tech companies angling to become a Hollywood giant: Beyond its well-reviewed indie series and movies, it now has a mandate from Bezos to find its own Game of Thrones.
The question is whether Silicon Valley, fresh off of its latest attempt to flush out its own culture of sexism and discrimination, is prepared to subsume an even more toxic, discriminatory, and vicious industry: Hollywood.
Harassment and assault have been a below-the-surface problem for Silicon Valley for decades. It's only since this February, when ex-Uber engineer Susan Fowler published a scorched-earth blog post detailing her year at the company — which included being solicited by a manager and then being told by HR that he was a "high performer" and would not be punished — that they've started to publicly surface. And since they've reach the surface, Silicon Valley executives have struggled with how to handle them. Fowler's post prompted an internal probe at Uber that would ultimately lead to an indefinite leave of absence for CEO Travis Kalanick.
So far, no stories out of the tech industry have approached the tales emerging of Weinstein's horrifying, abusive predation. But that's a good reason for the tech industry to keep Hollywood at arm's length as it gets its own house in order. Silicon Valley's struggles to account for its own problems and cultural blind spots aren't going to be aided by becoming deeply entangled with an industry where an apparent predator like Weinstein was allegedly able to abuse women more or less as an open secret.
Or maybe it's too late. In her thread, McGowan says she told an Amazon studio executive that Weinstein raped her and that executive refused to believe her without "proof." When she found out her alleged rapist would be involved in a project McGowan sold to Amazon, she tried to get the script back from the company. Instead, Amazon reportedly killed the project.
Following McGowan's tweets to Bezos, the company put executive Roy Price on leave. Isa Hackett, a producer on The Man in the High Castle, says Price once told her that she'd "love his dick" while she was riding with him and another co-worker in a cab. She also says that he once shouted "anal sex" directly into her ear at a party. "Roy Price is on leave of absence effective immediately," Amazon said in a statement. "We are reviewing our options for the projects we have with The Weinstein Co." Price, notably, came to Amazon from the movie business. In the future, Bezos might want to heed Rose McGowan's warning.