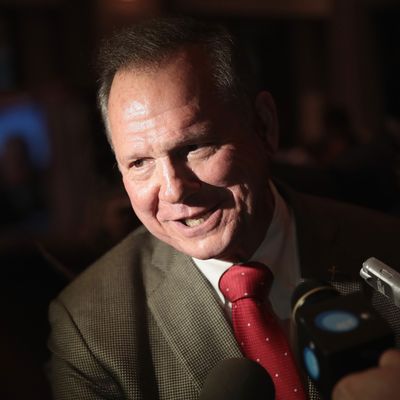 Moore is less.
Photo: Scott Olson/Getty Images
Roy Moore has been a household name in Alabama for decades. The good people of the Yellowhammer State elected the far-right theocrat chief justice of their Supreme Court — saw him removed from the bench for refusing to respect the rule of law — and then elected him chief justice again, ten years later. Moore's contempt for homosexuality, and his belief that (his interpretation of) God's law supersedes the U.S. Constitution, has earned him the devoted support of Alabama Evangelicals.
Luther Strange was appointed to the Senate by the scandal-plagued governor whom he was supposed to be investigating. This is the primary thing that Alabamians know him for.
Last month, 14 percent of the Alabama electorate went to the polls to vote in a run-off of a Republican Senate primary. The candidate with 100 percent name recognition — and a politically engaged base that he had built over decades in public life — beat the disgraced former governor's suspected crony by 10 points.
Incidentally, Steve Bannon stumped for the first candidate, while Donald Trump halfheartedly endorsed the latter.
Bannon would like you to believe that those last two facts were more important to the election's outcome than any others. Forget Moore's fame, Strange's infamy, and the exceptionally low turnout. What happened in Alabama last month was simple: Donald Trump's base announced that it is more loyal to Breitbart's anti-immigration agenda than to the president himself.
Few who dwell outside the far-right fever swamp would accept this interpretation of events. But that's no issue for Bannon: After all, the president of the United States spends a hefty chunk of his waking hours submerged in those fetid waters.
Weeks ago, Trump called on Congress to grant DACA recipients some form of protection from deportation. He then suggested that if Congress failed to give such protection to these law-abiding, gainfully employed undocumented immigrants — who were brought to the United States as children — he might go ahead and protect them, himself, through executive action. Shortly thereafter, the president reached a tentative agreement with Nancy Pelosi and Chuck Schumer over the outlines of a DACA deal — the president would provide legal status to Dreamers, if the Democrats ponied up more money for border security. At that time, Trump explicitly disavowed the idea of demanding more radical anti-immigration measures as a ransom for the Dreamers' security, saying, "The wall will come later."
Now, the president says that there will be no deal on Dreamers until Congress agrees to fund his border wall, end federal grants to "sanctuary cities," reduce legal immigration, and make it more difficult for foreigners to seek asylum in the United States, among other measures.
This is a wish list designed to alienate far more lawmakers than just "Chuck and Nancy." There are plenty of congressional Republicans who oppose the border wall and cuts to legal immigration. If Trump truly intends to stick by these demands, then he intends to subject 800,000 Dreamers to an indefinite threat of deportation.
Trump affirmed his new hard-line stance in a tweet Tuesday morning.
In early September, the president described amnesty for Dreamers as an end in itself. One month later, he's framing it as a painful concession that he won't make for anything less than a restrictionist revolution in our nation's immigration policies.
If you want an explanation of the president's change of heart, look to Breitbart's coverage of Roy Moore's victory. Or so this dispatch from the Washington Post would suggest:
In a matter of days, Trump has torched bridges all around him, nearly imploded an informal deal with Democrats to protect young undocumented immigrants brought to the country as children, and plunged himself into the culture wars on issues ranging from birth control to the national anthem.




In doing so, Trump is laboring to solidify his standing with his populist base and return to the comforts of his campaign — especially after the embarrassing defeat of Sen. Luther Strange in last month's Alabama GOP special election, despite the president's trip there to campaign with the senator.




… The Alabama Senate primary last month, in which a far-right challenger defeated a more establishment Republican whom the president had endorsed, served as a warning flare for Trump's team, highlighting the risk he could run if he alienates the core supporters who helped lift him to electoral victory.




The president has groused to numerous White House aides about his concerns over his popularity with "my people" — his base. He blames the Republican establishment and others for failing to enact his agenda and making him look feckless, and is unhappy with losing in Alabama, according to people briefed on White House deliberations.
A Morning Consult poll last month found that 69 percent of Republicans — and two-thirds of Trump voters — want Dreamers who meet DACA's requirements to be given either citizenship or legal status. Research from YouGov has demonstrated that Trump's core supporters follow his lead on policy matters — even when that means moving to the left.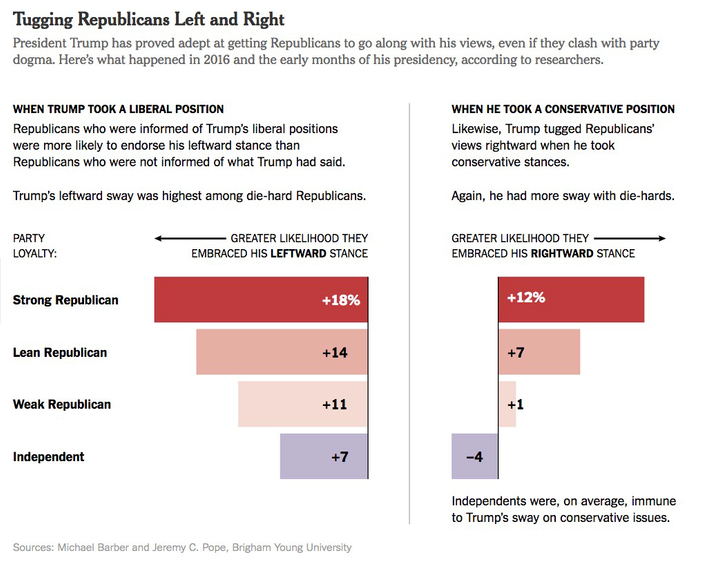 But Roy Moore beat Luther Strange in the low-turnout run-off in an off-year, Republican Senate primary in Alabama. And so, 800,000 people may have to lose the right to live in the country they were raised in.