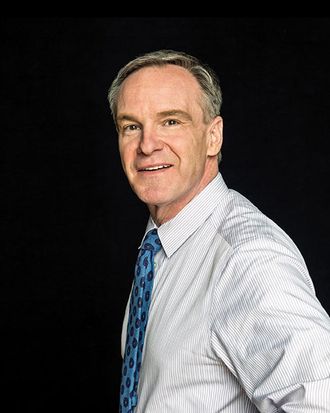 Marc Fliedner.
Photo: marcforda.com
Cy Vance's glide path to reelection as Manhattan district attorney has hit a speed bump.
Marc Fliedner, a civil-rights lawyer who lost a Democratic primary this fall to become Brooklyn district attorney, has announced a write-in campaign to challenge Vance.
"I'm not doing any fundraising, I don't have any staff, but it is accurate to say that I am a candidate via this grassroots write-in effort," Fliedner said in a phone interview this morning. "It's important we give voters an ethical choice in a landscape totally devoid of women's rights and equal justice."
Vance, first elected in 2009, is running for a third term in November without an opponent from any party on the ballot after winning the Democratic primary without opposition in September. In the last couple of weeks Vance has come under withering criticism, first from a ProPublica/WNYC investigation into a decision not to prosecute Donald Trump Jr. and Ivanka Trump for misleading prospective buyers about their Trump Soho property, and then after The New Yorker revealed that Vance declined to prosecute Harvey Weinstein for allegedly sexually assaulting 22-year-old model Ambra Battilana Gutierrez even though Gutierrez came forward with a recording of Weinstein discussing the assault.
In both cases, lawyers for the accused made sizable donations to Vance's campaign, with Trump personal lawyer Marc Kasowitz giving Vance a $32,000 check on the heels of a private meeting with the district attorney, and Weinstein lawyer David Boies donating $10,000 after Vance dropped the investigation into his client. (Boies is Weinstein's longtime lawyer, but was not representing him in the specific case before Vance.) Vance has since returned the Trump money, and denied that the fundraising had anything to do with the decision to not prosecute, saying that neither case had enough evidence to prove criminality.
The movement to provide an alternative to Vance gathered steam online late Tuesday night, as liberal activists on Twitter began suggesting Fliedner as a possible write-in.
"This whole thing was generated by others, and I was just kind of watching it erupt," Fliedner said. "People are looking for someone who would have handled these investigations properly."
A former campaign aide to Fliedner has determined that even though he lives in Brooklyn, he would be eligible to serve as Manhattan district attorney, and Fliedner said that if he were successful, he would move across the river. "I am certainly qualified, and I could just as easily be renting in Manhattan as I am now renting in Brooklyn."
Fliedner worked for 15 years in the Brooklyn district attorney's office, mostly as a sex-crimes prosecutor, an experience that he said led him to conclude that the Weinstein case was badly mishandled.
"Most sexual-assault cases come down to the credible testimony of the victims who come forward," he said. "In this case, she was not only willing to come forward but to work with law enforcement on it. I don't understand the decision not to prosecute."
Fliedner was the first openly gay candidate for Brooklyn district attorney, and had strong backing among the membership of the Democratic Socialists of America and Our Revolution, an offshoot of Bernie Sanders's presidential campaign. Fliedner came in third, with 10 percent of the vote.
A spokesman for Vance disputed that Fliedner would be eligible to serve as district attorney even if he were elected, passing along the public officers' law that states that to hold an office the official must live in the "political subdivision" that he or she represents.
"Cy Vance's established record prosecuting murder, sex crimes, financial abuse, domestic violence and a host of other crimes stands second to none," added Vance spokesman Steve Sigmund in a statement. "We're confident that voters in Manhattan will continue to recognize that record on November 7."
Fliedner is aware of the quixotic nature of his candidacy, and is not taking time off from the private practice he started after losing the Brooklyn district attorney's race. But he said that voters needed to be given a choice.
"The takeaway from all of this is that rich, white men have a get-out-of-jail-free card," he said. "What about folks on the other end of the spectrum who are not rich, white men? What does their status in the criminal-justice system say about our commitment to fairness and equality."