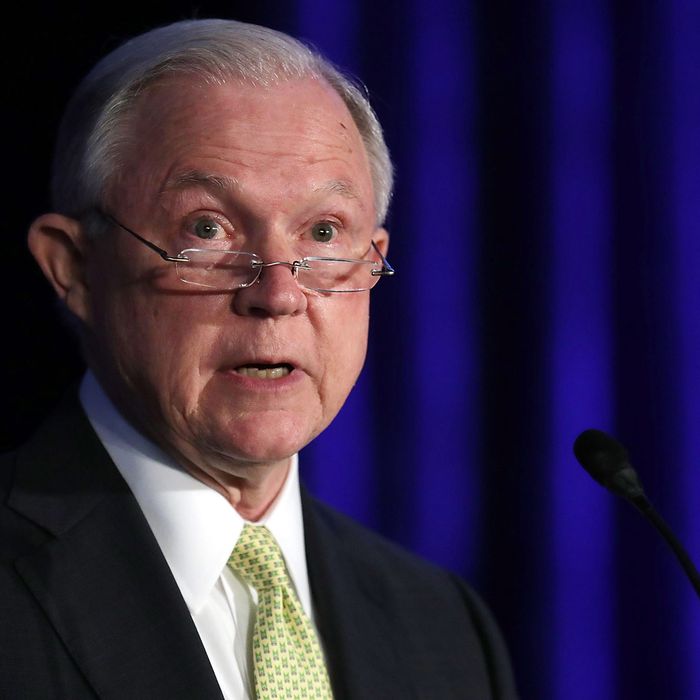 Sessions generally hasn't been a friend to the transgender community.
Photo: 2017 Getty Images
As senator, Jeff Sessions was considered one of the LGBT community's biggest foes, having voted in favor of a federal ban on same-sex marriage, against the repeal of "don't ask, don't tell," and against adding protections for sexual orientation and gender identity to federal hate crime laws. As attorney general, he's made similar moves, pushing to revoke rules protecting transgender students, and ordering the Justice Department to take the position in court cases that transgender people are not protected from workplace discrimination under federal civil rights laws.
However, Sessions is making good on a promise to vigorously prosecute crimes committed against individual transgender people.
A top Justice Department civil rights attorney, Christopher J. Perras, has been dispatched to Iowa to help prosecute a man charged with killing a gender-fluid teen in Burlington last year.
Jorge "Lumni" Sanders-Galvez has been charged with first-degree murder in the March 2016 shooting of 16-year-old Kedarie Johnson. If convicted, Sanders-Galvez could face the death penalty.
The victim's mother told the Des Moines Register that he did not identify as transgender and always used the pronoun "he," but he liked to wear women's clothes and sometimes went by the name Kandicee.
According to the New York Times, sending Perras to work on the case is a "highly unusual move" that was "personally initiated" by Sessions.
It was sparked by a letter six House members sent Sessions last spring asking him to investigate several killings of transgender black women across the country. Sessions ordered the department's top civil-rights lawyers to review the cases, and at a Justice Department summit in June he vowed to take action — though when he was in the Senate he voted against making it a federal crime to attack someone for their gender identity.
"We have and will continue to enforce hate crime laws aggressively and appropriately where transgendered [sic] individuals are victims," Sessions said.
A Justice Department spokesman described the move as just another example of Sessions's "commitment to enforcing the laws enacted by Congress and to protecting the civil rights of all individuals."
Vanita Gupta, the former head of the DOJ's civil-rights division under President Obama, didn't give Sessions much credit for the move. "While it is of course good that D.O.J. is aggressively pursuing this case, it would behoove Sessions to connect the dots between his policies that promote discrimination and hate that can result in death," she told the Times.