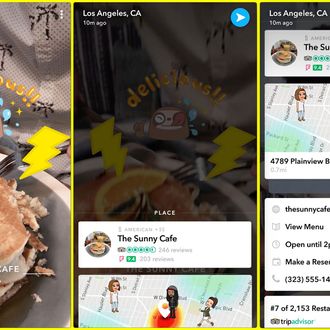 Snapchat's new Context Cards will tell you everything you need to know about what you're looking at, like a restaurant.
Photo: Courtesy of Snapchat
Snap, Inc., for all its insistence on being a "camera company," has gotten pretty good at building features that keep users engaged, even if those features don't actively involve, you know, photography. This summer brought the Snap Map, a well-engineered time suck that lets you peer into the lives of other Snapchatters around the world. Bitmoji made their way into the world of AR. And who could forget the dancing hot dog seen round the world. Today the, um, camera company is rolling out a new feature that seems engineered in a similar vein — that's the "keep people using the platform for as long as possible" vein. Called Context Cards, Snapchat is integrating other platforms — including OpenTable, TripAdvisor, Foursquare, Michelin, Goop, Uber, and Lyft — to provide users with everything from restaurant reviews to rides without ever needing to leave Snapchat.
Say a friend sends you a snap of some really good-looking soup dumplings and includes the Really Good Soup Dumpling Restaurant geotag. The snap — assuming Really Good Soup Dumpling Restaurant has a Context Card — will say "MORE" at the bottom. You can swipe up to see things like the restaurant's hours, reviews, telephone number, and possibly what Gwyneth Paltrow thinks about the joint. (A Snapchat representative said some places might have a location-specific story included in their Context Cards, so you'd be able to see what other users at a given restaurant or hotel or funeral home are up to.) If you decide you can't wait, call up an Uber or a Lyft to deliver you right there. Or use Resy or OpenTable to book a reservation for later in the week. No minimizing the app. No texting your friend, "Hey, tell me about those dumplings." No Googling. Just more time spent using Snapchat to do the same things you'd likely have done anyway.
Earlier this week, Axios reported that Snapchat has seen a 40 percent rise in user engagement — via Snap Map submissions — since the Snap Map was introduced. Context Cards — if users decide they like them and they're easy enough to use — seem poised to give Snapchat a similar bump. And convenience for users translates to more time spent in the app, which ultimately translates to more profits — Snapchat says info shown in Context Cards is dynamic and will change in real time, but it's not hard to imagine a world where businesses pay Snapchat for what reviews populate first — for Spiegel & Co. Now go enjoy your soup dumplings and try to ignore the faint aftertaste of capitalism.