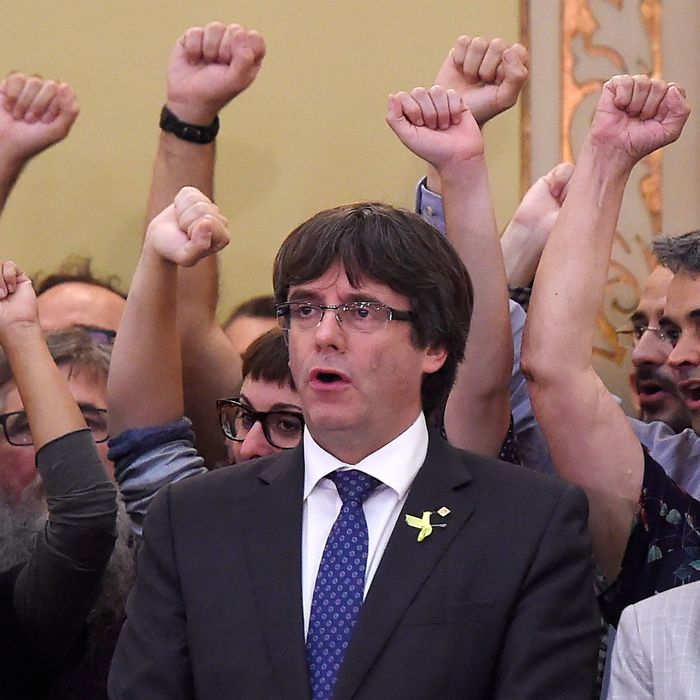 Carles Puigdemont on Friday.
Photo: Josep Lago/AFP/Getty Images
Spain moved to take control of Catalonia's government on Friday after the country's senate voted to invoke emergency constitutional powers, an unprecedented move that the Spanish president, Mariano Rajoy, had been threatening for days. Hours afterward, Rajoy announced that he had fired Carles Puidgmont, the Catalan president, dissolved the region's cabinet, and would call for regional elections. In a speech before the Senate vote, Rajoy said that Catalonia's actions were "contrary to the normal behavior in any democratic country like ours."
Earlier on Friday, the parliament of Catalonia, the restive region of northeast Spain, had voted to officially declare independence from Spain in a historic step that seemed certain to provoke the central government into action.
Invoking Article 155, a never-before-used clause of the Spanish constitution, means that the central government can now impose direct rule on the region, taking full control of the Catalan presidency, public media, police, and more.
The dueling actions come amid weeks of political chaos after a contentious, unofficial referendum vote held on October 1 in Catalonia, which includes Barcelona. About 90 percent of those who cast ballots voted for independence, but only 43 percent of the voting population turned out, with the anti-independence crowd largely boycotting the proceedings. The Spanish government called the entire process illegal, and sent in police who used violence to clear protesters and prevent voters from going to the polls. A regional dispute quickly became an international spectacle.
In the days afterward, Catalonia's president, Carles Puigdemont, sent a series of mixed messages, holding off on unilaterally declaring independence in the hopes of extracting some concessions from the central government. But Rajoy instead adopted a hardline position that has largely been backed by the rest of Europe, which is wary of more secession movements threatening an already-fragile European Union.
On Thursday, Puigdemont said that it would be up to his parliament to vote on whether to break away from Spain, which they did on Friday.
The crisis has pitted the Spanish central government against Catalonia, but also many Catalan residents and lawmakers against each other. Only a slim majority of the Catalan parliament favors independence, and before the vote on Friday, many lawmakers took aim at Puigdemont for sowing division. Carlos Carrizo, who represents the anti-secession Ciudadanos, said, "You will go down in history for having fractured Catalonia and for sinking the institutions of Catalonia."
"This movement is textbook populism, full of magical thinking, that reality has destroyed. You are willing to sacrifice all, for your pure fanatism," Alejandro Fernández, another Catalan lawmaker, said.
The vote passed 70-10, to cheers — but with the opposition lawmakers boycotting it.
With neither Catalonia nor Madrid backing down, the next steps in the unfolding crisis are unclear and unpredictable. But there will surely be fierce resistance among many Catalans to heavy-handed central-government rule, making the prospect of sustained civil unrest a frightening possibility.
Catalonia is the most economically prosperous region of Spain, and, with its distinct language and culture, it has flirted with secession on and off for hundreds of years. But Spain's severe economic crisis, combined with a series of political miscalculations, helped spur on a resurgent independence movement that has presented Spain's starkest constitutional challenge since its transition to democracy in 1978, after decades of authoritarian rule under Francisco Franco.