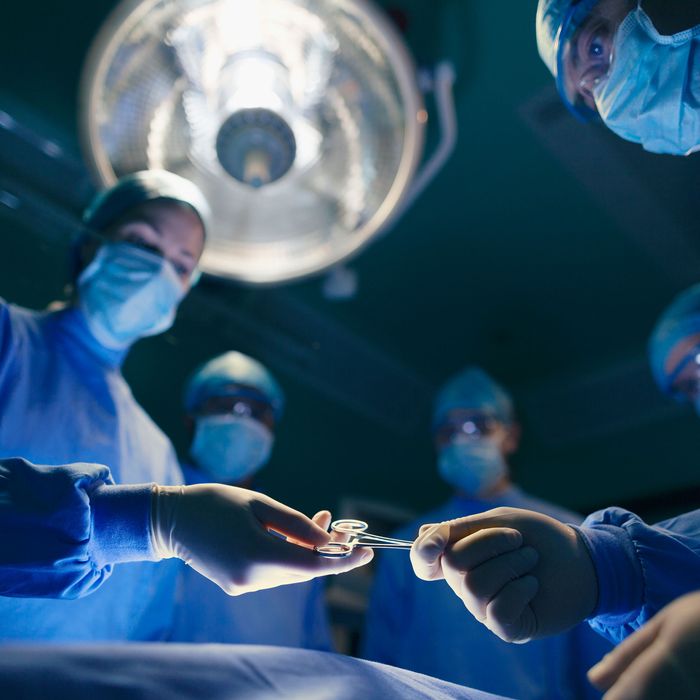 There's an ongoing debate in the medical community about allowing social media in the operating room.
Photo: Shannon Fagan/Getty Images
Dr. Michael Salzhauer is a board-certified plastic surgeon based out of Florida. You've probably never heard of Dr. Salzhauer. But you might have heard of his Snapchat alter ego @therealdrmiami. Dr. Miami has reached up to thousands of followers and millions of views by giving his fans an inside look at his work. (Select All included him on our list of the top 101 Snapchatters to follow.) Sometimes boisterous, and often graphic, his stories are posted by a social-media assistant who joins him in the operating room. Patients whose procedures are filmed and shared give consent beforehand — Vanity Fair reports that about two-thirds of his patients opt in — but the rise in surgery as social-media entertainment (Dr. Miami pioneered the genre, inspiring plenty of copycats) has raised a larger debate among those in the medical community. Is it ethical for doctors to bring Snapchat and Instagram into the OR?
Absolutely not, argues a team from Northwestern in a paper published recently by Plastic and Reconstructive Surgery. While filming a consenting patient isn't against American Medical Association rules, the new paper argues that it isn't in the best interest of patients. "When surgeons are dancing in the operating room, people may misperceive surgery as this lighthearted event," first author Robert Dorfman explained. "Yet there are risks associated with going under the knife, such as infection, excessive bleeding or possibly blood clots. The videos may be giving some people false illusions of what surgery is actually like." Senior author Dr. Clark Schierle, a plastic surgeon who teaches at the Northwestern University Feinberg School of Medicine, called the social-media medical business a "circus," saying, "There is increasingly vulgar content by a growing number of plastic surgeons that is not in the best interest of the patient." Another of Schierle's studies notes that of all the plastic-surgery content posted on Snapchat, only 18 percent of it comes from board-certified surgeons, Tonic reports. Which might make you think twice about turning to Snapchat, rather than watching Nip/Tuck reruns, to satisfy your scalpel cravings.