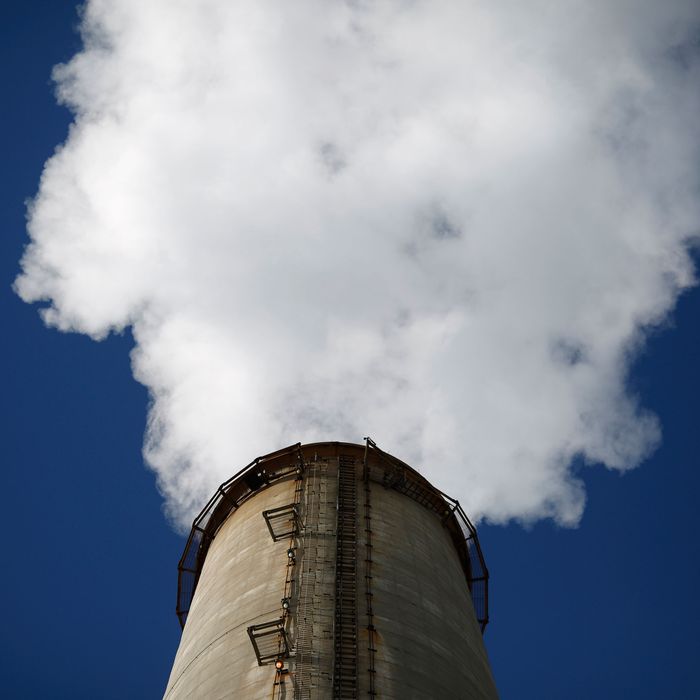 Photo: Bloomberg/Bloomberg via Getty Images
The Trump administration plans to dismantle the Clean Power Plan (CPP), the Obama administration's attempt to limit greenhouse-gas emissions from power plants, according to multiple reports. Launched in the summer of 2015, the CPP was a signature effort of Obama's climate-change initiative. "We have a moral obligation to leave our children a planet that's not polluted or damaged," the White House said when it was launched.
The CPP was challenged in court in 2015 by 27 states, which said its standards were burdensome. Among those who sued the Environmental Protection Agency over the plan was former Oklahoma Attorney General and current EPA Administrator Scott Pruitt. At the time, Pruitt called the plan "an unlawful attempt to expand federal bureaucrats' authority over states' energy economies in order to shutter coal-fired power plants."
In April, the D.C. Circuit Court of Appeals paused that lawsuit and set an October 7 deadline for the EPA to decide how to proceed with the CPP. It's now clear that the agency will scrap the plan, which called for a 32 percent cut in greenhouse-gas emissions from power plants by 2030.
"The agency is issuing a proposal to repeal the rule," a document obtained by the Times and Reuters says. The document says the EPA will work to adopt a new rule "similarly intended to reduce carbon dioxide emissions from existing fossil-fueled electric utility generating units."
It's a bit of a surprise that the Trump administration isn't just entirely scrapping the plan, which Trump once called "stupid." While some groups want the Trump administration to do just that, the White House has also heard from industry players who think it should employ more of a "repeal and replace" tactic.
Don't be mistaken, though. This isn't because the fossil-fuel industry wants to mitigate the danger of greenhouse gases. Rather, as Reuters reports, it's because they're afraid of environmentalists taking them to court.