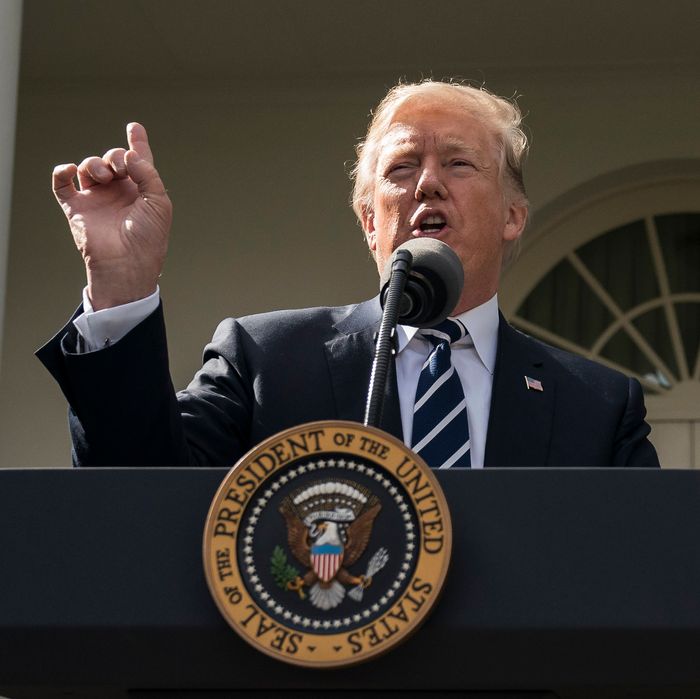 Trump criticizes his predecessors at Monday's press conference.
Photo: The Washington Post/The Washington Post/Getty Images
During a press conference on Monday afternoon, President Trump was asked why he has yet to comment on the deaths of four U.S. service members killed in an ISIS ambush in Niger ten days ago. Trump said he'd written condolence letters to their families, and planned to call them too:
I've written them personal letters. They've been sent, or they're going out tonight, but they were written during the weekend. I will, at some point during the period of time, call the parents and the families — because I have done that, traditionally. I felt very, very badly about that. I always feel badly. It's the toughest — the toughest calls I have to make are the calls where this happens, soldiers are killed. It's a very difficult thing. Now, it gets to a point where, you know, you make four or five of them in one day — it's a very, very tough day. For me, that's by far the toughest.
That would have been an acceptable answer (though that doesn't explain why he hasn't made any public comments about the incident). However, since the president cannot accept blame and claims he's the best at everything, he went on to accuse his predecessors of failing to call the families of fallen troops:
So, the traditional way — if you look at President Obama and other presidents, most of them didn't make calls, a lot of them didn't make calls. I like to call when it's appropriate, when I think I'm able to do it. They have made the ultimate sacrifice.




So, generally, I would say that I like to call. I'm going to be calling them. I want a little time to pass. I'm going to be calling them. I have — as you know, since I've been president, I have.




But in addition, I actually wrote letters individually to the soldiers we're talking about, and they're going to be going out either today or tomorrow.

Yes.
This is one of Trump's more outrageous accusations, and he actually walked it back a bit later in the press conference. After a reporter called him out on his false claim that previous presidents didn't reach out to fallen service members' families, Trump suggested that he meant he's going above and beyond by reaching out with a letter and a phone call:
Q:   Earlier, you said that President Obama never called the families of fallen soldiers. How can you make that claim?




THE PRESIDENT: I don't know if he did. No, no, no, I was told that he didn't often. And a lot of Presidents don't; they write letters. I do –

Q:   (Inaudible.)




THE PRESIDENT: Excuse me, Peter. I do a combination of both. Sometimes — it's a very difficult thing to do, but I do a combination of both. President Obama I think probably did sometimes, and maybe sometimes he didn't. I don't know. That's what I was told. All I can do — all I can do is ask my generals. Other Presidents did not call. They'd write letters. And some Presidents didn't do anything. But I like the combination of – I like, when I can, the combination of a call and also a letter.
Trump's insinuation that previous presidents didn't do enough to reach out to troops' families was quickly refuted by journalists, former aides, and people who lost their loved ones:
Later, White House press secretary Sarah Huckabee Sanders claimed that Trump wasn't criticizing his predecessors at all, he was merely stating facts: "Sometimes they call, sometimes they send a letter, other times they have the opportunity to meet family members in person."
But it's clear that President Trump wasn't making a technical note based on his detailed analysis of how his predecessors reached out to grieving military families. As with many of Trump's dubious facts, it appears his source is something he heard once in the right-wing media.
President Obama's ostensible disrespect for the military was, of course, a popular theme in the conservative press, and it seems Trump might have been referencing some of these reports. While the Washington Times reported in 2009 that Obama wrote out personalized letters to fallen troops' families and signed them "Barack," what drew more attention was a claim deep in a 2010 story from The News Tribune about a father's dissatisfaction with how politicians responded to his son's death in Afghanistan. The father said he asked the White House to call his ex-wife and "was told that Obama did not regularly make phone calls to the families of fallen soldiers."
Trump's note that he "actually wrote letters individually" was likely a reference to a 2012 post from the Gateway Pundit that claimed President Obama sent grieving military families "form letters — signed by an electric pen." The White House said Obama "personally signs every letter to the families of fallen service members in Iraq and Afghanistan," but did not dispute that they were form letters. (In 2003 Newsweek reported that the sympathy letters sent out by President George W. Bush were form letters as well.)
Six days after the 2015 shootings at two military facilities in Chattanooga, Tennessee, the mother of one of the five servicemen killed in the attack appeared on Hannity and said she'd yet to receive a call from Obama. There was also uproar from the right about the White House waiting five days to order flags at half-staff. Breitbart illustrated its report, titled "Obama Refuses to Call Mother of Murdered Marine; White House Won't Lower Flag," with the White House lit up to celebrate the Supreme Court decision allowing same-sex marriage.
Trump appeared on The O'Reilly Factor on the night Sean Hannity's interview aired, and he tweeted several times about the points the host raised, so it seems likely he saw the episode.
It's true that, in the past, some military families have been dissatisfied with the president's response to the death of their loved one. It is completely false, however, to suggest that it's "traditional" for the president to not even call the families of fallen service members. There is ample evidence that President Obama, President George W. Bush, and previous presidents made a habit of calling, writing, and meeting with military families who lost loved ones.
It seems mostly likely that Trump was basing his assertion on reports about Obama amplified in conservative media. But to make matters worse, rather than just admitting that he didn't have all the facts, Trump pinned his inaccurate comments on top members of the military. "That's what I was told," he said. "All I can do — all I can do is ask my generals."