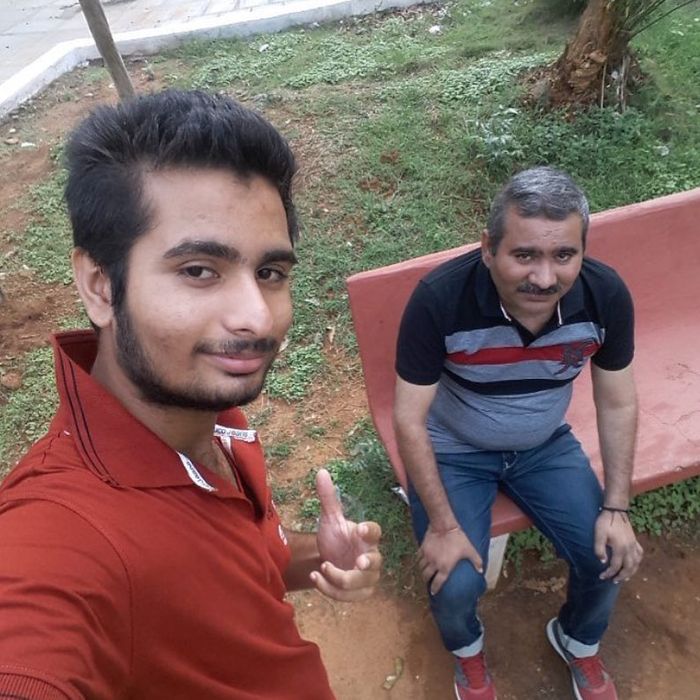 Late last week, the Meme Ballad of Sanjay Kapoor captured the hearts of the nation. The tale was simple: A young man named Sanjay, who may or may not have been planning on meeting up with a 13-year-old girl named Manisha, was catfished on at least two occasions by a 52-year-old man named Durgesh. Sanjay's adventures were chronicled through a series of Instagram posts, each more ridiculous than the last. It was the sort of thing that was so unbelievable, it might just be true, à la the Tale of Asif and Mudasir — meaning it was instantly catapulted to memedom.
The only issue? It was completely, utterly fake.
The real tale of Sanjay and Durgesh — according to Sanjay's nephew, Sudhanshu Pandey — is much, much darker. (Pandey provided Select All with photos of Durgesh and Sanjay in order to prove their relationship.) Unlike what the memes may have lead you to believe, the infamous "Sanjay" — the woman-stealer and awkward-photo-taker — is actually a 19-year-old student from Varanasi named Durgesh, and the older man from the photos (who is identified as the lecherous "Durgesh") is his father, Sanjay. Far from a catfisher, the older man is a physically disabled government employee who has recently undergone brain surgery.
According to Pandey, both Sanjay and Durgesh's photos were stolen by "[s]omeone who has a personal grudge against [them and put their] pictures on Instagram under the parody name 'Sanjay Kapoor.'" The photos had been lifted from one of Durgesh's social-media profiles — which wasn't private at the time — and were used without attribution to perpetuate the "IndianPeopleFacebook" stereotype and, of course, go viral. Which they soon did.
Pandey first stumbled upon the memes mocking his brother and uncle while checking Facebook late one evening. They had been posted by a popular meme page — not to mention completely taken out of context — which prompted him to immediately pick up the phone and call his brother to check in.
Durgesh "was in deep despair," Pandey told Select All. "He was shocked and was silent for five to six seconds, and asked me for those pics. He was hurt after seeing [them] and was asking only one thing: why they dragged [his] father into all this."
Pandey told Select All that, due to his unstable condition, Durgesh's father Sanjay (the one identified as Durgesh in the photos) has not been told about the memes. "My uncle isn't in a state to handle these things. We have made sure that he never comes to know about this."
Since learning about the posts late last week, Pandey has been desperately trying to figure out who stole his family's photos. He reached out to a number of meme-page admins with his story, "and, shockingly, they did cooperate."
Admins identified AJ Strub Milcheck as the source of a number of early Facebook posts about the meme. Select All reached out to Milcheck, who said he first saw the story on Instagram, then shared it on Facebook, thinking that the original parody account was real:
Initially I was browsing through Instagram early in the morning as I normally and in my explore page for whatever reason this guy had popped up and I went through the account after reading the first encounter with Durgesh.




And from there I proceeded to see what was up with this dude. To my amusement and many others these antics with Durgesh ensued and I thought to myself. Everyone needs to see this. Real or not. It definitely was a riot.




From what it seems like. Instagram flagged the account and removed it. Most likely due to the insane amount of followers he received out of country in such a short period of time. At the time he was following one person and their Instagram handle was "breasts" so it's hard to say if it was a legitimate account or not.




From there the internet took flight. I've seen some other people post stuff the same day as me. But from what I know I'm the first person to post about it.
As for who created the Instagram account, no one knows. It seems that the original account (sanjayy_kapoor) was shut down sometime this weekend, while a new version (with "Parody" in the bio) has sprung up in its place. Since this new account appeared Friday, it has managed to amass tens of thousands of followers by reposting photos of Durgesh and Sanjay, with increasingly ridiculous captions. If that's not enough, the plot thickens: As of Tuesday morning, the account seems to have mysteriously removed all of its posts. Select All has reached out to the owner of the account and will update this post when we hear back.
That said, while we confirmed Pandey's relationship with Durgesh and Sanjay (and even spoke briefly to Durgesh over Facebook), this could all also be part of a hoax as well. The internet is a mysterious place, with catfishers around every corner, so we'll provide updates as this story develops.