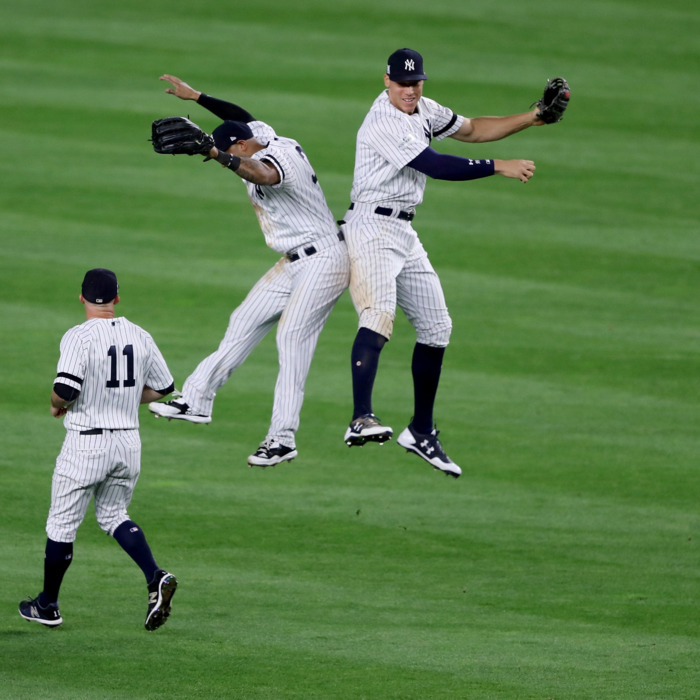 Photo: Abbie Parr/Getty Images
Aaron Judge stood shirtless in front of his locker. It was about 20 minutes after he'd hit a home run and a double to power the Yankees to a game four American League Championship Series comeback win over the Houston Astros, and Judge had just returned from having his left shoulder wrapped in ice. The chilled skin stretching from his lower ribs to his collarbone glowed bright red. Because Judge is six-feet-seven-inches tall the red patch was approximately the size of Staten Island.
He pulled on a clean T-shirt and strode over to ask the Yankees media boss, Jason Zillo, when he needed to appear in the media conference room to be quizzed by reporters. Zillo told Judge that it would be his turn after catcher Gary Sanchez, who was currently answering questions. "We could have done it together!" Judge said, grinning. "It would have been fun!"
Judge and his teammates have been having a whole lot of fun the past couple of days, a wild mood swing from last weekend, when the Yankees dropped two games in Houston and looked as if they were about to be rapidly dispatched by the favored Astros. They had grabbed a win Monday night, thanks largely to six crafty innings pitched by 37-year-old CC Sabathia. But less than 24 hours later heavy gloom had set back in: With nine outs remaining in game four, the Astros were up 4-0, the Yankees looked lifeless, and the prospect of facing Houston ace Dallas Keuchel in an elimination game loomed.
Then Judge stepped into the batter's box and smoked a line drive 430 feet. The ball may have dented the black windows behind the center field fence. One inning later he mashed a double to left field, driving in two runs, tying the game, and hastening the Astros' implosion.
Afterward the 25-year-old somehow still seemed amazed by what he'd done, even after a summer in which he'd hit 52 home runs, won the Home Run Derby at the All-Star Game, and become a lock to win the American League Rookie of the Year award. In a way, though, Judge's continuing surprise is completely rational and appropriate. He had been largely terrible in a brief 2016 run with the Yankees, piling up strikeouts at an alarming rate. This March, well into spring training, it appeared likely that Judge would be sent back to the minor leagues when the Yankees headed north to start the regular season. And even after he was installed in right field and began regularly crushing home runs, Judge has endured ugly stretches — as recently as ten days ago, in the first playoff round against Cleveland, when he looked lost, hitting .050 with 16 strikeouts in five games.
Last night, when I asked Judge to contrast how he felt a mere seven months ago in Florida with what he's experiencing now in the Bronx, he paused for a long ten seconds. "In mid-March, there were a lot of unknowns. There was talk of going back to Triple A, or you're not going to be the starting right fielder, or we're going to platoon you and some other outfielders," he said. "But I knew what I was capable of, and I wanted to go out there and prove it. Making the decision of where I was going to go was out of my hands, but that doesn't mean I can't put in the work and make the decision tough on them. This whole year has been a grind. The ups and the downs, that's baseball. That's life. To a certain extent I kind of enjoy failure — it's part of the game. There's always room to grow, always room to improve. It's been a fun ride." He paused again, suddenly seeming to remember how fast things have unfolded, and smiled. "It's my first year. It's still pretty crazy."
A few minutes earlier, Yankees manager Joe Girardi was at the microphone, and he was asked about the explosive, ecstatic sound of the crowd after Judge's crucial hits. "I just feel like the fans are back," he said. "I see things I haven't seen in awhile, and it reminds me a lot of when I was playing here."
Girardi has done a terrific job with this team. And he was right in comparing the volume and intensity of Tuesday night's crowd sound with that of the roar from the glory days inside the original Yankee Stadium. But drawing that parallel seems dangerous: Don't weigh the 2017 Yankees down now with pressure to live up to the past. The late-'90s Yankees accumulated a certain entitlement as they won four World Series championships. The beauty of the current bunch is that it came into this season expected to do very little; simply reaching the playoffs was considered an overachievement.
Tonight the Astros send Keuchel to the mound, and he has suffocated the Yankees in two previous playoff starts. Perhaps he will again. But having no expectations, and a willingness to see things change rapidly, has worked pretty well so far for these Yankees, and especially for Aaron Judge.