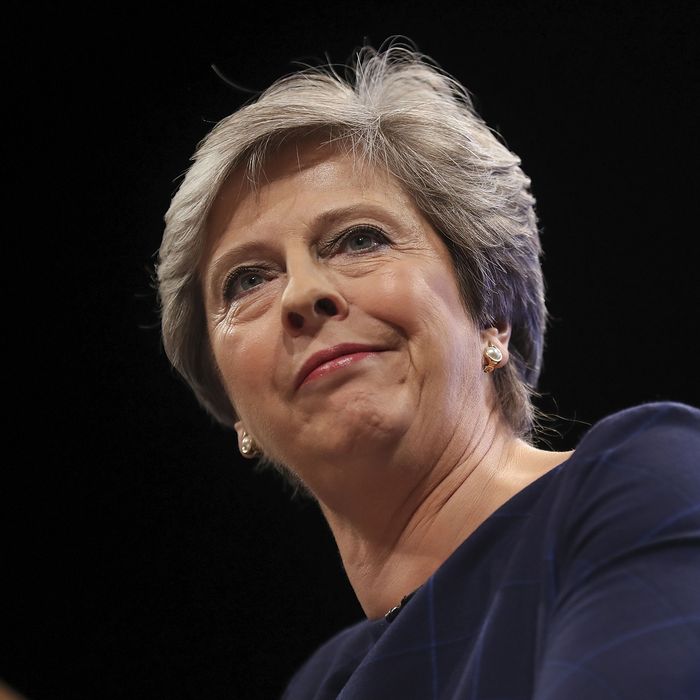 Putting on a brave face.
Photo: Christopher Furlong/Getty Images
Within the span of six months, Prime Minister Theresa May has gone from stolid, unremarkable prime minister to a pariah within her own party.
Her standing has become so untenable that some conservatives attempted a party coup against her on Friday, and British newspapers and politicians are openly wondering whether she can last in power, and if so, for how long.
Her downfall was encapsulated in a disastrous speech on Wednesday at a Conservative Party conference, during which she lapsed into a coughing fit, a (very British) prankster handed her a fake notice of her termination as leader, and in a moment that seemed like it was straight out of the political satire The Thick of It, a letter spontaneously fell off a party-slogan backdrop behind her.
On Friday, May said her cabinet was "fully behind" her leadership, and several key cabinet ministers came to her defense. But there's no denying that her position is weak, and getting weaker.
May's declines come amid the backdrop of the U.K.'s incredibly complex negotiations to leave the European Union, which haven't gained much shape since the country shocked the world by voting for "Brexit" last June.
Conservatives have split between favoring a "hard Brexit" — which would cut the country off from both the customs union and single market of Europe, and a "soft Brexit," which would ease the country out of the EU in less drastic, though still traumatic, fashion. Conservatives had largely rallied around the second option, their position bolstered by unsettled economic conditions that make a dramatic break from the Continent look less attractive.
When May replaced anti-Brexit David Cameron, a few days after the vote, she was seen as a steady hand in unsteady times. Nominally opposed to EU withdrawal herself, she nevertheless reassured hard-liners with the vague declaration that "Brexit means Brexit," and positioned herself as a no-nonsense pragmatist. Her counterpart, Jeremy Corbyn, was leading a Labour Party that had emerged from Brexit at its weakest in decades.
So when May called a snap election in April, it was seen as a savvy political move that would allow her to consolidate her power and gain maximum leverage for the tough negotiations ahead. (The U.K. will officially leave the EU in 2019.)
Instead, May proved to be an uninspiring campaigner at best, while Corbyn galvanized a liberal movement with a laser focus on economic issues. May suffered losses in the election and was forced to ally with the far right. Since then, she has been beset by even more problems, from her widely criticized response to the horrific Grenfell Tower fires to the unrelenting threat of radical Islamic terrorism to the shaky economy. In the meantime, Corbyn, the Labour leader once deemed too left-wing to become prime minister, is plotting a possible ascent to power.
Boris Johnson, the flamboyant, fabulist foreign minister who was a leading force behind Brexit, is seen as a possible replacement if May can't withstand the pressure. He did nothing to tamp down such speculation when he wrote a hard-Brexit polemic that attempted to create the impression of a bold visionary while contradicting his party's softening position. Johnson is a controversial figure, but there are several other contenders, including Brexit Secretary David Davis and Home Secretary Amber Rudd.
Meanwhile, puzzled European Union officials are waiting to see how all the tumult shakes out, and preparing for the once-remote possibility that 2018 may come and go with no Brexit deal in place at all. "In the European Union they are looking at this in an incredulous way, wondering how they are managing to go so deep into chaos," Ulrike Franke, a policy fellow in Berlin for the European Council on Foreign Relations, told the New York Times.
In 2016, it turned out that the Vote Leave campaign didn't have a plan in place for the possibility that it might win — a scenario that may sound familiar to American ears. Now, 16 months later, as fallout from Brexit continues to tear the country's politics asunder, that shortsightedness is looking more irresponsible by the day.