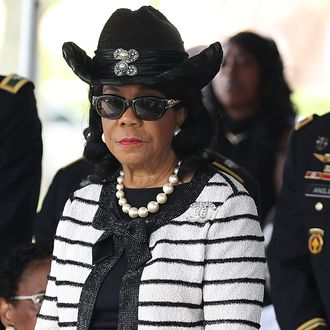 Frederica Wilson.
Photo: Joe Raedle/Getty Images
Florida representative Frederica Wilson was not at work in Washington this week, reportedly because of threats stemming from the White House's recent attacks on her. A spokesperson told the Washington Post that Wilson has been staying in her Florida district due to "concerns about her safety." The Miami Herald reports that Wilson missed 19 votes between Monday and Wednesday.
President Trump spent days angrily tweeting about Wilson after she criticized him for telling the widow of Sgt. La David T. Johnson, who was killed in Niger, that the soldier "knew what he signed up for." (Wilson is a friend of Johnson's family and was asked to listen to Trump's call.) Later, Trump's Chief of Staff John Kelly gave a press conference during which he railed against Wilson for publicizing the president's comments and falsely accused her of having behaved disrespectfully at the dedication of a FBI building.
Her spokesperson said that, since the blowup, Wilson has received calls that "run the gamut from racist and rude to outright menacing." Another Florida congresswoman, Alcee Hastings, said that Wilson had been the target of "substantial death threats." She's now being protected by a security detail, and the Capitol Police are watching her D.C. office. The head of the Congressional Black Caucus, Representative Cedric L. Richmond, told the Post that, "In the context of the Republican baseball practice shooting in June, the Las Vegas concert shooting this month, and increasing threats against members of the Congressional Black Caucus, it is unfortunate that the President, and most recently his Chief of Staff, have contributed to this climate by saying things that are demonstrably not true."