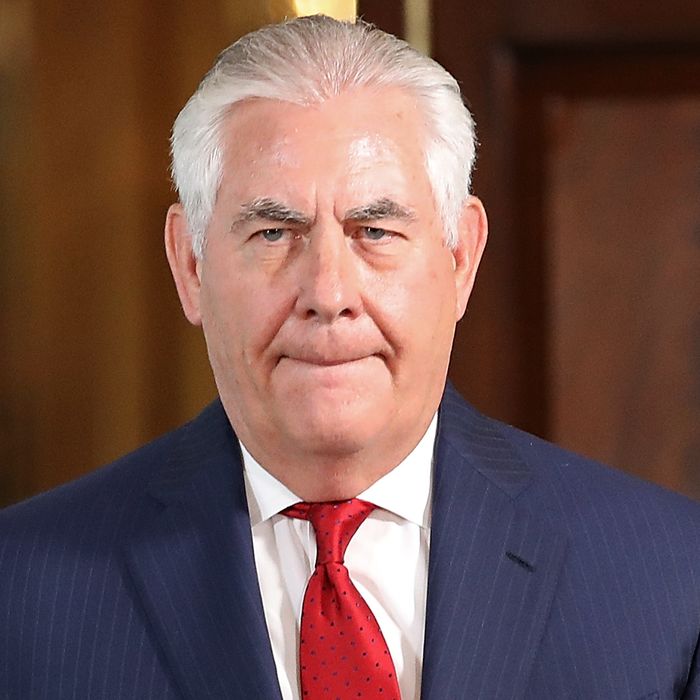 Dignity all the way.
Photo: Win McNamee/Getty Images
Appearing on CNN's State of the Union Sunday morning, Secretary of State Rex Tillerson sidestepped the question of whether he had called President Trump a moron, as was reported earlier this month.
"I'm not gonna deal with that petty stuff," Tillerson told Jake Tapper. "This is a town that seems to relish gossip, rumor, innuendo, and they feed on it, they feed on one another, in a very destructive way. I don't work that way, I don't feel that way, and I'm just not gonna dignify the question."
Tillerson went on to say that he calls Trump "Mr. President," and that the two have "a very open, frank, and candid" relationship.
NBC reported that Tillerson made the remark — which a reporter clarified to indicate was actually "fucking moron" — in July, after President Trump told a group of national-security leaders that the U.S. should expand its nuclear arsenal tenfold. Trump denied the incident ever happened, and threatened to pull the network's broadcasting license over its reporting.
Tapper also asked Tillerson about comments made by his friend Senator Bob Corker, who said on Friday that President Trump, by publicly undermining Tillerson repeatedly, had "castrated" the secretary of State.
Tillerson again dodged the question, but maintained that Trump is an "unconventional" and "very unique" president whose agenda he fully supports. Tapper pressed him on the castration comment, and Tillerson joked, "I checked, I'm fully intact."
It's times like these that Tillerson might be wondering why he didn't just take his $180 million ExxonMobil retirement package and retreat to his ranch back in January.