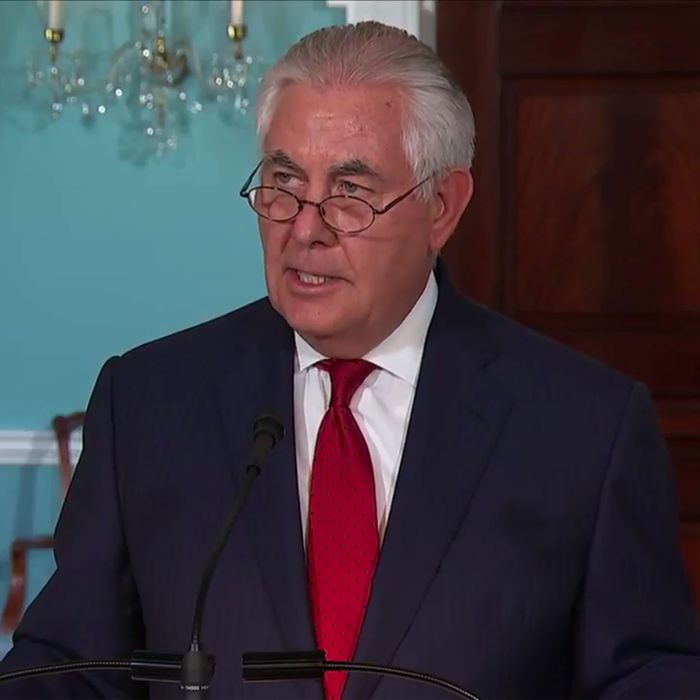 "He's smart," Tillerson said about Trump.
Hours after NBC News reported that Secretary of State Rex Tillerson called President Trump a "moron" in July, the nation's top diplomat gave a hastily scheduled press conference to grovel to Trump. He did not, however, deny calling his boss a "moron."
Speaking from the White House Diplomatic Room Wednesday, Tillerson instead denied another part of the NBC News report, which said he had to be convinced not to quit earlier this year by Vice-President Mike Pence. "I have never considered leaving this post," Tillerson said, calling the story "erroneously" reported.
Asked if he called Trump a "moron," Tillerson would not deny it. "I'm not going to deal with petty stuff like that," he said. "This is what I don't understand about Washington. Again, I'm not from this place, but the places I come from we don't deal with that kind of petty nonsense."
Tillerson did, however, lob some compliments Trump's way. "He loves his country. He puts Americans and America first. He's smart, he demands results wherever he goes, and he holds those around him accountable for whether they've done the job he's asked them to do," Tillerson said.
Publicly, Trump is not chiding Tillerson for the story, taking his anger out on the media instead.
But maybe Trump should be thanking NBC News. After all, its story says Tillerson only called him a "moron," while the full insult, according to one reporter, was actually "fucking moron."