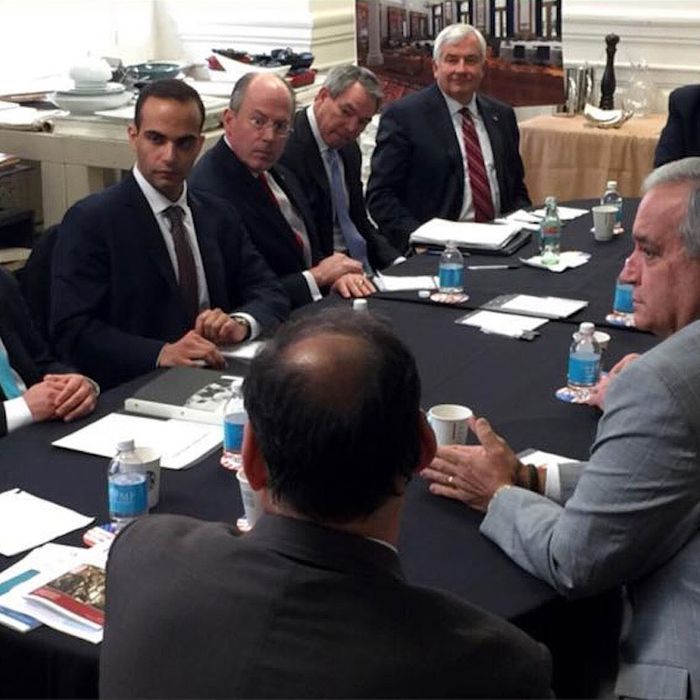 Papadopoulos, second from left.
Photo: @realdonaldtrump/Instagram
George Papadopoulos, a former campaign aide to President Trump, pleaded guilty to lying to federal agents about exchanges involving Kremlin-linked Russians and Hillary Clinton's emails, the Special Counsel's Office announced on Monday morning.
Unlike the indictments of Paul Manafort and Rick Gates, which were revealed earlier, the case of Papadopoulos has direct ties to the 2016 election, and whether the Trump campaign colluded with Russia to influence it.
During the 2016 campaign, Papadopoulos was in contact with a Russian professor whom he believed had close ties to the Kremlin. Papadopoulos told prosecutors that the man promised "dirt" on Hillary Clinton in the form of thousands of emails. In a significant detail, the offer took place in the midst of the hacking of Democratic National Committee emails — months before those efforts were made public.
Papadopoulos lied to investigators when he claimed that he thought the man was unconnected to the Russian government.
The professor introduced Papadopoulos to a woman claiming, apparently falsely, to be a relative of Vladimir Putin. Using his connections, Papadopoulos attempted to set up a meeting between the Trump campaign and Russian officials.
The newly revealed email element of Papadopoulos's story is perhaps the clearest sign yet that at least some sectors of the Trump campaign sought to work directly with Russians to try to sway the U.S. election against Hillary Clinton.
But whether such activities extended higher up on the Trump campaign ladder is unclear. More-senior officials turned down the Russia meetings Papadopoulos proposed, and the Washington Post reported in August that his continuing efforts on that front were met with "more concern than excitement."
Papadopoulos, who worked on Trump's foreign-policy team during the campaign, was arrested in July and made the plea on October 5, according to the Associated Press.
The guilty plea appears to be a sign that Papadopoulos is cooperating with Special Counsel Robert Mueller — an ominous development for the Trump administration.