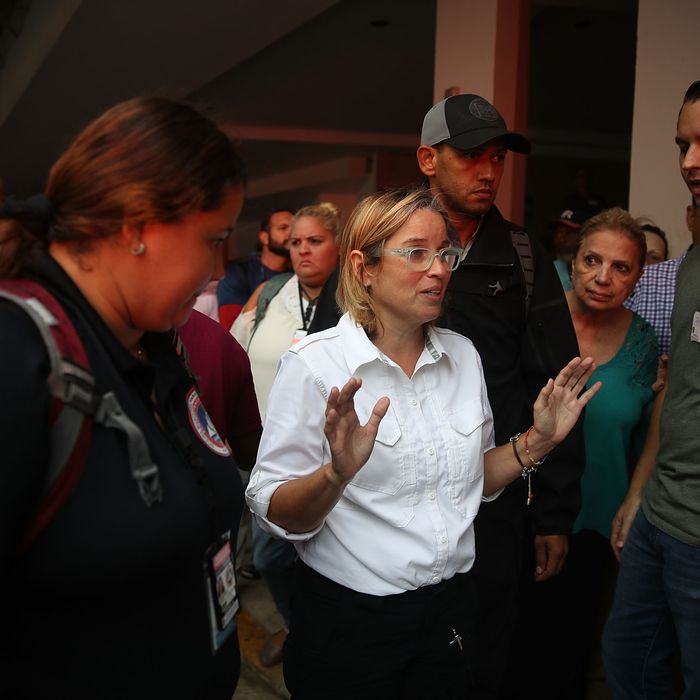 San Juan mayor Carmen Yulín Cruz deals with an emergency situation on Saturday — patients at a local hospital needed to be moved because a generator stopped working in the aftermath of Hurricane Maria.
Photo: Joe Raedle/Getty Images
President Trump returned to attacking San Juan mayor Carmen Yulín Cruz and the media on Sunday morning, while defending his administration's response to the ongoing crisis in Puerto Rico. On Saturday, the president prompted widespread outrage when he personally attacked Cruz after she had criticized the federal response to the devastation caused by Hurricane Maria. In Trump's initial outburst, he said that Cruz was being "nasty" and that she and others in Puerto Rico "want everything to be done for them" in the aftermath of the storm. In a series of tweets on Sunday morning, the president went on to call the same leaders "politically motivated ingrates":
We have done a great job with the almost impossible situation in Puerto Rico. Outside of the Fake News or politically motivated ingrates[,] people are now starting to recognize the amazing work that has been done by FEMA and our great Military. All buildings now inspected for safety. Thank you to the Governor of P.R. and to all of those who are working so closely with our First Responders. Fantastic job!
White House budget director Mick Mulvaney joined in the attack on Cruz on Sunday morning. "My understanding is that as of yesterday, she had not even been to the FEMA operation center in her own city," Mulvaney said on CNN. "It is unfortunate that the San Juan mayor wants to sort of go against the grain. We'd love to have her on the team as we all pull in the same direction."
Also on Sunday, Treasury Secretary Steven Mnuchin said on NBC's Meet the Press that Cruz's comments "were unfair, given what the federal government has done."
"When the president gets attacked, he attacks back," he offered as an explanation for Trump's behavior.
"I haven't been [in Puerto Rico]," Mnuchin added, "but I've been on daily calls monitoring what's going on with the rest of the cabinet. I think FEMA's done a terrific job, given a very difficult situation."
Mulvaney and Mnuchin's criticism follows a White House official's anonymous statement on Saturday suggesting that Cruz has been "too busy doing TV" to properly gauge federal relief efforts. A Saturday Washington Post report indicated that Cruz has been actively involved in helping, and advocating for, residents since the storm struck.
A leaked memo from White House Homeland Security advisor Tom Bossert to his West Wing colleagues, obtained by Axios and published Sunday, indicated that he hoped the administration would "turn the corner in our public communications" regarding the crisis and that the White House should continue to promote its efforts to bring relief to the island before pivoting to the "theme of stabilizing" early next week, then focusing on "a theme of recovery planning for the bright future that lies ahead for Puerto Rico" after that.
The reality of the humanitarian crisis in Puerto Rico, however, has rarely lined up with the Trump administration's optimistic takes on the situation. Criticism of federal relief efforts continues to intensify as many of the supplies that have been delivered to the island remain out of the hands of the communities that need them. As of Saturday, 95 percent of the island was still without power and much of the telecommunications infrastructure remained offline. Furthermore, it's still not clear how many Puerto Ricans, like those needing medical care, remain in danger, or even how many people have died as a result of the storm and its catastrophic aftermath. And whatever the federal government is doing now, a Post report on Friday pointed out that the White House was slow to understand and respond to the crisis.
President Trump called such reports "fake news" throughout the day on Saturday. Aside from tweeting, he is scheduled to participate in a national golf tournament on Sunday:
This post has been updated to add Mnuchin's comments.