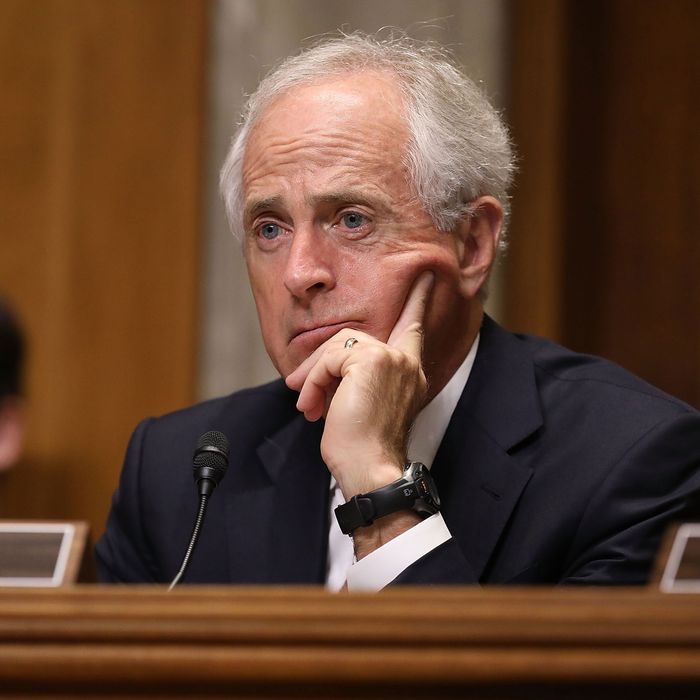 Who could have seen this coming?
Photo: Chip Somodevilla/Getty Images
President Trump mocked Senator Bob Corker again on Tuesday morning, this time accusing the Tennessee Republican of falling for a New York Times setup and sticking him with the epithet "Liddle," presumably in reference to Corker's height. (The fact that he is only five-foot-seven reportedly discouraged Trump from nominating him for Secretary of State earlier this year.)
Trump's jab escalated a war of words between the two that began in earnest on Sunday when Trump claimed that Corker had begged for his endorsement in 2018, then decided not to run for reelection when he couldn't obtain it — an assertion vigorously denied by Corker's chief of staff.
The senator hit back with one of the more memorable burns of 2017, describing the Trump White House as an "adult day care," a designation that lines up with many reported accounts of the presidency. He then gave an interview to the Times on Sunday in which he went off on the president, accusing him of governing "like a reality show" and possibly setting the country "on the path to World War III." (Times reporters quickly knocked down the claim that the senator didn't know he was being recorded.)
Corker's decision not to run next year has left him free to speak his mind in a way that most of his colleagues prefer not to. In a statement on his decision, he rather cryptically offered that "I also believe the most important public service I have to offer our country could well occur over the next 15 months."
It's unclear if he meant this in a legislative sense or in a "reining in the president" sense. Corker is central to the success of tax reform, the central GOP priority going forward, and is a key voice in foreign policy. But the prospect of a productive working relationship with Trump going forward is slipping by the day, although Corker is likely to keep voting for much of his agenda.
In any case, Trump's choice of "Liddle" as derisive nickname is surprisingly uninspired, considering that he had already lobbed the same sobriquet several times at Marco Rubio (though without the seemingly errant apostrophe).
Oh, what could have been …