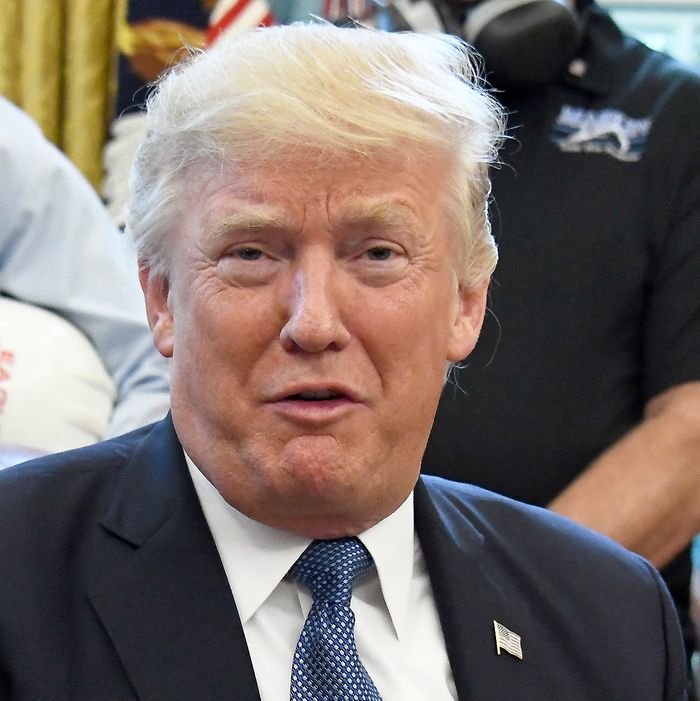 Our finest towel-thrower.
Photo: Pool/Getty Images
In an interview with Mike Huckabee that aired on the Christian TV network Trinity Broadcasting, President Trump justified throwing paper towels to a crowd of Puerto Ricans, employing the kind of high-flying rhetoric we've come to expect from our 45th president:
"They had these beautiful, soft towels. Very good towels. And I came in and there was a crowd of a lot of people. And they were screaming and they were loving everything. I was having fun, they were having fun. They said, 'Throw 'em to me! Throw 'em to me, Mr. President!' So next day they said, 'Oh it was so disrespectful to the people.' It was just a made-up thing. And also when I walked in, the cheering was incredible," he said.
"You were a rock star!" Huckabee affirmed.
Trump launched the beautiful, soft towels during an eventful Tuesday visit to the island, during which he managed to say or do a number of bizarre things in the course of a few hours.
Puerto Rico is still reeling from Hurricane Maria, with the vast majority of the island lacking power 18 days after the storm hit. The federal response has been sluggish, though, naturally, Trump framed it as outstanding, and accused the media of distorting the picture on the ground.
Elsewhere in the not-exactly-hard-hitting interview with Huckabee, who is his press secretary's father, Trump took quasi-credit for inventing the word "fake," accused Iran of working with North Korea, attacked San Juan's mayor once again, and backed off on his promise to move Israel's embassy.