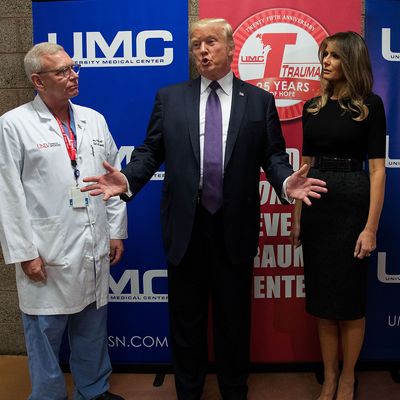 There was an absence of paper-towel throwing during this visit.
Photo: Drew Angerer/Getty Images
LAS VEGAS — With the shattered window of the Mandalay Bay in the backdrop, President Donald Trump deplaned Air Force One on Wednesday morning for a somber visit to this traumatized city. Given the strange, carnival-like atmosphere around his trip to hurricane-ravaged Puerto Rico yesterday, this one was notable for how on-message and appropriate he was.
Trump and wife Melania were greeted on the tarmac by Nevada governor Brian Sandoval, Las Vegas mayor Carolyn Goodman, Sheriff Joe Lombardo, and Nevada's attorney general, Adam Laxalt, and was whisked off to University Medical Center. He arrived with Republican Nevada senator Dean Heller — who seemed to have flown to D.C. after public appearances earlier this week in Las Vegas specifically to return on Air Force One with the president — and House Majority Leader Kevin McCarthy, who said three of his constituents from Bakersfield, California, were among the 58 concertgoers murdered in Sunday's mass shooting.
At UMC, the president spent about an hour with medical personnel as well as patients recovering from gunshot wounds suffered Sunday when 64-year-old Stephen Paddock executed the worst mass shooting in modern U.S. history. Then he headed to the Las Vegas Metropolitan Police headquarters to visit with officers who had responded to the massacre. He referred to Paddock as "a very sick man. He was a very demented person."
While the oddities of his recent visits to hurricane-damaged Texas, Florida, and Puerto Rico dominated media coverage, in Vegas the president's remarks were by-the-book for such consoler-in-chief moments. He avoided braggadocio as he heaped praise on the first responders, medical staff, and concertgoers who are battling injuries or who helped others in the critical moments. At UMC he said the skill and courage of the medical response makes him "proud to be an American" and said he invited some of the injured to the White House when they recover.
"You showed the world — and the world is watching — and you showed what professionalism is all about." He dismissed questions about gun-control policies, which he hinted on Tuesday might need to be considered, by saying, "We're not gonna talk about that today."
The closest he came to sounding an off note was referring to the Vegas sheriff as "the most famous" among his law-enforcement peers. The president has used that as praise for other local leaders, including the governor of Guam after North Korea threatened to bomb the American possession.