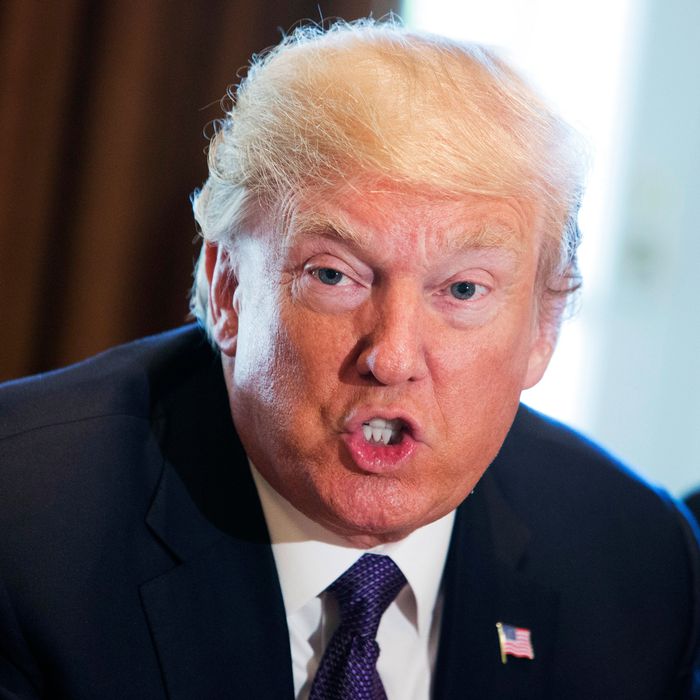 A different president might react to the news of two former campaign officials being indicted with some restraint. This is not a different president.
Photo: Chris Kleponis - Pool/Getty Images
With the news that former 2016 Trump campaign chairman Paul Manafort and his deputy have been indicted on 12 federal criminal charges connected with highly corrupt activities on behalf of Russian (or Russo-Ukrainian) interests, the Trump White House had a very big strategic decision to make about how to react. In most administrations, you'd figure an appalling situation like this would call for a restrained and perhaps sorrowful statement asserting the president's innocent shock at this development, and keeping him as far away from the unfolding news as possible.
But this being the Trump administration, restraint was probably never an option.
You have to figure the president knew everything about Manafort and Gates's indictment before it hit the news this morning. And that makes today's initial tweets revealing. Here was the first:
Then Fox and Friends, to all appearances running interference on the Manafort-Gates story, interviewed former Trump staffer Michael Caputo about the Fusion GPS contract and the Steele Dossier and "the Russian connections to the Clintons and the Democrats." Trump had a quick attaboy:
And then, a bit later, the official presidential line emerged:
With this addendum:
So there you have it: The indictments have nothing to do with Donald J. Trump or his campaign (other than perhaps reflecting poorly on his vetting practices), and Robert Mueller is wasting his time and taxpayers' money by messing with this ephemeral stuff instead of going after the real Russia story, which is about the Clintons and the DNC and Obama and Democrats, Democrats, Democrats.
It's a pretty crude application of the principle of "the best defense is a good offense"; indeed, it's as offensive a response as you might imagine.
Whether or not the underlying issues are similarly damning to the president, this reaction is like Richard Nixon claiming that the DNC, whose Watergate offices his thugs got caught breaking into, was actually committing burglaries all over Washington. It's not very credible, but it has the advantage of giving his allies and his base something to talk about that preempts all the details of the indictment and implicitly accuses Mueller of covering up the "real" Russia scandal.
So as Manafort and Gates disappear under the bus, you can expect Trump & Co. to raise the volume of their attacks on Hillary Clinton to previously unknown levels. Perhaps he'll even get the Justice Department to appoint a second special counsel with instructions to lock her up.