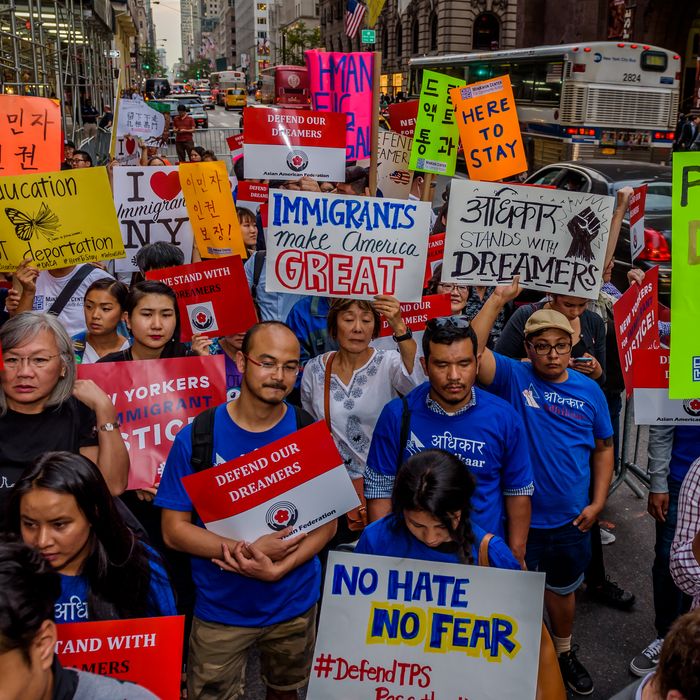 Immigration advocates take part in the Asian-American Dreamer rally outside Trump Tower in Manhattan on October 5, 2017.
Photo: Pacific Press/LightRocket via Getty Images
On Sunday night, the White House released a list of hard-line immigration demands that ostensibly must be included in any legislation that extends the Deferred Action for Childhood Arrivals program, which shields young undocumented immigrants from deportation. But rather than clarifying Trump's position, in many ways it just underscores that it's impossible to tell where the president really stands on his signature issue.
During the campaign, Trump made a habit of telling his base that he was taking an extreme position on immigration, then quickly walking back his remarks. He repeated this pattern a month ago when he announced he would end DACA. Hours later, Trump said he has great sympathy for the so-called Dreamers, and promised to "revisit" the issue if Congress failed to solve the conundrum within six months — which drastically reduced the pressure on lawmakers to act.
A few days later, Democratic leaders emerged from a meeting at the White House and said that wouldn't be necessary, as Trump had just agreed to extend DACA. In exchange, he wanted some increased border security — but he said funding for his infamous border wall could wait.
Many on the right were appalled by the betrayal, and Breitbart dubbed Trump "Amnesty Don." "[T]here's no path to citizenship, no path to a green card and — no amnesty. Amnesty is non-negotiable," Steve Bannon told 60 Minutes in his first interview since leaving the White House and returning to Breitbart.
Now the White House has sent congressional leaders a list of immigration demands that is almost the complete opposite of what he told Democrats he was looking for in exchange for extending DACA. The very first item on the list is funding for the southern border wall. It goes on to describe many more extreme immigration restrictions, including putting new limits on asylum claims, making it easier to quickly send unaccompanied minors who cross the border back to their home countries, requiring employers to use the E-Verify employment verification system, and blocking "sanctuary cities" from receiving certain federal grants. It also calls for a reduction in legal immigration by limiting family-based green cards to spouses and minor children and replacing it with a merit-based system.
The drastic shift from Trump requesting a moderate increase in border security to demanding Congress essentially enact his entire immigration platform would be enough reason to distrust anything he says about the future of DACA. But to make matters worse, the White House wasn't even clear on what the list is or whose views it represents.
A letter sent with the list, which was signed by President Trump, states: "These findings outline reforms that must be included as part of any legislation addressing the status of Deferred Action for Childhood Arrivals (DACA) recipients." But according to The Wall Street Journal, Trump officials "stopped short of saying the White House would insist on them," and said the president is not issuing any veto threats.
Other officials suggested the list was just a starting point for negotiations, and emphasized that it mainly reflects the views of immigration hardliners like Stephen Miller and Attorney General Jeff Sessions. Per Politico:
Two White House officials said the administration sees its immigration principles — which Trump was not deeply involved in writing; they were crafted by domestic policy adviser Stephen Miller — as an opening bid for an eventual DACA deal that may look dramatically different from the demands laid out Sunday evening.
So it's possible that Trump was so put off by the right-wing backlash to his reported deal with Democratic leaders that he's re-embracing his anti-immigrant roots. Maybe it's just a negotiating tactic. Or perhaps Trump is still against expelling the Dreamers, whom he's described as "good, educated and accomplished young people who have jobs, some serving in the military," and Miller is trying to sabotage him.
Two things are certain, however: Trump's constantly shifting immigration stance makes it even harder for members of Congress to craft legislation, and needlessly toys with the lives of all those "accomplished young people" who rely on DACA.