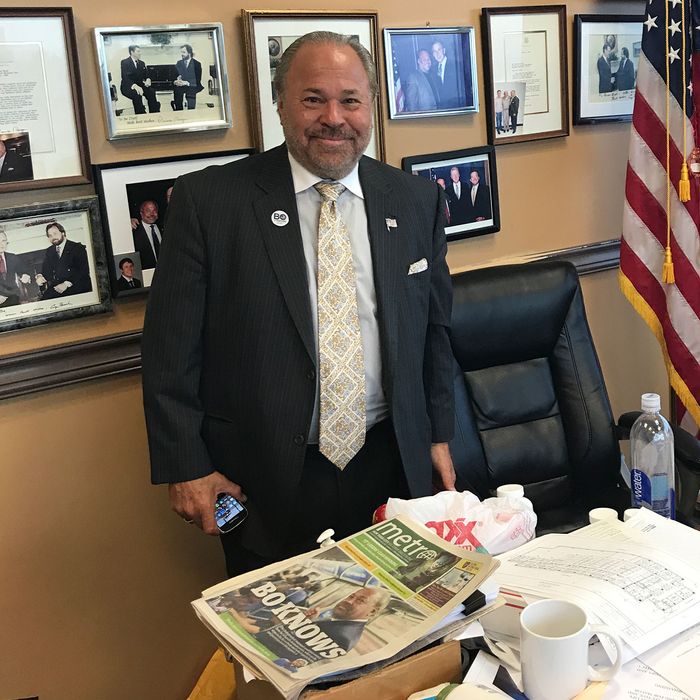 Dietl voted for Trump — whom he describes as a "fucking liar" — but says he regrets it.
Photo: Olivia Nuzzi
Late last Tuesday night, independent candidate for mayor of New York Richard "Bo" Dietl was at home on the Upper East Side, watching himself on TV at a high volume. He was assessing his performance in the debate he'd participated in a few hours earlier with Mayor Bill de Blasio and Republican nominee Nicole Malliotakis and complaining to me on the phone about an accusation, raised during the event, that months earlier he had made a racist remark about the mayor's wife.
Although he admits he voted for (and regrets voting for) his longtime acquaintance Donald Trump, the former Fox News commentator and NYPD officer had intended to run as a Democrat in order to primary de Blasio, whom he loathes. Dietl used to refer to de Blasio as "Big Bird" — a reference to de Blasio's stature, which is considerable next to his own five-foot-eight frame. His commitment to this taunt included campaigning with a person walking around in a Big Bird costume. (Recently, he told me, he decided to stop using the nickname out of respect for his grandson, a toddler who loves Big Bird.) But the plan to primary de Blasio was derailed by an error Dietl made in filling out his voter registration forms, rendering him what he calls "a man without a party."
In April, after a judge upheld the disqualification, Dietl vented during a local GOP event. "The judge looked like Chirlane de Blasio," he said. Chirlane McCray, the First Lady of New York City, is black, as is the judge, Debra A. James. "As soon as I saw her," Dietl said of the judge, "I knew I had a problem."
Onstage at the debate, he sure did. De Blasio used the remark to compare Dietl unfavorably to the president. This further upset Dietl, since "Donald" is a touchy subject. They met in 1986, when Dietl ran for Congress as a Republican; the last time they saw each other was at an inaugural ball in Union Station the night before Trump was sworn in as president. In between, they maintained a loose friendship plagued by arguments about what Dietl said was his disgust with Trump's lying. Despite a friendly encounter in January, Trump recently let Dietl know that he was once again "pissed off" at him. Dietl said Trump relayed this through a source he first described as "little birdies," but then admitted was actually Sean Hannity. (Hannity declined to comment.)
Dietl's onstage efforts to distance himself from the president didn't work, and after the debate, his frustration simmered. "Never ever was it my intent to bring up anything racial," he told me by phone, recalling what he said to de Blasio. "I said the judge looked like your wife and they have the same eyes, same smile. What is wrong? And racial was never brought up there. It's fine for you to take this and twist it, and I'm pissed off about that." He said McCray and de Blasio shook his hand at the debate, and he invited them to dinner. "He said, 'I'd like to go with ya.' I invited him up to Rao's."
Dietl retired from the police force in 1985 to become a private detective and public personality, known for a demeanor that's like Joe Pesci, if Joe Pesci were an auctioneer. He's an oval-shaped man who speaks in a macho lilt, his often outrageous words emerging at a disorienting machine-gun pace. He was a fixture on Don Imus's radio show and on Fox News until the exit of Roger Ailes, whom he worked for as a PI (Imus was also a client). Now, at 66, he's attempting to recast himself as a politician.
I asked Dietl if he'd ever said anything racist before. "Probably!" he said, without pausing, and then he offered: "And I've probably used the N-word! You gotta remember something; I was a detective and a cop in the 1970s."
He explained that maybe in that environment, he'd said it in a bar, or he'd said it back to "black officers" who said it to him (Dietl is German and Italian). "I've used that word, back probably in the 1970s. So I mean, in reality, if you're asking me, I'll answer honestly: maybe I used it. Would I use it now? No. Political correctness has changed. That's why I'm offended when I use this thing, as far me saying a racial comment about his wife, and I said, to SHAR — SHARMAYNE — whatever her name is, I can't pronounce it right. The point is: I respect her as a lady, I respect her as the First Lady, I respect her."
Six percent of New Yorkers support Dietl, according to a Quinnipiac University survey released earlier this month — placing him behind Malliotakis, at 17 percent, and shoo-in de Blasio, at 61.
Dietl's pitch is part law and order, part New York nationalism, all suffused with the drama and heroism surrounding his time as a decorated NYPD detective. (He wrote a book called One Tough Cop about his role in solving the rape and murder of a nun on the Upper East Side; it became a forgotten 1998 movie starring Stephen Baldwin.)
He says he wants to improve safety by boosting police morale, which he would accomplish by giving them something better than "the current deal the mayor is offering." He's the only candidate who walks around with a Glock in his waist belt; he let out a puzzled laugh when I asked if he ever worried he'd accidentally harm himself or someone else with it.
But at its core, Dietl's campaign platform is about rejecting the idea of de Blasio, who offends Dietl's sensibilities for reasons he's overexcited about and yet can't quite articulate. The distaste seems to constellate around several perceptions: De Blasio is incompetent; he's constantly late; he lacks enthusiasm for the Yankees; he's unwilling to eat hot dogs or popcorn at Yankees games; he doesn't seem interested in taking the subway alone; he doesn't care enough about children — and so on. "Oh my god. I'm listening to him now," Dietl told me, still watching the debate. "I want to throw up."
As a PI, Dietl was able to stomach a number of controversial figures though. He worked for everyone from the Kingdom of Saudi Arabia to Steve Bannon to Donald Trump to Roger Ailes. According to the New York Times, Dietl has often been hired to investigate, follow, or allegedly harass women causing problems for prominent men. The list included Bannon's second wife, during their 1997 divorce, after she'd accused him of domestic violence; a Fox News producer who accused Bill O'Reilly of sexual harassment; and Gretchen Carlson, a former Fox News host whose accusations of sexual harassment against Ailes were the catalyst for his eventual downfall. Additionally, the work Dietl performed for Ailes allegedly included having investigators tail former New York Magazine writer and Ailes biographer Gabriel Sherman and his wife. Dietl denied the accusation when Sherman first reported it, and he's still angry about it now — he brought it up without my asking about it. "I never did it," he told me. "I'm a private investigator. If I did it, I'd say 'Kiss my ass.'"
Dietl denies having investigated Bannon's ex-wife, and he rejects the characterization of his work on behalf of Ailes as in any way nefarious or intimidating. In a conversation after this story was published, he told me he had no idea of the allegations against Ailes when they were friends. He added that he thinks of himself as an ally to women, and he would even vote for his Republican opponent if he thought she had a chance of beating the mayor. Even while making this argument, though, he couldn't help but call her a "girl."
Dietl has offered conflicting accounts of the work he performed for Trump. In September 2016, he told me Trump hired him to investigate an attorney attempting to "do something" undesirable in Atlantic City on behalf of unnamed "shareholders." "He hired me to get to the guy. So I went to visit the guy who was trying to fuck Trump, and I says, you know, 'I think you better think about this.' He's got this, this and the other thing — it was enough to be very bad for that person." The issue then "just mysteriously went away," Dietl said. In June 2017, however, Dietl told that same story to the New York Times, except he claimed to have merely called in his threat, rather than physically traveling to New Jersey. And by October 2017, Dietl told me that there was never any official job in Atlantic City at all, just a favor for a friend — no big deal.
Like so many Trump-adjacent figures, Dietl seems to have complicated feelings about the president. At turns he is critical or even hateful, at others he's awestruck and complimentary. He told me Trump is an amazing golfer, but he still cheats. He said Trump is a "liar" and a "narcissist" but you still had to hand it to him for getting elected. They had a falling-out not long after meeting, and then Trump invited him over to "bury the hatchet." Dietl became a member of Mar-a-Lago when it opened and attended Trump's most recent wedding. Then they had a falling-out again. According to Dietl, Trump lied to him about having spoken in his favor to a potential client. "I called him up and I said, 'You're a fucking liar, Donald.' He said, 'You can't call Donald Trump a liar!' I said, 'You're a fucking liar!'" Dietl told me he threatened violence against Trump, which prompted the head of Trump's security, Matthew Calamari (dubbed "Matty the Squid" by Matt Labash in 1999) to call him and complain. Dietl said he threatened him too. Sometime later, Trump called Dietl up again. "He said, 'I'm gonna let you be my friend again,'" Dietl recalled, laughing in disbelief. "I said, 'Ohhh, you're gonna let me be your friend again?' He was the one who was wrong! 'Cause he lied to me! And I don't like to be lied to!"
The Dietl for Mayor campaign headquarters are at the offices of his investigative firm on the 50th floor of One Penn Plaza. With three weeks until Election Day, Dietl claims to have about 20 staffers. But his company assistant, Amanda — not a campaign staffer — is handling his media schedule. And his campaign spokesman, Ken Frydman, only joined the campaign the previous week. (On the campaign's website, his name is misspelled as Ken Friedman.) Amanda sent me two options for 30-minute appointments with Dietl on Thursday, giving the impression that he had a busy campaign schedule. I was 40 minutes late, and then our interview lasted for two hours.
Dietl insists that he's not a hoarder, preferring to describe himself as "loyal" to his possessions — but his office makes you wonder. Not unlike the president's 26th-floor office in Trump Tower, Dietl's personal space is a shrine to himself, covered floor to ceiling with framed photos, awards, seemingly every one of his press clippings since 1986, and innumerable trinkets and figurines. Amid a great pile of clutter on his desk are several photos of de Blasio, including one of him posing with a woman wearing a hijab. From this pile, Dietl grabbed a bottle of what looked like vitamins but upon closer inspection turned out to be a male-enhancement pill called Vesele. He took a few with a swig of SmartWater. "You wanna know the best vitamins?" he asked. He tore into a different package. "Right here. These I looooohvvee. You should start taking these. These are natural fruit and vegetables. And these I take, I take three of these a day. Makes you feel great. These are all fruits and vegetables. Balance of Nature — you ever heard of it on the radio? Only fruits and vegetables. Really, really good." As I glanced at them, he whisked away the bottle of Vesele. "Not this one," he said, "this is a — I don't even know what this does."
Dietl later called to claim he'd asked his doctor what the Vesele pills were for, and he learned they were for his blood flow to help his diabetes. "They were not male enhancement pills!" he said, "If I wanted male enhancement, I'd buy Viagra."
Outside his office, he grabbed my arm, leaned his face close to mine, and whispered into my ear. "Bo likes you," he said. His staff looked on, confused but apparently not surprised.
Of course, there's no logical reason for Dietl to be running for mayor — except that logic and reason no longer apply to American politics, especially as it concerns candidates from New York. Dietl became a "tough cop" — and a highly decorated one — by flouting the rules and etiquette of the police department. He worked on cases he wasn't assigned to by looking for tips in places he wasn't permitted to be during shifts he wasn't supposed to be working, according to a 1985 profile in this magazine. (He's still proud of the piece, which describes him as "probably the best detective in New York," and keeps a photocopied version on hand for visitors.) So with that lesson in mind, he was off to take the subway, and then the Staten Island ferry, where he planned to take a bullhorn out to address the temporarily captive audience.
This post was updated to include Dietl's comments on the nature of his work for Bannon and Ailes, and his reasons for taking Vesele.