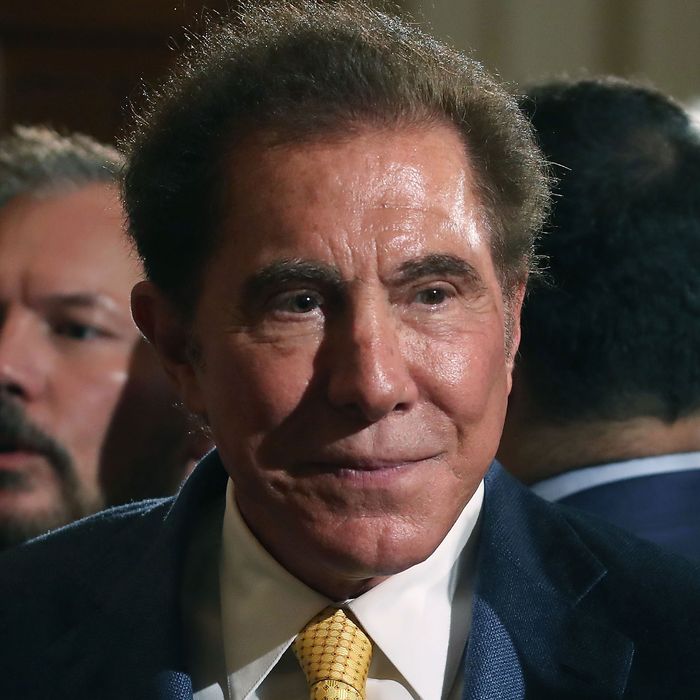 Steve Wynn.
Photo: Mark Wilson/Getty Images
Donald Trump has displayed a number of alarming instincts during his time in the Oval Office. One of these is a tendency to endorse the policy position of whomever he last spoke with; another is a penchant for making major geopolitical decisions on the basis of how they'd affect his people — which is to say, people who've demonstrated personal loyalty to him.
The former instinct recently led the president to call for the deportation of a Chinese dissident seeking asylum in the United States — while the latter caused him to change his mind.
Or so a new report from The Wall Street Journal suggests. The paper reports that casino tycoon Steve Wynn hand-delivered a letter to Trump that was written by the Chinese government. In the missive, Beijing urged the president to extradite Guo Wengui, a Chinese businessman turned vocal critic of corruption in Xi Jinping's government. Guo fled China in 2014 and is currently seeking asylum in the United States. Earlier this year, Chinese officials entered the United States on false pretenses in order to pressure Guo to return home. This effort failed.
But the letter — and/or Wynn's presentation of it — temporarily succeeded. Wynn, who also happens to be the Republican National Committee finance chairman, reportedly handed Trump the document at a private dinner. It appears that Wynn didn't just convey Beijing's concerns, but also gave them his tacit endorsement. If so, Trump should've taken it with a grain of salt: The casino magnate owns multiple billion-dollar gambling properties in the Chinese region of Macau. To keep those facilities running, Wynn must get his casino's licenses renewed by Chinese authorities on an annual basis.
But this potential conflict of interest did not seem to trouble Trump. During an Oval Office discussion of the Guo affair in June — shortly after his dinner with Wynn — the president reportedly asked his secretary, "Where's the letter that Steve brought?" before telling his top advisers, "We need to get this criminal out of the country."
Those advisers eventually convinced Trump not to deport the Chinese dissident — in part, by alerting the president to the fact that Guo was a member of his Mar-a-Lago club in Palm Beach, Florida.
In a perfect world, the American president would neither take foreign-policy advice from a casino magnate with ties to the Chinese government, nor give special preference to asylum-seekers who frequent his luxury properties. But sometimes, the next best option is, apparently, to have a president who does both.