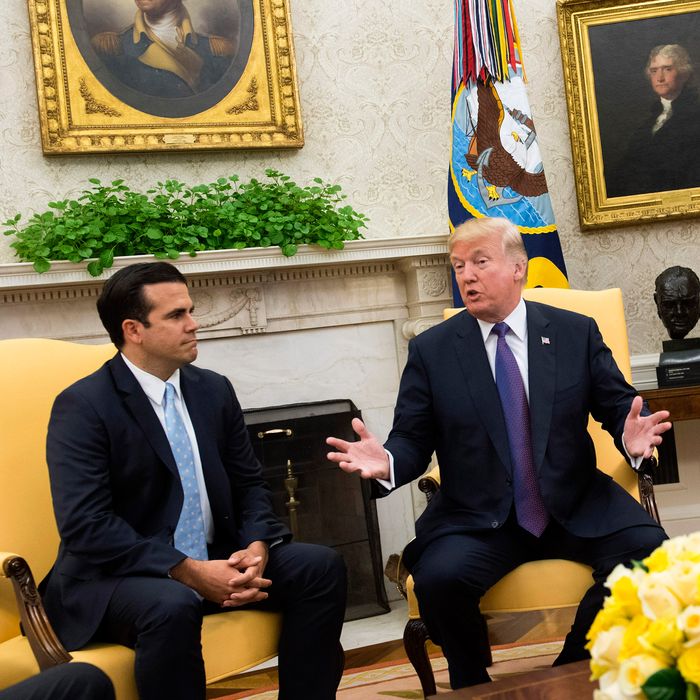 Trump with Governor Ricardo Rosselló of Puerto Rico.
Photo: Kevin Dietsch-Pool/Getty Images
Asked on Thursday to rate the federal government's response to the two hurricanes that hit Puerto Rico last month, President Trump said it was a "ten."
"I'd say it was probably the most difficult, when you talk about relief, when you talk about search, when you talk about all of the different levels," Trump said with Governor Ricardo Rosselló sitting next to him. "And even when you talk about lives saved. You look at the number, I think this was worse than Katrina, in many ways worse than anything people have ever seen."
The American people don't agree with Trump's assessment. A recent poll found that 51 percent of Americans think not enough has been done to respond to Maria. The poll did not include residents of Puerto Rico, but it's a safe bet they wouldn't agree with Trump either. The vast majority of the island is still without electricity, while a third of its residents do not have access to clean water. A health-care crisis has also emerged on the island as the official death toll, which currently stands at 48, is dwarfed by the unofficial estimates.
Trump, however, remains thrilled with the response and seemingly more concerned with the morale of government officials than the people in Puerto Rico. At one point he turned to Rosselló and asked for an attaboy "for the spirit of these people that worked so hard and so long like Tom [Bossert] and like Brock [Long]," referring to his Homeland Security adviser and FEMA administrator, respectively.
"Did our government, when we came in, did we do a great job? Military? First responders? FEMA? Did we do a great job?"
"You responded immediately, sir," Rosselló said, dodging the question because the answer is clearly "No."