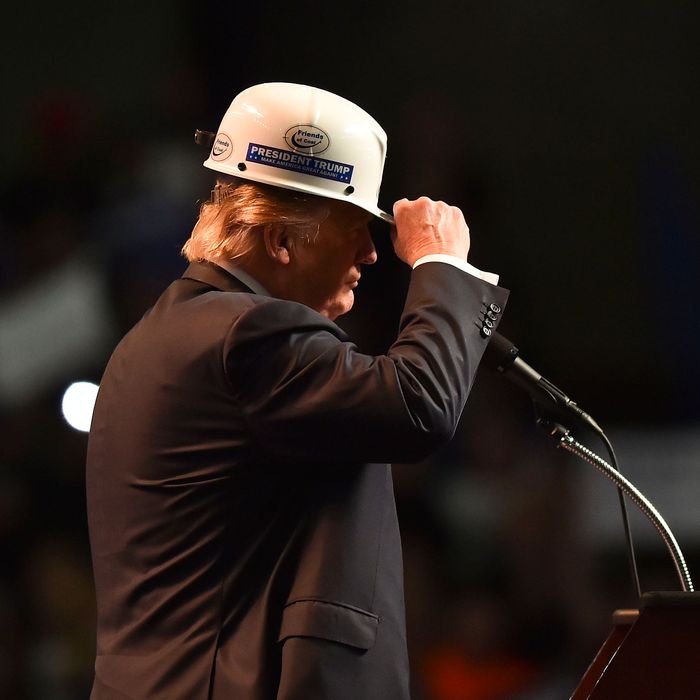 Coal lover.
Photo: Ricky Carioti/The Washington Post/Getty Images
This week President Trump nominated coal-industry lobbyist Andrew Wheeler as deputy administrator of the Environmental Protection Agency, a post that would make him second-in-command to Scott Pruitt, the climate change–denying head of the agency who appears dead set on dismantling it.
Unlike Pruitt, who spent years attacking the EPA from outside of Washington in his role as Oklahoma's attorney general, Wheeler is practiced at fighting the agency from inside the Beltway. A former aide to Senator James Inhofe, Wheeler has spent the past eight years working as a lobbyist for energy companies such as Energy Fuels Inc. and Murray Energy, among other interests.
Senator Inhofe, who, like Pruitt, is from Oklahoma, endorsed Wheeler in a statement. "There is no one more qualified than Andrew to help Scott Pruitt restore E.P.A. to its proper size and scope," he said.
This is not an endorsement that environmentalists will be glad to see. Inhofe, whose book The Greatest Hoax is about the "global warming conspiracy," has long been one of the Senate's most outspoken climate deniers. He's also the only member of the upper house of Congress to symbolically throw a snowball on the Senate floor.
If Wheeler is confirmed by the Senate he will be the highest ranking former Inhofe staffer in the EPA, but he'll be surrounded by old friends. In March, the Washington Post chronicled the exodus from Inhofe's office to the EPA:
At least half a dozen former aides to Inhofe — and counting — have been hired into top positions at the EPA and the White House. The chief of staff and deputy chief of staff to EPA Administrator Scott Pruitt, a fellow Oklahoman and longtime friend of Inhofe, spent years working for the senator. Pruitt's senior advisers on air, climate and legal issues are Inhofe alumni. In addition, two former Inhofe aides have become top domestic and international energy and environmental advisers to President Trump.
Wheeler's ascension to be the EPA's second-in-command won't come without a fight. The Sierra Club has forcefully come out against his nomination, calling it "absolutely horrifying." In a statement, the group said, "There actually could not have been a worse choice for this highly influential position that is charged with protecting the health and communities of Americans across the nation."
At least one senator is publicly agreeing. Rhode Island senator Sheldon Whitehouse said this week that Wheeler "shouldn't be allowed anywhere near the office to which he's been nominated."