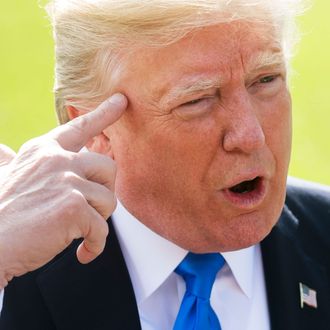 Donald Trump has got it going on upstairs.
Photo: Saul Loeb/AFP/Getty Images
Donald Trump's mental capabilities, or lack thereof, have been in the news recently. Secretary of State Rex Tillerson reportedly called him a "fucking moron," and then pointedly refused to deny having said it. More recently, the Washington Post reports, "lawmakers in both parties increasingly consider him an untrustworthy, chronically inconsistent and easily distracted negotiator."
And so Trump has been forced to remind the country that elected him, sort of, that he does in fact possess a keen intellect. "I went to an Ivy League college. I was a nice student. I did very well. I'm a very intelligent person," he stated, by way of correcting the false accounts of many people who have worked with him and concluded otherwise.
Trump has had to issue this reminder on numerous occasions: "I went to the Wharton School of Business. I'm, like, a really smart person." (July 2015); "I'm, like, a smart person." (December 2016); "Trust me, I'm, like, a smart person." (January 2017); plus, of course, this classic from July 2016:
"Look, having nuclear — my uncle was a great professor and scientist and engineer, Dr. John Trump at MIT; good genes, very good genes, okay, very smart, the Wharton School of Finance, very good, very smart — you know, if you're a conservative Republican, if I were a liberal, if, like, okay, if I ran as a liberal Democrat, they would say I'm one of the smartest people anywhere in the world — it's true! — but when you're a conservative Republican they try — oh, do they do a number — that's why I always start off: went to Wharton, was a good student, went there, went there, did this, built a fortune — you know I have to give my like credentials all the time, because we're a little disadvantaged. …"
Intelligence is a complex trait with many dimensions, but in general, one of the hallmarks of intelligent people is that they are frequently announcing to others that they are very smart.