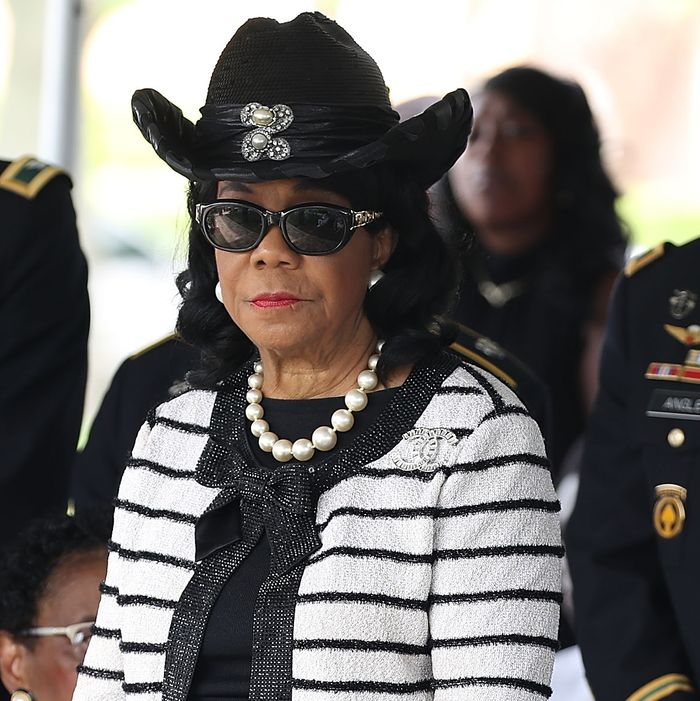 Congresswoman Frederica Wilson.
Photo: Joe Raedle/Getty Images
On Sunday, President Trump continued to go on the attack against Florida congresswoman Frederica Wilson, who took issue with his phone call to the grieving widow of one of the U.S. troops killed in Niger earlier this month.
Earlier this week, Wilson had been with Myeshia Johnson, one of her constituents and the widow of Sgt. La David T. Johnson, when President Trump called Ms. Johnson to express his condolences. Wilson said she heard the conversation on speakerphone.
Wilson claimed that, during the call, Trump did not use the soldier's name, and informed Johnson that her husband "knew what he signed up for … but when it happens, it hurts anyway."
Johnson was killed after American troops on patrol were ambushed in Niger on October 4 under murky circumstances.
Wilson harshly criticized Trump's conduct, calling it "horrible" and "insensitive."
Johnson's mother then verified Wilson's account, telling the Washington Post that Trump "did disrespect my son and my daughter and also me and my husband."
Trump pushed back in personal terms on Twitter, and delegated John Kelly not only to contradict Wilson's version of the conversation but also to call her character into question by erroneously claiming she had once taken credit for the funding of an FBI building in her district. Wilson then accused Kelly of racist language and said, "The White House itself is full of white supremacists." On Sunday, she referred to the Niger incident as President Trump's Benghazi.
Trump made the call to Johnson in the first place to quell criticism that he had not reached out to the families of troops killed in action — criticism he fanned on Monday when he falsely claimed he was in the habit of calling grieving military family members, while previous presidents, including Barack Obama, had not done so consistently.
In addition to the hasty phone calls, the Trump administration has been rush-shipping condolences to military families who have seen loved ones killed in action, seemingly in order to substantiate Trump's assertion.
Now, Trump finds himself in a familiar spot: resorting to ad hominem attacks to distract from easily disproved falsehoods and, in the process, dragging out what could have been a one-day story into an ugly saga that shows no signs of fading.
The Trump administration could have avoided the entire mess if it had simply apologized for the president's inaccurate statements on Monday, or for offending a war widow — regardless of Trump's exact choice of words during his phone call. But if we've learned anything over the last two-plus years, it's that, given the choice to back down an inch or to ignite an ugly, multi-front war of words and perceptions, the president will always pick the latter option.