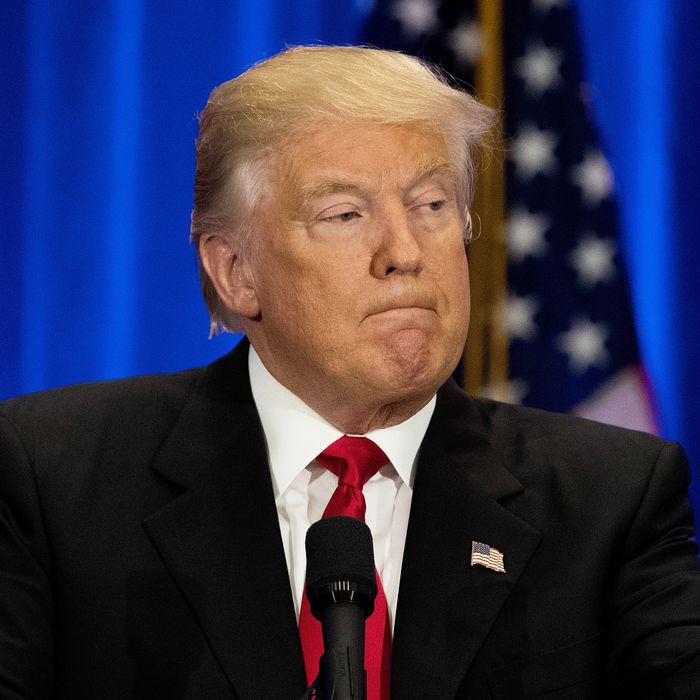 So far, the third time wasn't the charm.
Photo: Drew Angerer/Getty Images
Try as he may, Donald Trump can't catch a break in his quest to curtail Muslim immigration into the United States. On Tuesday, a federal judge in Hawaii — the same one Jeff Sessions once derided as a "judge on an island in the Pacific" — dealt the president yet another setback in his bid to impose travel restrictions on a number of nations, most of them Muslim-majority.
U.S. District Judge Derrick Watson (who has reportedly received threats for not going along with Trump), made quick work of the third iteration of the travel ban. That order, which was set to go into effect tomorrow, bars visitors from eight countries — Chad, Iran, Libya, North Korea, Somalia, Syria, Venezuela, and Yemen — indefinitely. Watson concluded that it violates federal immigration law as interpreted in binding court precedent. "Professional athletes mirror the federal government in this respect: they operate within a set of rules, and when one among them forsakes those rules in favor of his own, problems ensue," Watson wrote.
The precedent Watson relied on in his ruling came from, of all places, Trump's least favorite appeals court: the U.S. Court of Appeals for the 9th Circuit. In June, the appeals court ruled that our chief executive had all but ignored the language of the law, which requires that the president make a reasoned finding that the entry of certain immigrants is "detrimental to the interests of the United States." That's a "precondition" Trump again failed to satisfy, Watson said, in part because the new travel ban "contains internal incoherencies" that have nothing to do with national security.
To wit: Why would the government bar nationals from countries that have never been implicated in deadly terrorist attacks on U.S. soil? And why would Iran, which the U.S. government describes as a "state sponsor of terrorism," still be allowed to send some of its nationals here under a valid student visa? Watson couldn't tell. (In a footnote, he dinged the Trump administration for not letting him see a classified Department of Homeland Security report that may have given him some insights into the thinking behind the ban.)
For good measure, Watson pointed out all the times Trump has launched Twitter tirades about his travel ban. The record runs deep:
In another part of his ruling, Watson also concluded that in broadly singling out certain countries and not others that may be more danger-prone, Trump fell short of the law's prohibition on "nationality-based discrimination." That's a little softer than saying Trump's executive order "drips with religious intolerance, animus, and discrimination" — a conclusion that another court did reach.
It's unclear how long Watson's ruling, which applies nationally, will be in effect. The Supreme Court should soon decide what to do with Trump v. Hawaii, the administration's appeal of the 9th Circuit ruling that Watson cited. That case has been at a standstill, as it concerned the temporary version of the travel ban that expired last month. On Tuesday, the Trump administration vowed to appeal Watson's new ruling on the permanent ban, so the Supreme Court may decide to hold off until this latest challenge makes its way through the courts.
UPDATE: Overnight, a federal judge in Maryland jumped into the fray and also blocked the revised ban. As the judge did back in March, when he put the brakes on the second version of it, he went farther than his colleague in Honolulu and said that Trump's ban is, in effect, a Muslim ban. Which is to say, the restrictions don't just violate federal law, but also the Constitution's protections against religious discrimination.
"When the government chooses sides among religions, the inevitable result is hatred, disrespect, and even contempt from those who adhere to different beliefs," U.S. District Judge Theodore Chuang wrote in his 91-page opinion.