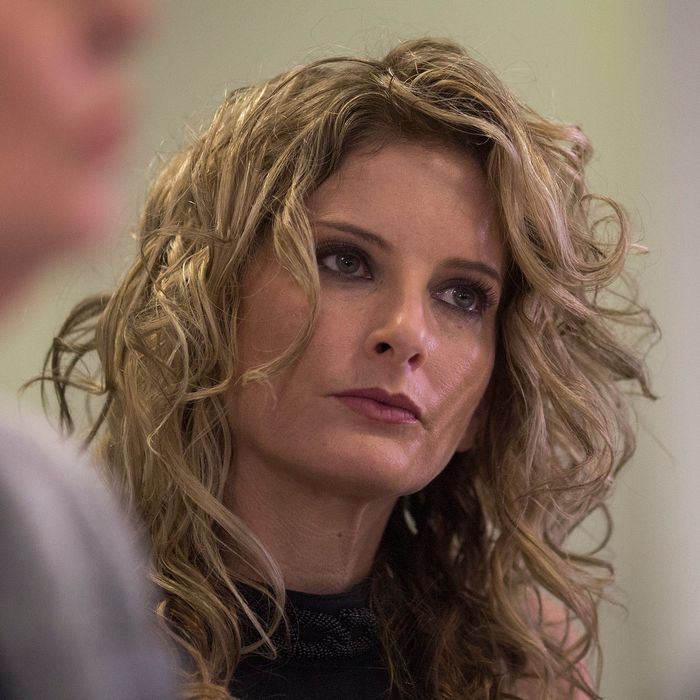 Summer Zervos appears at an October 2016 press conference to detail allegations of sexual misconduct against then–presidential candidate Donald Trump.
Photo: David McNew/Getty Images
Last month, lawyers representing former Apprentice contestant Summer Zervos, one of the women who has accused President Trump of sexual misconduct, served the Trump campaign with a subpoena asking it to preserve any documents that it had pertaining to her and any other women who have made similar allegations against Trump.
Buzzfeed News reported the filing on Sunday, noting that it is related to a defamation suit that Zervos filed against Trump in January after he responded to her and others' assault allegations by denying the charges and calling the women liars. In a press conference last October, Zervos claimed that Trump had groped and kissed her at the Beverly Hills Hotel in 2007 after she had gone to meet with him about the possibility of taking a job with the Trump Organization.
Per Buzzfeed:
[Zervos and her lawyers] also asked for "all documents" concerning other women who have accused Trump of groping them, including Jessica Leeds, Mindy McGillivray, Rachel Crooks, Natasha Stoynoff, Temple Taggart, Kristin Anderson, Cathy Heller, Jill Harth, and Jessica Drake. The subpoena seeks "all documents concerning any accusations that were made during Donald J. Trump's election campaign for president, that he subjected any woman to unwanted sexual touching and/or sexually inappropriate behavior." … The subpoena did not make its way into the court file until last month, when Zervos' attorneys, including the high-profile lawyer Gloria Allred, filed it as part of motion disputing a contention from Trump's legal team that her subpoena was too broad.
Neither Trump's attorney nor the White House responded to Buzzfeed's request for comment regarding the subpoena, but Trump has until October 31 to file a response to the motion.
In her press conference last year, Zervos, who was a contestant on season five of The Apprentice, recounted what happened when she met Trump in 2007 at the Beverly Hills Hotel to discuss the possibility of her joining the Trump Organization. She said she had assumed they would be having dinner in the hotel's restaurant, but after meeting him at his room, Trump made unwanted sexual advances on her, including kissing and groping her, and even thrusting his genitals at her:
I walked farther into the living room, away from the bedroom, and sat down. I waited for about 15 minutes until Mr. Trump emerged. He had his suit on. I stood up and he came to me and started kissing me open-mouthed as he was pulling me toward him. I walked away and I sat down in a chair. He was in a low seat across from me and I made an attempt at conversation. He then asked me to sit next to him. I complied. He then grabbed my shoulder and started kissing me again very aggressively and placed his hand on my breast. 




I pulled back and walked to another part of the room. He walked up, grabbed my hand, and walked me into the bedroom. I walked out. He then turned me around and said, "Let's lay down and watch some tele-tele." He put me into an embrace and I tried to push him away. I pushed his chest to put space between us and I said, "C'mon, man, get real." He repeated my words back to me — "get reeeeal" — as he began thrusting his genitals. He tried to kiss me again with my hand still on his chest and I said, "Dude, you're tripping right now," attempting to make it clear I was not interested. He said, "Well, what do you want." I said, "I came to have dinner." He said, "Okay, we'll have dinner."
Zervos was one of many women who came forward to publicly accuse Trump of sexual harassment or assault last year. Most did so after a 2005 Access Hollywood recording emerged in early October, in which Trump bragged to former host Billy Bush that he could do whatever he wanted to women because of his fame:
I've gotta use some Tic Tacs, just in case I start kissing her […] You know I'm automatically attracted to beautiful — I just start kissing them. It's like a magnet. Just kiss. I don't even wait […] And when you're a star they let you do it. You can do anything. Grab them by the pussy. You can do anything.
Trump dismissed the tape as harmless "locker room talk." Bush later said he didn't agree with that characterization.
The allegations against Trump, and particularly accounts like Zervos's, are being discussed anew in light of the recent wave of sexual assault and harassment allegations being made against film producer Harvey Weinstein, who has also been accused of forcing himself upon women using hotel-room meetings to set up situations where he could do so.
Last year, Trump responded to the allegations of sexual misconduct by claiming his accusers were politically motivated liars taking part in a conspiracy against him and his campaign. He said he would sue all of them, as well as the publications who published their claims. (He didn't.) In one case, Trump told a campaign rally that one of his accusers was not attractive enough for him to have been interested in. Trump's public responses to the allegations were the basis of Zervos's defamation suit in January.
In that suit, Zervos's attorneys argued that Trump "used his national and international bully pulpit to make false factual statements to denigrate and verbally attack Ms. Zervos and the other women." In July, Trump's attorneys asked for the suit to be dismissed, arguing in a court filing that Trump's responses to the allegations constituted "non-actionable rhetoric and hyperbole that is protected by the First Amendment."