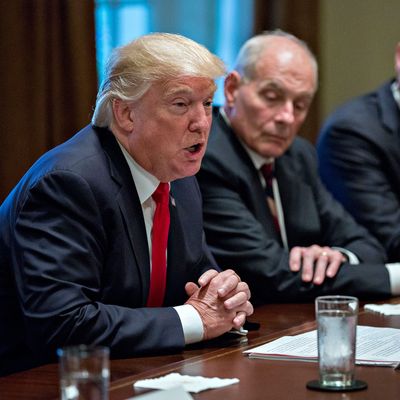 "This may be the calm before the fire and fury like the world has never seen."
Photo: Pool/Getty Images
Just as the White House press corps was preparing to head home Thursday night, President Trump summoned reporters to the State Dining Room, where they found him posing for a group photo with his highest-ranking military advisers and their wives. When the president caught sight of the journalists, he asked them, "You guys know what this represents?"
Before they could answer, Trump said, "Maybe it's the calm before the storm. Could be the calm, the calm before the storm."
The United States is currently in a diplomatic crisis with North Korea — one in which both nation's leaders have threatened the other's country with annihilation. The Trump administration is also on the cusp of decertifying America's nuclear agreement with Iran, potentially knocking over the first domino in a sequence that triggers another U.S. war in the Middle East.
So the reporters were understandably anxious to understand precisely what kind of storm his forecast predicted. But Trump batted away their questions, saying only, "You'll find out."
On Friday, reporters once again asked Trump to clarify his remark. Once again, the president replied, "You'll find out" — only this time, while winking.
Moments later, White House press secretary Sarah Huckabee Sanders told reporters that Trump's "calm before the storm" prediction was "extremely serious," and that the president was definitely not just "messing with the press."
"We're never going to say in advance what the president's going to do," Sanders continued. "You'll have to wait and see."
Meanwhile, several White House aides told the New York Times that they had no idea what Trump was referring to Thursday night.
Shortly before his ominous remark Thursday evening, Trump had said, "We cannot allow [North Korea's] dictatorship to threaten our nation or allies with unimaginable loss of life," and vowed to "do what we must do to prevent that from happening and it will be done, if necessary. Believe me."
Arms-control expert Jeffrey Lewis has warned that if Kim Jong-un has reason to believe that the U.S. might be on the verge of making a first strike against his regime, then he has an incentive to "go first, if he is to go at all."
Maybe, the president keeps coyly suggesting that he's on the brink of starting a major war — while refusing to offer the public any further details — for a compelling national security reason; one so compelling, it is worth the risk of spooking a nuclear-weapons state into launching a preemptive attack on Seoul.
Or maybe Trump just wanted to say something that sounded cool — like that time he promised to meet North Korean threats with "fire and fury like the world has never seen."
We'll have to wait and see.