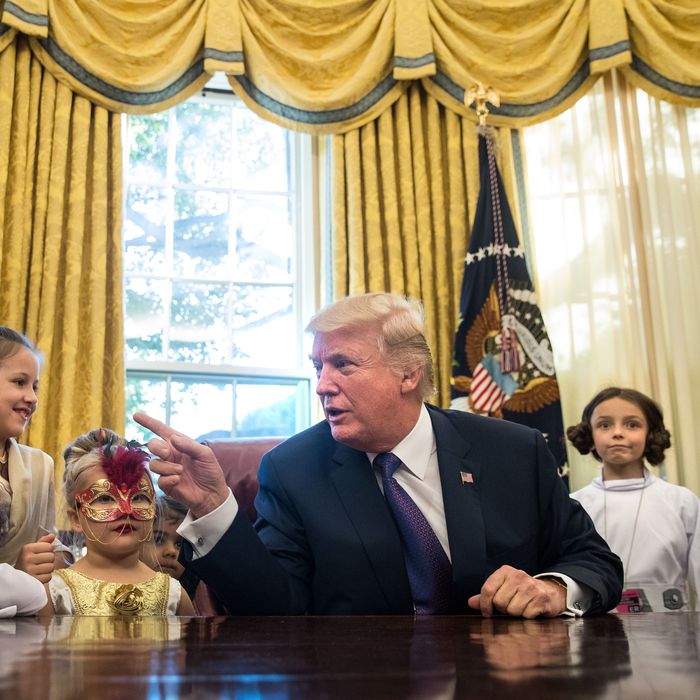 My appeals court nominees are REALLY scary!
Photo: Drew Angerer/Getty Images
President Trump spent some quality time with the Halloween-costumed children of journalists in the Oval Office on Friday, and it went a little less disastrously than you'd expect.
For a while, Trump actually sounded more natural around the kids, whose avatars included a witch and Princess Leia, than he usually does when he attempts a "try to act like a human for three minutes" routine. He engaged in passably normal banter as he chitchatted with the group of largely impassive boys and girls.
And he had zingers. "I cannot believe the media just produced such beautiful children," the president joked. (The joke is that he has labeled the press the enemy of the American people and has repeatedly put reporters in physical danger.)
Trump almost escaped the encounter without uttering an unaccountably odd remark, but couldn't quite pull it off.
As he handed some of the children candy, he said, "You have no weight problems, that's the good news, right? So, you take out whatever you need, okay? If you want some for your friends, take 'em. We have plenty."
It was a blow for the millions of Americans sick of political correctness dictating that they don't bring up sensitive matters of body image to little kids. Way to go, President Trump!