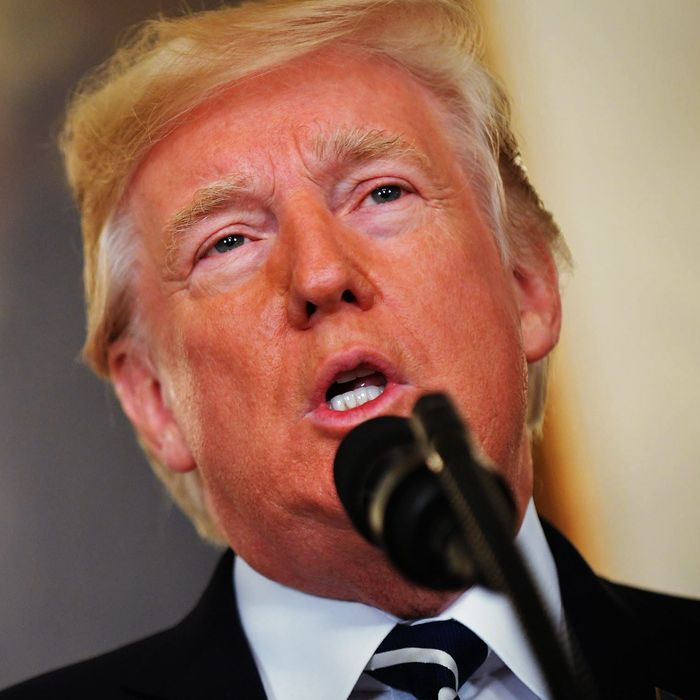 Not trying 280 yet.
Photo: Mandel Ngan/AFP/Getty Images
President Trump woke up Thursday with an old enemy in his crosshairs. The media, he wrote in an early-morning tweet, should be investigated by the Senate Intelligence Committee, a congressional body that oversees the intel community.
This tweet was likely inspired, at least in part, by a press conference Wednesday in which Senate Intel leaders provided an update on the investigation into Russian interference in the 2016 election and possible collusion by the Trump campaign. So Trump isn't just saying the Senate should investigate media, he's saying it should do that instead of investigating him.
Trump followed that with another tweet denying part of an NBC News story published Wednesday. The story said Secretary of State Rex Tillerson had to be convinced to not resign in July. Tillerson denied that Wednesday and Trump did the same in his tweet Thursday. The NBC News story also said that Tillerson called Trump a "moron." Neither man denied that part of the story.
Those who still take Trump's outlandish tweets seriously might worry about the blatant authoritarianism on display when he suggests that the government should investigate media companies because he doesn't like their stories. They might worry that Trump thinks the Senate Intelligence Committee has jurisdiction over the press. They might worry that Trump is suggesting any news he does not "verify" is fake.
There is good news for those worried though. Give it a few hours and you can stop worrying, since Trump's sure to provide something new to get worked up about.