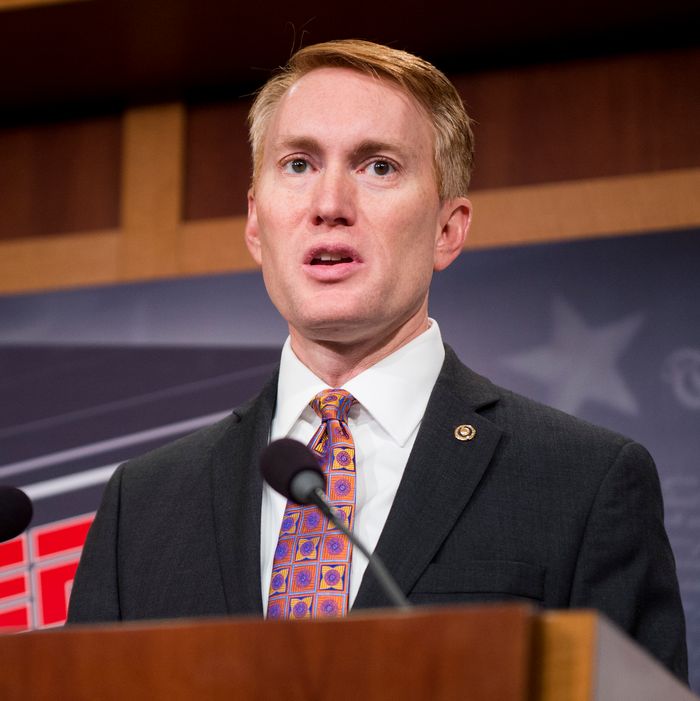 Senator Lankford.
Photo: Bill Clark/CQ-Roll Call,Inc.
Time and again, President Trump has shown that he has a very poor understanding of how negotiations work, despite his famous declaration, "Deals are my art form."
Trump demonstrated this early last month, when a group of conservative attorneys general threatened to file a legal challenge to DACA if Trump didn't kill the program, which offers people brought to the country illegally as children protection from deportation. The president — who had pledged to end the Obama program, but also assured Dreamers that he's sympathetic to their plight — reportedly wanted to avoid making a decision on the issue. Though the attorneys general were making an empty threat, Trump caved and announced he would end DACA.
He did find a way to foist the decision on Congress, saying DACA would officially end in six months. This was meant to force lawmakers into action; if they couldn't pass a legislative fix in six months, they'd have to deal with the consequences of 800,000 people being shipped from the U.S. to countries many of them don't even remember.
But Trump immediately undermined his threat, tweeting: "Congress now has 6 months to legalize DACA (something the Obama Administration was unable to do). If they can't, I will revisit this issue!"
Exactly how he would "revisit the issue" was unclear, but the tweet was generally taken to mean that if Congress didn't feel like tackling yet another historically difficult issue in the next few months, there wouldn't be any consequences.
This was no gaffe; now we've learned that Trump actually confirmed to a Republican senator that he will extend DACA past the March 5 deadline if Congress can't come up with a legislative fix by then.
"The president's comment to me was that, 'We put a six-month deadline out there. Let's work it out. If we can't get it worked out in six months, we'll give it some more time, but we've got to get this worked out legislatively,'" Oklahoma senator James Lankford told the Washington Post outside of a town hall on Thursday night.
A Lankford spokesman said Trump made the remark during a phone call with the senator last month. Lankford relayed the information to reassure a group of 20-somethings who approached him after the town hall to discuss DACA.
"I was trying to set them at ease and to say, 'This is going to get worked out. The president's even said to me, we're going to get this worked out and find a solution to this legislatively,'" he said.
Trump has consistently said that he'd like Congress to come up with a way to help DACA recipients, then made moves that make a solution less likely. Last month he appeared to strike a deal with Democrats, offering DACA protections for relatively mild border-security measures. Then this week his administration said he would only fix DACA if Democrats agreed to border-wall funding and a host of other hard-line immigration measures. Aside from decreasing pressure on Congress, extending the March 5 deadline would create massive headaches, since you can't turn a complex bureaucratic process on and off like a light switch.
On the other hand, Trump did have someone else write The Art of the Deal for him, so he probably knows what he's doing.