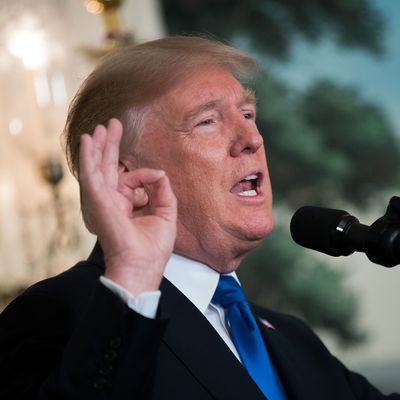 President Donald Trump speaks on Iran policy from the Diplomatic Reception Room of the White House, Friday, October 13, 2017, in Washington.
Photo: Drew Angerer/Getty Images
As late as a few hours prior to Donald Trump's speech announcing his intentions on the Iran deal, GOP senator and chairman of the Senate Foreign Relations Committee Bob Corker told CBS reporter Kylie Atwood, "Things can adjust between now and the speech, and maybe even during it." Indeed, some major uncertainty remains even after the president gave the speech. At least one major action item — whether the U.S. would be designating Iran's Revolutionary Guard Corps a terrorist organization — was left obscure in Trump's remarks and only clarified by the Treasury Department afterward. (Yes, it turns out.)
If the theatrics of today's speech reminds you more of a reality-show season premiere than high diplomacy, it's not accidental. Trump and his team are stage-managing Iran policy as if it were an episode of The Apprentice. He intentionally built drama for weeks — from his September taunt to the United Kingdom, our closest ally, that he'd made a decision but wasn't willing to share it, to a steady drip of leaks and time changes in the lead-up to today's announcement. European ambassadors were called to the State Department days ahead of time, then told the State Department had nothing to tell them.
Tune in for the season opener, right?
But international diplomacy doesn't thrive on "reveals" — in fact, it tends to fall apart over them. Even so, today's remarks from Trump just reinforced the White House's established line on foreign policy: an intense desire to shift responsibility to Congress and other countries — and an administration at war with itself.
Trump didn't take either of the big steps he'd threatened. He declined to certify that Iran is in compliance with the six-party deal to halt Iran's nuclear-weapons program — but did not pull the U.S. out of the deal, and didn't offer any new evidence of Iranian noncompliance. Eventually it came clear the his administration would designate Iran's Revolutionary Guard Corps (the branch of Iran's military that takes the lead in supporting extremists overseas) as a terrorist organization. And as part of his new strategy, he promised to work with allies, place additional sanctions on the regime and the Revolutionary Guard, address problematic regime actions, and deny the regime paths to a nuclear weapon. But he punted stronger action to Congress.
From a diplomatic perspective, it was a confused and isolating message. Former White House staffer Colin Kahl referred to the Trump policy rollout as "Obama minus" — the minus being the loss of international consensus around the nuclear deal. Leading European voices criticized the administration for "putting in question" U.S. willingness to keep the agreements we make.
Either because they desperately want the speech to mean something positive, or because policy wonks simply abhor a vacuum, experts from across the spectrum have quickly offered up new plans for how the administration and Congress can rally Europe to enact additional sanctions, and triggers for even more sanctions, that will supposedly constrain Iranian support for extremist groups and missile development while strengthening the nuclear agreement.
But there are good reasons to question whether this approach, even if it worked, really serves U.S. interests. Following this path would amount to decisively taking the side of Iran's archnemesis Saudi Arabia in the region's ongoing power struggle, and elevating the Kingdom's interests above everyone else's in the Middle East. It would further alienate Iran's 82 million people and make it harder, rather than easier, to get help from Iran in keeping Iraq stable, eliminating ISIS, and winding down the bloodletting in Syria. While it purports to be "pro-Israel" — whatever that means — it is opposed by key Israeli military and security leaders.
But never mind that. Let's just consider the question of pure mechanics. A stronger coordinated Iran policy would depend on better-coordinated American diplomacy. First, it requires a Republican Party that can't deliver votes for its own signature initiative — replacing Obamacare — delivering majority support for a changed Iran deal. And then it demands convincing the rest of the world to go along. What are the chances that an administration led by a president who mocks his secretary of State on social media in the middle of negotiations over North Korea's actual nuclear weapons is capable of that?
But in the days leading up to the Trump announcement, key allies and global figures could not have been more clear: They do not intend to go along. They intend to maintain the deal. They do not wish to be seen negotiating with Trump, having watched the embarrassments Mexico and Canada have been subject to on NAFTA talks.
The parallel to reality television is all too excruciating. The best scenes were in the trailer. The president's tried to keep us all hooked by reminding us that he can unilaterally terminate the agreement and threatening that he would do so if Congress does not act. But will he? Tune in next season to find out — but Russia, China, and even Europe would probably suggest checking out what's on their channels instead.