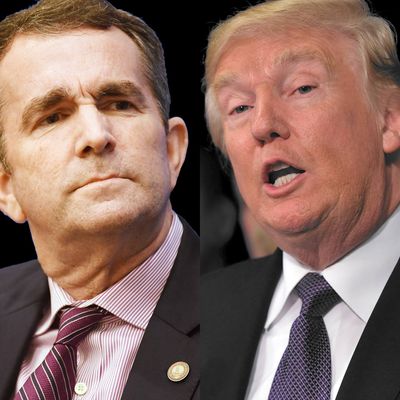 Democratic gubernatorial candidate Ralph Northam would probably be happy to make his race a referendum on Donald Trump.
Photo: Getty Images
Yesterday morning the Washington Post released a new poll of the Virginia gubernatorial contest showing Democrat Ralph Northam blowing out to a 13-point lead over Republican Ed Gillespie among likely voters, by far the biggest lead he's managed in a general election survey.
Early last evening Donald Trump took to Twitter with this nasty-gram:
Perhaps it was a coincidence, given the president's spotty consumption of news and other information that is not about his own self. But it's likely some alarms went off in the White House about an impending Gillespie loss being treated (as off-year elections in Virginia and New Jersey often are after a change of administration in Washington) as a referendum on the Trump presidency. That would have gotten POTUS's attention for sure. And the tweet itself, directly accusing the lieutenant governor of Virginia of "fighting for" a violent criminal gang, is not subtle.
We don't know at this point whether the Gillespie campaign invited, or even had advance knowledge of, Trump's intervention. The MS-13 smear Trump deployed does track Gillespie's own borderline racist ads attacking Northam for breaking a tie in the State Senate against a bill that would preemptively outlaw "sanctuary cities" (Virginia has none now), which has little to do with MS-13, but whatever.
Gillespie has for the most part given his party's president a wide berth in this race. That makes sense. Trump lost the state to Hillary Clinton by more than five points last year. According to Gallup, his job-approval ratio in Virginia over the first six months of his presidency averaged 39/56. The new Post poll showed Trump currently at 34/60 among the Old Dominion's registered voters, with half of voters disapproving strongly of his job performance. In addition, Virginia has a history of rejecting gubernatorial candidates from the party that controls the White House: In the last ten gubernatorial elections, the White House party has lost nine (the only exception is actually the current, term-limited Democratic governor Terry McAuliffe).
So you wouldn't figure that Trump leaping into the Virginia race would do much to help Gillespie, who has been in striking distance of Northam in most polls prior to the WaPo bombshell (in the RealClearPolitics average of recent polls, Northam's lead is a modest 5.4 percent).
Still, the White House may be reinforcing a decision by Team Gillespie to go big on making this a "culture war" campaign. Not only are Virginia Republicans pounding the Democrat on his alleged sympathy for Hispanic criminals; they're also trying to exploit the relatively positive feelings Virginians have toward Confederate monuments, the issue that blew up in Charlottesville this summer. This doesn't necessarily reflect rampant racism: Virginia is saturated with Civil War monuments of all kinds (when I lived in the state, I passed through three Civil War battlegrounds on my daily commute to work). Gillespie's primary opponent Corey Stewart, at one point Trump's 2016 campaign manager in Virginia, made protecting Confederate monuments a signature issue and nearly upset the front-runner. Perhaps Gillespie now thinks such issues can work magic for him, too, along with fear of immigrants.
The bottom line is that, a month out, Northam has history and the polls on his side, along with a significant financial advantage. Making the race more explicitly a referendum on Trump will probably help him as well, but as we know, once the 45th president gets obsessed with something, it can be hard to keep him away from expressing his opinion, night and day.