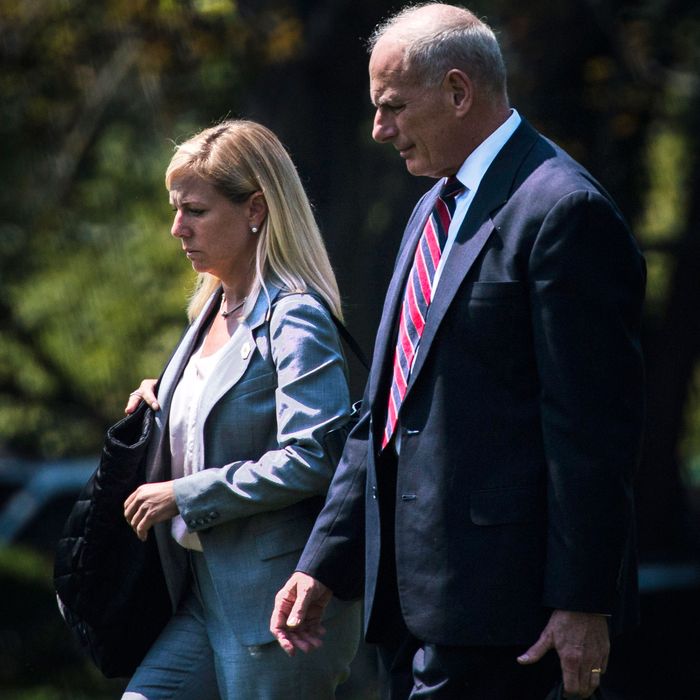 White House chief of staff John Kelly and Kirstjen Nielsen.
Photo: Jabin Botsford/The Washington Post via Getty Images
Kirstjen Nielsen, an expert in cybersecurity and former member of the White House Homeland Security Council, will be nominated as the next secretary of the Department of Homeland Security, Politico and other outlets are reporting.
Nielsen served as John Kelly's deputy at DHS before the retired four-star general left his post to become White House chief of staff. She followed Kelly to the West Wing, where she has served as his top aide. Now, with Kelly's urging, President Trump will nominate Nielsen to head DHS, which has been run by acting director Elaine Duke since Kelly's departure.
"The decision wouldn't have been made without the chief of staff's endorsement," a source told CNN, referring to Kelly's endorsement of Nielsen.
If confirmed, Nielsen will become just the third woman in Trump's cabinet, joining Transportation Secretary Elaine Chao and Education Secretary Betsy DeVos. She would also become the first DHS head to have previously worked for the department, having served as the special assistant for prevention, preparedness, and response on the Homeland Security Council under President George W. Bush. In that role, she was criticized for ignoring warnings about Hurricane Katrina and failing to adequately prepare for the storm.
Nielsen has developed a reputation as a bit of hard-ass in her short stint working under Kelly. Her "rigid style" under Trump's chief of staff and her emphasis on professionalism had some White House staffers calling her "Nurse Ratched," Politico reported last month.
"Like [national security adviser H.R.] McMaster and Kelly, she is a neocon who likely did not vote for Donald Trump and certainly does not support his noninterventionist worldview," Trump confidant and fashion blogger Roger Stone told the site. "If the president fails, it will be because of appointments like this."