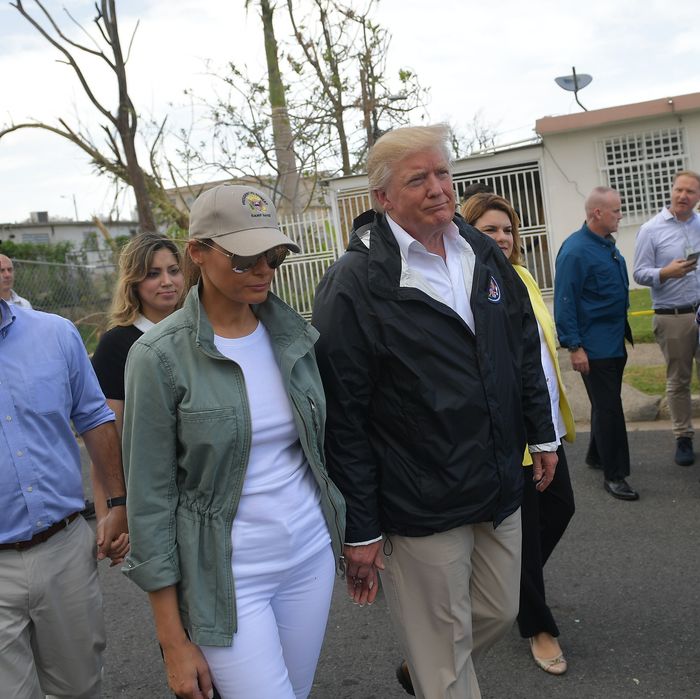 President Trump and First Lady Melania Trump visit residents affected by Hurricane Maria in Guaynabo, Puerto Rico, on October 3, 2017.
Photo: MANDEL NGAN/AFP/Getty Images
While President Trump appeared to relish the idea of leading the federal response to Harvey and Irma, after Hurricane Maria devastated Puerto Rico last month he seemed largely focused on the U.S. territory's massive preexisting debt.
In his very first comment on the crisis, Trump tweeted, "Texas & Florida are doing great but Puerto Rico, which was already suffering from broken infrastructure & massive debt, is in deep trouble."
He then got into a feud with the mayor of San Juan, and complained that the island's leaders "want everything to be done for them when it should be a community effort."
Trump remained fixated on Puerto Rico's finances during his bizarre four-hour trip to the island on Tuesday. In addition to comparing the death toll — which is now up to 34 — to that of a "real catastrophe like Katrina," Trump commented, "I hate to tell you, Puerto Rico, but you've thrown our budget a little out of whack because we've spent a lot of money on Puerto Rico, and that's fine. We've saved a lot of lives."
Trump's visit only exacerbated calls for him to stop emphasizing that Puerto Rico is to blame for its problems, and do more to stop the growing humanitarian crisis. But there was one more strange moment from the trip that wasn't revealed until Tuesday night. In an interview with Geraldo Rivera that aired on Hannity, Trump declared that Puerto Rico's debt should be wiped out.
"We are going to work something out. We have to look at their whole debt structure," Trump said. "You know they owe a lot of money to your friends on Wall Street. We're gonna have to wipe that out. That's gonna have to be – you know, you can say goodbye to that. I don't know if it's Goldman Sachs but whoever it is, you can wave good-bye to that."
Thanks to a long recession, local mismanagement, and decades of shifts in U.S. law, Puerto Rico was indeed in dire financial straights even before Maria hit. The territory has roughly $70 billion in debt, high unemployment, a 45 percent poverty rate, and insolvent pension systems. In the summer of 2016, Congress passed a bill, which President Obama signed into law, which allowed Puerto Rico to restructure its debt, and created a federally appointed fiscal oversight board. In May, Puerto Rico filed for the biggest municipal bankruptcy in U.S. history.
If Trump were to simply "say goodbye" to all that debt, it would obviously be momentous for Puerto Rico, which has been forced to pursue austerity measures that could keep it its financial crisis going for years. Some experts were calling for the nation's debt to be at least partially forgiven even before it suffered an estimated $45 billion to $95 billion in storm damage. (The Trump administration is expected to request $29 billion in further disaster assistance on Wednesday, but that would go toward recovery efforts across the U.S.)
The problem, as is often the case, is that no one knows what Trump was talking about.
On the campaign trail, Trump stressed that the U.S. shouldn't "bail out" Puerto Rico — though Governor Alejandro Garcia Padilla said they were merely seeking the legal ability to restructure their debt, as Trump has done many times. Then, as president, he accused Democrats of trying to force a government shutdown to "bail out" Puerto Rico, when they were actually pursuing funding to keep qualified U.S. taxpayers from being kicked off Medicaid.
While Trump's tone has shifted, it's unclear what specific fixes he was talking about, and the White House has yet to respond to requests for an explanation. But as Bloomberg noted, eliminating Puerto Rico's debt would have complex financial consequences:
… To "wipe out" $74 billion in municipal debt, billions of which are guaranteed by the island's constitution, would shake investor faith in a market long considered one of the safest of havens. Lower rated municipal borrowers would almost certainly see their borrowing costs rise to account for the added risk.
And the matter isn't as simple as telling Geraldo's "friends on Wall Street" to suck up their losses on Puerto Rico. CNN Money reports:
In reality, most of that money is owed to everyday investors. Less than 25% of Puerto Rican debt is held by hedge funds, according to estimates by Cate Long, founder of research firm Puerto Rico Clearinghouse.




The rest of the debt is owned by individuals and mutual funds that are held by mom-and-pop investors.
Some of the island's bondholders have been lobbying Congress and the White House to replace the members of the oversight board, but legal changes would be tricky as well. A Trump-appointed board couldn't change Puerto Rico's debt repayment plan without approval by a federal judge in New York.
So Trump's remarks might mean that after witnessing the devastation in Puerto Rico, he's dedicated to figuring out a solution to its debt problem that doesn't cause more suffering for the island's inhabitants. Or it's possible that he thought it might be good to shift some blame to Wall Street after lashing out at Puerto Rico for the past few days. Either way, it's a more positive development than the president throwing paper towel rolls into a crowd of hurricane victims.