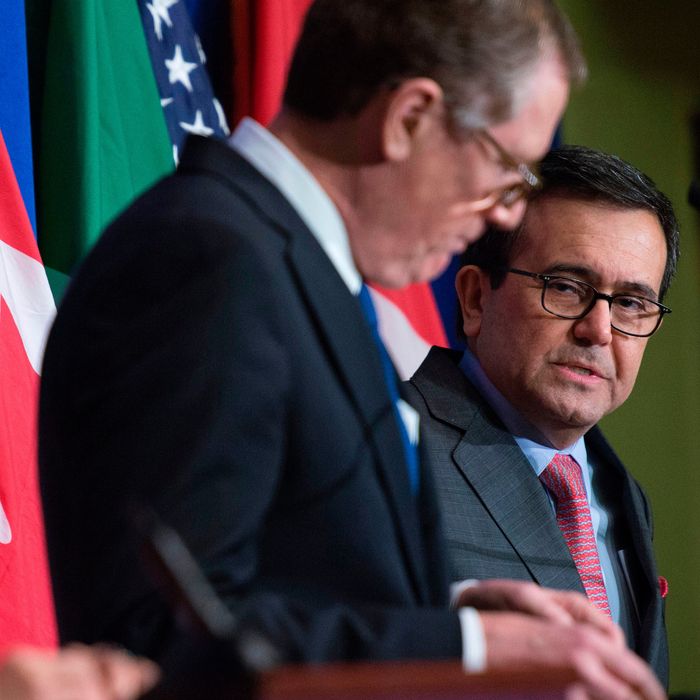 Deal or no deal?
Photo: Andrew Caballero-Reynolds/AFP/Getty Images
As the fourth round of NAFTA negotiations wrapped up Tuesday, the three North American nations agreed to disagree: With Mexico and Canada unwilling to abide the Trump administration's demands for radical, "America first" reforms — and the White House still insisting that it'd prefer no deal to a bad one — the nations have agreed to postpone the next round of talks for nearly a month, and use the interim to reflect on their differences.
"New proposals have created challenges and ministers discussed the significant conceptual gaps among the parties," U.S. trade representative Robert Lighthizer, Mexican secretary of the economy Ildefonso Guajardo, and Canadian foreign affairs minister Chrystia Freeland wrote in a joint statement. "Ministers have called upon all negotiators to explore creative ways to bridge these gaps."
The Trump administration's deal-breaking demands had included "a sunset clause," which would automatically end the agreement in five years, unless all three parties agree to extend it; a rule requiring all cars and pickup trucks imported to the U.S. from Canada or Mexico be constructed from a minimum of 50 percent American-made parts; and the curtailment of the investor-state dispute-settlement process, which allows tribunals of (predominately business-friendly) attorneys to arbitrate disputes between nations and corporations.
The first of these proposals is bizarre — the American president has the power to initiate withdrawal from the agreement at any time, and the text of the deal is regularly renegotiated. The second is antithetical to NAFTA's animating purpose, which was to promote duty-free trade across North America, while erecting a few light trade barriers against wares from other continents. And the third is actually, probably a good idea.
Regardless, Mexico and Canada are having none of it. And it isn't hard to see why: The Trump administration has explicitly branded its request as a losing proposition for its partners. Democratically elected governments do not, typically, champion plans to disadvantage their own citizens at the behest of unpopular foreign leaders.
Remarkably, in his own comments to reporters Tuesday, Lighthizer suggested that America's neighbors would need to accept an agreement that benefited their nations less than the current one does, or else the U.S. would abandon the trade pact.
"After many years of one-sided benefits, [Mexico and Canda's] companies have become reliant on special preferences," Lighthizer told reporters. "But the president has been clear that if we are going to have an agreement going forward, it must be fair to American workers and businesses that employ our people at home."
That rhetoric would suggest that NAFTA's days are numbered. On the other hand, the fact that the Trump administration agreed to the delay might betray its own fear of seeing the deal unravel. Regardless, no one should underestimate this president's willingness to defy expert advice, for the amusement of his nationalist base.