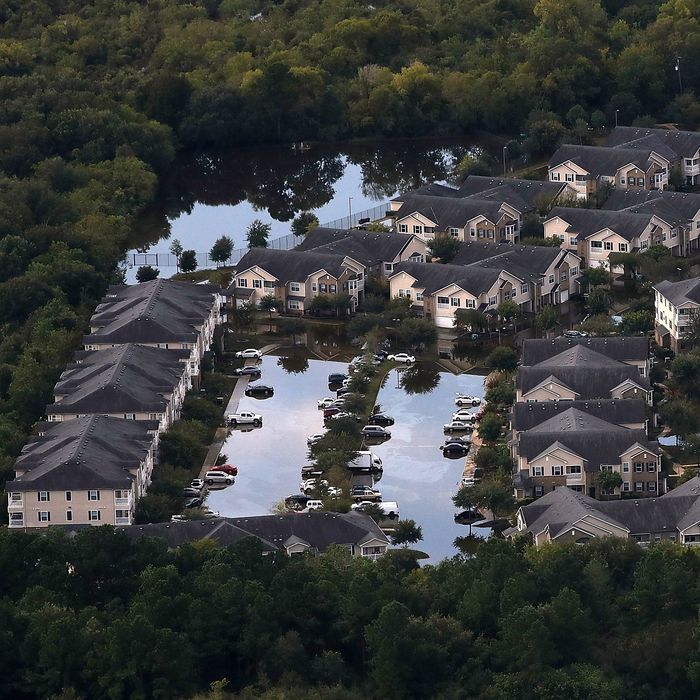 Can't build that.
Photo: Justin Sullivan/Getty Images
Currently, the federal government subsidizes residential development on floodplains. It does this by offering flood insurance to homeowners who live in such areas at rates much lower than the underlying risk would dictate. This policy has left the National Flood Insurance Program $25 billion in debt. It has also left millions of Americans living in places that they really probably shouldn't, given the way the tides are turning.
Our catastrophic hurricane season has drawn national attention to both the problems with the NFIP, and the difficulty in addressing them: Cutting back the flood insurance program would compound the suffering of Americans who were victimized by Harvey, Irma, or Maria. But leaving it as is will ensure that millions more Americans suffer a similar victimization in the years ahead.
On Thursday, the Trump administration unveiled its vision for the future of the program — and, at least first glance, it appears (surprisingly) sensible.
As Bloomberg reports:
On Wednesday Mick Mulvaney, the director of White House Office of Management and Budget, sent a letter to Congress calling for changes to the taxpayer-subsidized National Flood Insurance Program…Mulvaney's proposals included preventing homes built in flood plains after 2020 from obtaining insurance under the program. Those homes could instead seek private coverage, which is often prohibitively expensive – if it's available at all.




…[E]nvironmental groups say this is a rare policy idea in which they are in agreement with Trump.




"This sends a signal to developers and builders, and people living in flood-risk areas," said Laura Lightbody, director for the Flood-Prepared Communities project at the Pew Charitable Trusts in Washington. "We want less people in harm's way, and less development in these coastal areas and riverine areas."




Lightbody said the change could have another benefit: making it easier for local officials to restrict development along the coast. Tighter rules on flood insurance "gives them political cover to make those decisions," she said.
The policy is vigorously opposed by the National Association of Home Builders, which warned Bloomberg that the change would reduce the number of homes built on the coasts of Florida and Louisiana — a development that wouldn't just hurt the construction industry, but also, uh … flood enthusiasts?
To be sure, there is not enough housing stock in this country. And limits to development can impair affordability. But it seems unlikely that the solution to these problems is to build lots of homes in places that no one would want to live if the government wasn't willing to spend billions of dollars subsidizing the cost of their inevitable flood repairs.
Lawmakers face a deadline of December 8 to reauthorize the program, and as part of an emergency aid package for Puerto Rico, Florida, and Texas, Trump asked Congress to write off $16 billion the program owes the U.S. Treasury.