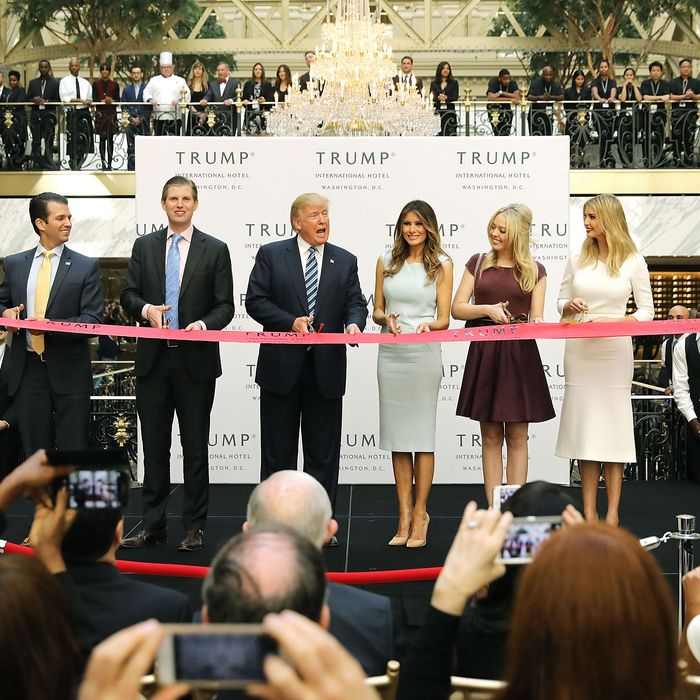 Kleptocracy now.
Photo: Chip Somodevilla/Getty Images
For a brief period in April, Donald Trump went "globalist." Steve Bannon's increasingly public feud with Jared Kushner had landed the baron of Breitbart in the doghouse. The president's decision to launch a missile strike against the Assad regime had landed him in the "fake news" media's good graces — and he seemed to like it there. Soon Trump was defending NATO, denouncing Russia, and realizing, on further reflection, that China wasn't really a currency manipulator.
This was the peak of elite optimism for the Trump presidency. And longtime members of the D.C. Establishment weren't the only ones hoping that the long-belated "pivot" had arrived: The president's children were (reportedly) praying that their father would finally abandon the xenophobic nationalism that brought him to the White House — and start governing in the true interests of the Trump Organization. As the Washington Post reported:
The Trump heirs are interested in any changes that might help resuscitate the presidency and preserve the family's name at a time when they are trying to expand the Trump Organization's portfolio of hotels.




"The fundamental assessment is that if they want to win the White House in 2020, they're not going to do it the way they did in 2016, because the family brand would not sustain the collateral damage," said one well-connected Republican operative, speaking on the condition of anonymity to discuss the president's family. "It would be so protectionist, nationalist, and backward-looking that they'd only be able to build in Oklahoma City or the Ozarks."
Trump's pivot to cosmopolitan conservatism was nipped in the bud by the firings of James Comey and the president's neurons. The first badly damaged Kushner, and increased the president's reliance on his reactionary base; the second ensured that Trump would ignite divisive racial controversies throughout his time in public office, whether he wished to or not.
But while the Trump scions misjudged their father's capacity to moderate, they were right to fear that business implications of his keeping right. According to a new report from NBC News, the Trump Organization's future does appear to lie "in Oklahoma City or the Ozarks."
The president's Scottish golf resorts in Turnberry and Aberdeen racked up a collective $41.4 million in losses over the course of 2016, and there's little sign of a substantial improvement in performance this year. His public golf course outside Los Angeles has seen double-digit drops in revenue, and his clubs in the Northeast have seen steep declines in attendance. And the five-star Trump Soho in New York City has suffered a plunge in patronage, as big-name corporations, professional athletes, and other celebrities have taken their business to less controversial confines — leading the hotel to lay off staff and shutter its sushi restaurant.
Meanwhile, Trump Hotels' new, budget-friendly lines appear to be disintegrating on launch. In June, the company announced that it had 39 locations lined up for Scion, a luxury hotel chain for millennials. But, as of this writing, only one hotel in Mississippi has publicly signed on to the Scion brand.
A developer in Dallas had been promoting plans to launch a Scion property in the Big D — but, in April, he told the city that the deal was no more. A bid to bring Scion to Austin was killed in the cradle, when the city voted for a boycott of the president's hotels and products (in a non-binding resolution).
And, on the retail front, Ivanka Trump's fashion line has forfeited plans to expand into Japan, while Macy's, and the Trump Organizations' other erstwhile department-store partners, has shown little interest in hawking the president's wares.
But Trump's election has improved his businesses' performance in at least two areas: Red America and "the swamp." As NBC reports:
[B]usiness is brisk in Trump country. At Trump National Golf Club in Mooresville, North Carolina, the membership roster is swelling, The New York Times reported, and NASCAR stars and pit crew chiefs are snapping up real estate. The paper also found that private event bookings at the Mooresville club are on an upswing in this area that voted heavily for Trump.




Trump properties being used for presidential business and by Washington political jockeys have also seen their revenues increase. Trump's 128-room Mar-a-Lago vacation resort in Florida has been a frequent location for Trump to decamp to and conduct presidential business, hosting state visits by Japanese Prime Minister Shinzo Abe and Chinese President Xi Jinping … Trump's new hotel in Washington, D.C., turned $2 million profit in four months, according to documents the government released this summer, well surpassing the company's projected $2 million loss.
Trump's instincts for self-dealing and contempt for the norms of good governance have made him evermore politically reliant on his far-right base.
Still, if Trump is able to get his tax package through Congress, his election will have been an unequivocal boon to his children's finances. Making the family name synonymous with bigotry might be bad for the Scion hotel chain, but the abolition of the estate tax would more than compensate Trump's actual scions for that loss.