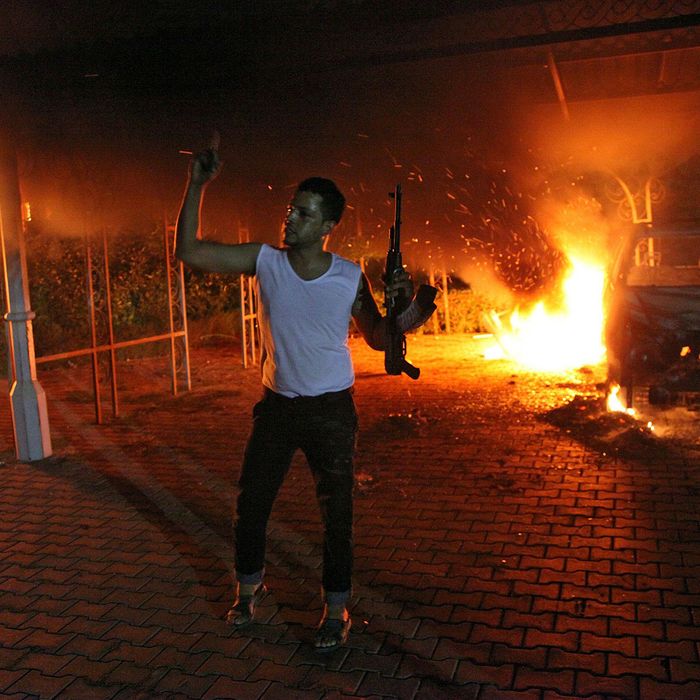 The 2012 attack.
Photo: STR/AFP/Getty Images
U.S. officials announced on Monday that American commandos had captured a suspected mastermind of the 2012 attacks in Benghazi, Libya, that killed four Americans.
ABC reported that the suspect is Mustafa al-Imam. He was captured in a raid by elite special forces in Libya over the weekend, and is being brought to the U.S. to face a civilian trial, even though President Trump had promised to send more terrorism suspects to Guantanamo Bay during the campaign.
In a statement, President Trump said that "our memory is deep and our reach is long, and we will not rest in our efforts to find and bring the perpetrators of the heinous attacks in Benghazi to justice."
Secretary of State Rex Tillerson said that "the Department of State family continues to mourn the loss of Ambassador Chris Stevens, Glen Doherty, Sean Smith, and Tyrone Woods, and we will spare no effort to ensure that justice is served for these dedicated Americans and public servants."
In 2013, the U.S. arrested another suspected plotter, Ahmed Abu Khattala, whose trial in federal district court in Washington begins next month.
The coordinated assaults were carried out by a group of Islamic militants, who attacked an American diplomatic compound and a CIA annex over a period of several hours. The four American dead included Stevens, the U.S. ambassador to Libya at the time.
Almost immediately after the attacks, Republicans launched a long-lasting, politically charged effort to pin the blame on the Obama administration and then–secretary of State Hillary Clinton. Years of Congressional investigations turned up little to confirm their narrative.