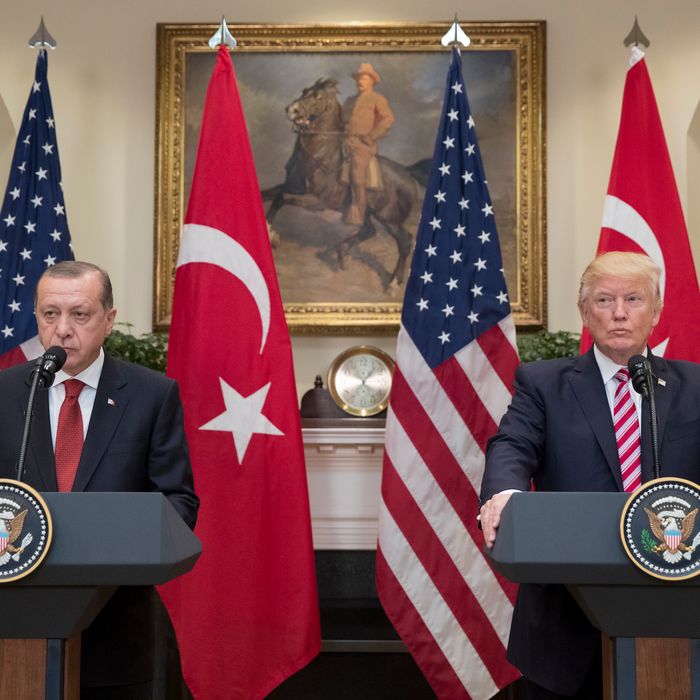 A cold moment between President Trump and President Erdogan at the White House on May 16, 2017.
Photo: Pool/Getty Images
Relations between the United States and Turkey have been worsening in recent months, despite President Trump's chummy relationship with Recep Tayyip Erdogan, Turkey's increasingly authoritarian president. They hit a new low over the weekend when the U.S. suspended non-immigrant visa services for travel to Turkey, following the arrest of a U.S. consulate employee in Istanbul. The move prompted Turkey to do the same.
Last week, Turkish authorities arrested U.S. consulate employee Metin Topuz, accusing him of espionage and having links to Fethullah Gulen. Turkish officials claim the cleric, who is living in Pennsylvania, orchestrated a coup attempt against Erdogan, and have been pushing for his extradition. Gulen denies the charges. Metin is the second U.S. citizen jailed by Ankara this year for an alleged connection to Gulen.
Relations have also been frayed since Erdogan guards allegedly beat protesters outside the Turkish embassy in D.C.
The U.S. Embassy said in a statement that it is "deeply involved," and the charges against the consulate employee are "without merit." Then the U.S. Embassy in Ankara released a statement saying it was suspending all non-immigrant visa services immediately, as "recent events have forced the United States government to reassess the commitment of government of Turkey to the security of US mission and personnel."
Then in a weirdly passive-aggressive move, the Turkish Embassy in Washington issued an identical statement, with the names of the two countries flipped.
That means people are essentially unable to travel between the two NATO countries, unless they're planning to relocate long-term.
The move affects tens of thousands of travelers, and experts say the situation may get even worse. "I think the whole thing could go off its wheels," said Soner Cagaptay, who penned a book about Erdogan called The New Sultan. "There is a very, very deep trust deficit in bilateral ties, especially as far as Erdogan is concerned."