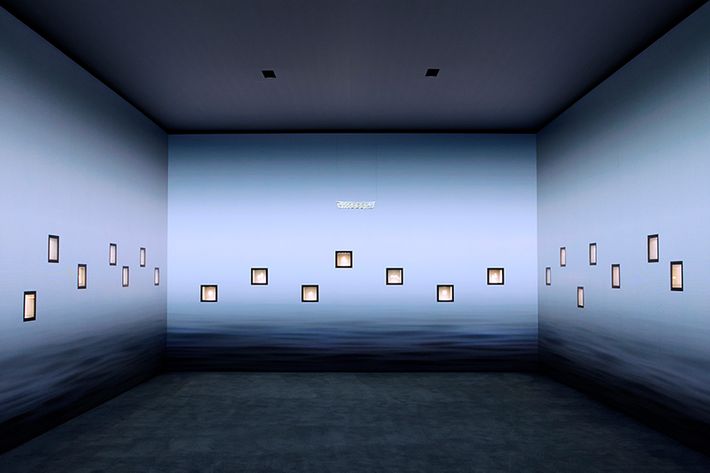 Van Cleef & Arpels has effectively sailed Noah's Ark around the world with its new menagerie-esque high jewelry collection and stunning accompanying installation. The enchanting experience debuted in Paris, moved to Hong Kong, and is officially slated to open in New York on November 3, running through the 19th. Watch the video below which captures the painting of the installation's sign.
The 1906-founded French watchmaker-jeweler maison teamed up with American theater director and artist Robert Wilson to showcase the one-of-a-kind Noah's Ark-inspired pieces. Wilson, acclaimed for his understated yet deeply meaningful and experimental approach, developed the scenography to present the collection – 40 animal-pair clips will be on display at Chelsea's Cedar Lake space. Three mythical creatures, magnificently rendered in precious metal and laden with gemstones, can be spotted among the animal kingdom pairs.
L'Arche de Noé Collection
Named for the storied vessel and its inhabitants, the L'Arche de Noé collection is brought to life through an immersive, multi-sensory installation, Wilson's vision. Floor-to-ceiling waves are projected onto the walls; a storm brews with claps of thunder and bolts of lightning, the onset of the great flood. Then comes a serene sense of calm bolstered by the soft piano and violin of Arvo Pärt's "Spiegel im Spiegel." All the while, the intricate pieces glitter from their sheltered cabin-like cases, harbored from the elements.
This parrot couple is forged in white gold with emerald, lapis lazuli, turquoise, onyx, and round and baguette-cut diamonds evocative of feathers.

Penguins, brought to life with onyx, diamonds, coral, and white and pink gold, face each other in a tender near-embrace, wings touching, heads curled.

The unicorn, an embodiment of imagination, is rendered in white gold, red gold, diamonds, emeralds, sapphires, and turquoise. The sapphires that adorn the body are Mystery-set, a 1933-patented Van Cleef & Arpels technique that hides the underlying precious metal.

A rainbow of gems -- diamonds, blue and yellow sapphires, yellow and Paraíba-like tourmalines, orange and green garnets, black and red spinels -- capture the vibrant essence of these tropical birds, while ebony plumage contrasts.

A seemingly glowing 46.22-carat cabochon-cut white opal unites this squirrel pair, their noses nearly touching above the stone. Yellow gold, diamonds, yellow sapphires and spessartite garnets, buff-topped black spinels, and white mother-of-pearl complete the warm-toned piece.
Be sure to visit the immersive installation. As space is limited, we recommend reserving a free 15-minute time slot here, although walk-ins are welcome.
This is paid content produced for an advertiser by New York Brand Studio. The editorial staff of Daily Intelligencer did not play a role in its creation.