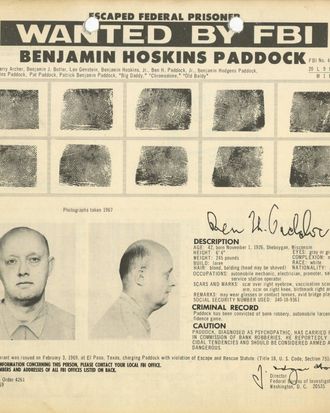 Stephen Paddock seems to have had a parental role model for violent criminality.
After expressing shock that his brother, "just a guy" who liked to go to Vegas and gamble and see some shows and "eat burritos," had gone on a murder spree from the window of his room at Mandalay Bay hotel, Eric Paddock disclosed something else about Stephen Paddock's background. It is disturbing:
There was indeed in the 1960s and early 1970s a bank robber, an escaped federal prisoner, and eventually a fugitive by that name (and others) who made the Most Wanted list. According to the New York Daily News, Patrick Benjamin Paddock was arrested early in 1961 for robbing a bank in Phoenix in 1960 (he allegedly robbed other banks but was not charged with those offenses) while living in Tucson with his four children. He was caught trying to escape from jail in–sigh–Las Vegas, and was sent away, before successfully escaping late in 1968, which put him on the Most Wantedlist.
The FBI poster (see above) from 1969 notes that Paddock the Elder had been "diagnosed as psychopathic, has carried firearms in commission of bank robberies" and "reportedly has suicidal tendencies and should be considered armed and very dangerous."
Fast-forward a couple of years, and Tucson's Daily Citizen gave some more background on Paddock, before reporting that he had not been seen or heard of since making the Most Wanted list:
BENJAMIN "CHROMEDOME" PADDOCK Ex-Tucsonian Makes FBI List Of 10 Most Wanted By GILBERT T. MATTHEWS Citizen Staff Writer Known to his associates as "Chromedome," "Old Baldy," and "Big Daddy," Benjamin Hoskins Paddock is Tucson's contribution to the FBI's list of 10 most-wanted fugitives. He made the list after escaping on Dec. 31, 1968, from the Federal Correctional Institution at La Tuna, Tex., where he was serving a 20-year sentence for robbing a Phoenix bank in 1960. Paddock — alias Perry Archer, Benjamin J. Butler, Leo Genstein, Pat Paddock and Patrick Benjamin Paddock — hasn't been seen or heard from since. At the time of the robbery, Paddock lived in Tucson with his wife and four children. Neighbors said they couldn't believe that the colorful businessman, then 34 years old, was involved in crime. Paddock sold garbage disposal units here under the business name of Arizona Disposer "Chromedome" Co. He called himself "Big Daddy" in connection with a night club operation on North 1st Avenue. Before selling the disposal units, he operated an East Broadway service station and also sold used cars. Although he was imprisoned for the S4,620 holdup of a branch of the Valley National Bank in Phoenix, Paddock also had been accused of two other bank robberies. Those charges were dropped after his conviction. Federal officers reported that when he was arrested in Las Vegas, Paddock attempted to run down an FBI agent with his car. "Since he has utilized firearms in previous crimes, has employed violence in attempting to evade arrest and has been diagnosed as being psychopathic, Paddock should be considered extremely dangerous," said Palmer M. Baken Jr., agent in charge of the Phoenix FBI office. Baker described Paddock as being "A glib, smooth-talking man who is egotistical and arrogant."
Paddock apparently stayed on the lam until 1978, when he was "captured in 1978 in Oregon where he was running a bingo parlor."
The sins of the father should not, of course, be visited upon the son, but this new intel on Stephen Paddock's family history is obviously as germane to the mystery of his savage outbreak as any random speculation or ISIS claims. It seems he was 8 when his father was convicted of armed robbery and sent to prison; 15 when the old man escaped and went on the lam; and 26 when he was re-apprehended. We don't know exactly where Stephen was at each juncture of "Chromedome's" criminal career, but it's the sort of thing that could mess you up and perhaps give you an exposure to weaponry.