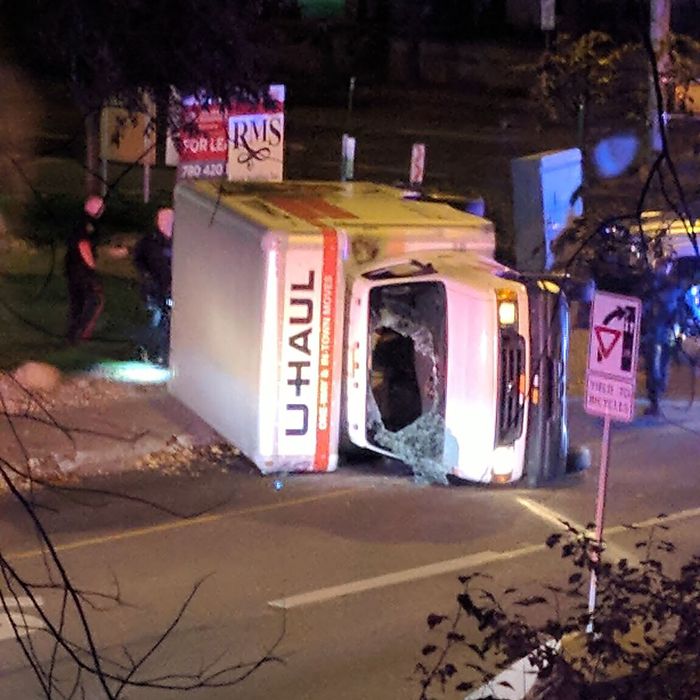 The U-Haul truck, which the suspect flipped while leading the police on a high-speed chase.
Photo: Michael Mukai/AFP/Getty Images
At least five people were injured on Saturday night in Edmonton, Alberta, in a pair of vehicle attacks that Canadian authorities are investigating as possible acts of terrorism. In the first attack, shortly after 8:00 p.m., a man drove his car into a police officer manning a traffic barricade near a sports stadium. After striking the officer, the man got out of his car and stabbed him several times, then fled on foot. (The officer did not sustain critical injuries.) A black ISIS flag was subsequently found in the car, and a manhunt began for the driver.
The second attack, about four hours later, involved a U-Haul rental truck driven by the same man. A police officer stopped the truck at a checkpoint, but the driver sped off after the officer identified him as the possible suspect in the earlier attack. The driver, chased by more than a dozen police vehicles, deliberately attempted to strike pedestrians in two places along Jasper Avenue in downtown Edmonton, which at the time was crowded with sports fans and bar patrons. The chase ended when the truck crashed and flipped over, and the driver was taken into police custody. At least four people were injured in the second attack, but their conditions haven't been confirmed since.
Police believe that the 30-year-old driver, who has not been publicly identified, acted alone, but the investigation is ongoing.
"The Government of Canada and Canadians stand with the people of Edmonton after the terrorist attack on Saturday," Canadian prime minister Justin Trudeau said on Sunday." We cannot — and will not — let violent extremism take root in our communities," he added. "We know that Canada's strength comes from our diversity, and we will not be cowed by those who seek to divide us or promote fear."