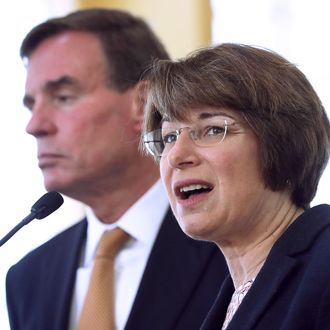 Senators Mark Warner and Amy Klobuchar.
Photo: Alex Wong/Getty Images
Despite their long attempts to escape the regulatory arm of the U.S. government, major tech companies may finally have nowhere left to run. Facebook and Google in particular are facing fierce pushback following disclosures that Kremlin-linked groups used online ad platforms to try to disrupt the 2016 election, and this week, Democratic Senators Mark Warner (who is helping lead the Senate's Russia investigation) and Amy Klobuchar introduced the Honest Ads Act, which imposes strict rules on the disclosures online platforms make when serving up political ads. It's already received support from Republican Senator John McCain.
According to Recode, the bill "seeks to impose new regulations on any website, web application, search engine, social network or ad network that has 50 million or more unique visitors in a majority of months in a given year." Campaigns spending more than $500 on ads will have to make them available for public viewing along with disclosures about who paid for the ad, who the ad was targeted at, and the cost.
In a press conference this afternoon, Klobuchar said that the bill simply extends current disclosure laws that regulate things like TV and radio ads to the online space. Facebook, for its part, has already announced similar policies of its own (possibly in an attempt to avoid something like the Honest Ads Act).
Whether the bill will advance is unclear. The tech industry is generally wary of government regulation and believes it can regulate itself. Republicans, already anti-regulation by default, by and large believe the subject of Russian meddling to be overblown.