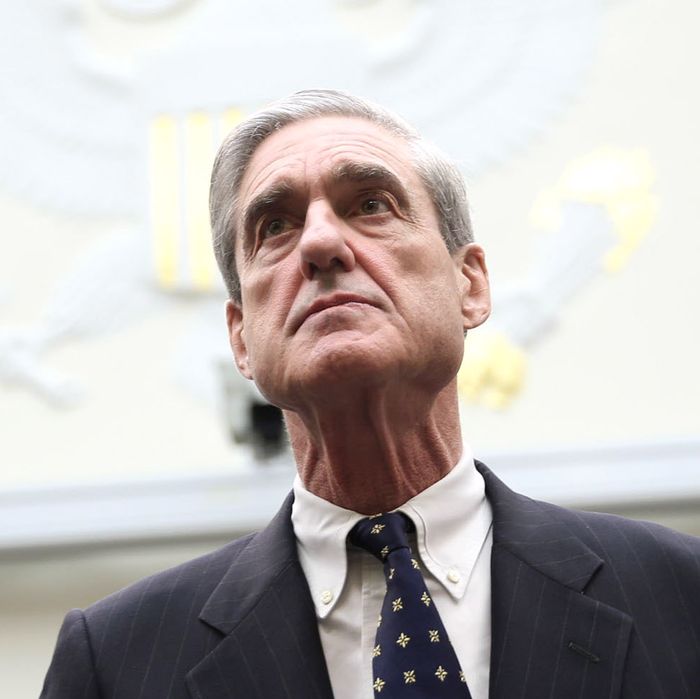 It's going to be an interesting week.
Photo: Alex Wong/Getty Images
According to multiple reports, for the first time, a federal grand jury has approved criminal charges against someone as part of special counsel Robert Mueller's investigation into Russia's meddling in last year's presidential campaign. The reports all agree that the person or persons who were indicted will be identified and possibly taken into custody as early as Monday. Until then, what is contained in the still-sealed charges remains a mystery. Here's what we do and don't know, along with some informed speculation, after going through the last few days of analysis and commentary.
It's a lot, but here are the main points:
Who has been charged? And with what?
Anyone who has been investigated by Mueller's team could be a target at this phase. The investigation is broadly focused on Russia's attempts to interfere in and influence last year's U.S. presidential election. More specifically, the investigation is looking into possible collusion between the Trump campaign and the Russian government; financial ties between Trump allies or family members and Russia; and whether or not President Trump or anyone in his administration obstructed justice over the course of the probes into these matters — including when the president fired former FBI director James Comey. Any criminal activity that has been exposed as a result of the investigation could also lead to charges.
Here are the most likely targets, at this point:
Paul Manafort: If a major player has been indicted, the most likely candidate is former Trump campaign chairman Paul Manafort. No one has more Russia ties, or suspicion surrounding him, than Manafort. Media attention on his shady dealings with the Kremlin-backed former president of Ukraine was what led to his ouster from the Trump campaign in the first place, and the FBI had already been investigating Manafort's ties to pro-Russia elements in Ukraine before Mueller was named special counsel. He has also reportedly been the target of U.S. surveillance, his home was raided by the FBI over the summer, businesses linked to him have been subpoenaed, and if that wasn't enough, Mueller's investigators apparently straight-up told Manafort they planned to indict him.
In addition, there have been a few recent reports suggesting that the legal noose around Manafort may be tightening. BuzzFeed News reported on Sunday that the FBI's investigation of Manafort is now focused on a series of highly suspicious wire transfers made by offshore businesses linked to Manafort. The at-least 13 wires made between 2012 and 2013, totalling more than $3 million, show the telltale signs of possible money laundering. That report follows a story in The Wall Street Journal last week which indicated that the U.S. attorney's office in Manhattan, in collaboration with Mueller's investigation, is also looking into possible money laundering by Manafort. Furthermore, Politico reported on Friday that Manafort's former realtor had appeared before a grand jury a week ago, as had Manafort's spokesperson last month.
Michael Flynn: Trump's former national-security adviser has his own problematic foreign entanglements, too. After losing his job as the head of the Obama administration's Defense Intelligence Agency, Flynn went into the private sector and worked with both the Russian and Turkish governments. The Mueller investigation has been looking into whether or not Flynn lied about those ties, and for good reason: Flynn's undisclosed contact with a Russian official during the Trump transition period ultimately led President Trump to force Flynn to resign after serving only 24 days as his national-security adviser. Flynn is also reported to have had contact with Russian officials during Trump's presidential campaign, and may have tried to contact Russia-backed hackers over the Clinton campaign's stolen emails. Flynn has refused congressional requests to testify as part of their own Russia investigations.
Furthermore, Trump tried to pressure James Comey to drop the FBI's investigation of Flynn before eventually deciding to fire him, which added a lot more smoke to the allegations against both Flynn and Trump.
Other possibilities: Again, any number of people connected to the Trump campaign, or to other suspects, could be indicted. One notable candidate is Carter Page, a former Trump campaign adviser with his own extensive ties to Russia, who has said he would plead the Fifth if called before the Senate Intelligence Committee to testify regarding Russia's election interference. The president's son Donald Trump Jr. and son-in-law, Jared Kushner, are also possibilities. Kushner's business dealings and meetings with Russian officials have reportedly drawn Mueller's scrutiny. Trump Jr. has had some trouble getting his story straight, or complete, about whether or not he met with Russians during the campaign. Another son who could be targeted is Michael Flynn Jr., possibly as a way to gain leverage over his dad. Elsewhere in Trump's inner circle, longtime Trump adviser Roger Stone had a Twitter meltdown on Friday night after the indictment report came out; he has also faced allegations, which he denies, of involvement in Russia's election hacks.
Why now?
It's highly possible that Mueller is indicting someone in an effort to pressure them to flip against someone else, or to pressure a larger target to cooperate with the investigation. This would likely be true regardless of who was being charged, whether someone like Manafort or Flynn, or a smaller target like Flynn's son or some associate of Manafort's. Many observers have pointed out that special counsel Mueller and his team have been structuring their investigation the same way you would go after an organized crime syndicate or drug cartel, and flipping suspects against others in order to move up the org chart is an integral part of that strategy. It's also possible that the Mueller investigation has hit some kind of wall and is moving up indictment plans in order to flip someone and clear it.
Another theory is that Mueller is succumbing to political pressure or fears the investigation will be shut down and is now looking to show results, but Mueller doesn't seem to be the type of person who succumbs to political pressure.
Who leaked the news of the indictment?
CNN's original report indicated that there was a "flurry of activity" on Friday at a D.C. federal courtroom where a grand jury meets to hear testimony related to the Mueller investigation. No announcements were subsequently made, but CNN and other outlets were able to find sources who were "briefed on the matter." As Lawfare points out, the leak almost certainly did not come from Mueller's team, and the most likely people to have been "briefed" on the charges would be ones at the Justice Department, like Deputy Attorney General Rod Rosenstein and his staff. (Attorney General Jeff Sessions recused himself from the investigation after his own undisclosed contact with Russian officials came to light.) Lawfare also notes that the leak may have interfered with prosecutors' plans, perhaps forcing them to move up their timetable for arrests. If that's true, it opens up the question as to whether or not the leak was strategic — or unlawful.
How will Trump respond?
Whoever Mueller has charged, it's more than reasonable to expect President Trump and his allies to respond with more rhetoric and early-morning tweets accusing Mueller and his team of having ulterior motives, or that Mueller has gone beyond the intended scope of his investigation. The New Yorker's John Cassidy did a nice job explaining that dynamic on Saturday:
A key political question is whether these charges are related to things that happened as part of the Trump campaign, or whether they relate to alleged wrongdoings that occurred before it began or separate from it. If there are direct ties between the charges and the campaign, that will obviously have huge ramifications on Capitol Hill and elsewhere. But if the charges concern alleged actions on the part of Manafort or others that were unrelated to the 2016 campaign, the White House may well accuse Mueller of moving beyond his remit. That allegation wouldn't be accurate — the terms of Mueller's appointment gave him license to investigate "any matters that arose or may arise directly" from the Russia probe — but accuracy has never concerned Trump much.
There is also the question of whether or not Trump will try to fire Mueller, depending on who is charged and/or whatever Trump's mood is like on some given future day. After all, Trump admitted that he fired Comey because he didn't like how he was conducting the Russia investigation, and it is entirely possible he will try to do the same thing with Mueller (and he's said so). How that would play out within the Trump administration, Congress, and the court of public opinion remains a big unknown.
Less than we don't, but several overarching details are still important:
Yes, this is a very big deal.
This is the first significant public action by Mueller, or anyone, since the investigations into Russia's election meddling began, and nothing has cast a larger shadow over the first year of Trump's presidency than this. Prosecutors don't go to a grand jury with an indictment unless they think they can prove, beyond a reasonable doubt, that someone committed a crime. An indictment also means the investigation, and overall story, is finally moving from just reporting and political posturing to the courtroom, where actual evidence must be presented and reviewed, and where facts outweigh speculation. Also, one arrest may lead to more, and soon. Put another way, this is the first domino to fall.
The Mueller investigation is probably not over.
Some are wondering if we are seeing the beginning of the end of the Russia investigation, but that seems very unlikely. Instead, this is likely the beginning of a much more impactful phase, including politically.
A sealed indictment like this is normal.
It's rare, but not unprecedented. The reason charges are sealed in advance of an arrest being made are simple: Prosecutors don't want to give defendants an opportunity to flee or destroy evidence, and prosecutors may need additional time to secure search warrants or prepare for an orderly arrest.
But this indictment was very fast.
It's been five months since Mueller's investigation began, and that is not a lot of time as these things go. To have charges filed at this point is not normal. Politico notes that the previous average time to a first indictment, looking back at nine independent and special-counsel cases over the past few decades, was 17 months. The unprecedented speed could be for a number of reasons, but it's important to note that Mueller wasn't exactly starting from scratch. Manafort has been under investigation for years, and the FBI, under fired former Director James Comey, began looking into Russia's election interference while last year's presidential campaign was still underway. The speed is also consistent with Mueller's no-nonsense investigative and prosecutorial style.
Trumpworld seems to be freaking out
But that's probably to be expected. Politico reported on Saturday that the White House and personal lawyers representing members of the Trump administration and Trump campaign were scrambling to figure out who Mueller is going after or, if the indictment even happened, who leaked the news. In other words, it sounds like people inside the White House, as of Saturday, knew about as much as the rest of us, and are understandably nervous as a result. (And, no, lawyers representing whoever has been charged wouldn't necessarily know about the indictment yet.)
Trump's friends in the media were pretty upset by the news as well. Roger Stone got himself banned from Twitter after replying to CNN anchor Don Lemon's tweet about the indictment with a series of attacks and threats. And Sean Hannity had his own CAPS-heavy meltdown following the report as well.
Trump and his allies are continuing to try to change the subject.
Did you know that Russia's interference in the presidential election, on behalf of candidate Trump, was actually an act of collusion between Russia and Hillary Clinton and Robert Mueller? If not, then you clearly haven't been paying attention to President Trump, his surrogates, or conservative media outlets over the past week-plus. There has been a massive, probably coordinated push to frame the whole Mueller investigation as some dirty partisan trick and Clinton as the only presidential candidate to blame for all of it.
"The evidence [the] Clinton campaign, DNC, and Russia colluded to influence the election is indisputable," White House Press Secretary Sarah Huckabee Sanders claimed over the weekend. Trump complained a lot about Clinton, too.
Some, particularly on the left, have theorized that the right's collective outburst about Clinton, Russia, and Mueller was somehow timed to preempt the investigation's first indictment, but there is no concrete evidence of that. Much more important in prompting the outrage was a report that Clinton campaign officials had helped fund the now-infamous Steele dossier about Trump's alleged Russia ties during last year's campaign, especially since transforming Russia's election meddling into a story about Hillary Clinton has been a yearlong endeavor on the right.
President Trump will not be indicted on Monday.
It's entirely possible that a majority of Americans would probably like that to happen at this point, but no, it won't. Not at this phase of the investigation, or maybe ever.