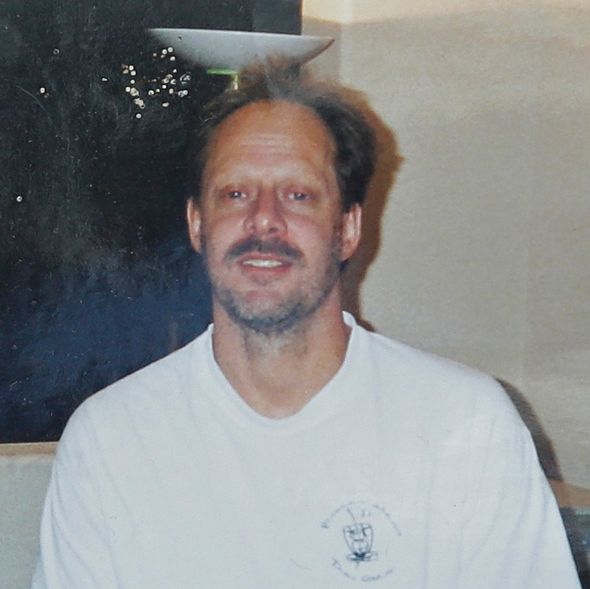 A family photo of Eric Paddock, left, and his brother, Stephen Paddock.
Photo: John Raoux/AP
Three days after the worst shooting in U.S. history, there's still no indication of what the gunman's motive might have been — and what has emerged about the life of Stephen Paddock creates an increasingly bizarre picture. The son of a notorious bank robber, he made a small fortune in real estate and business deals. As a retiree, the 64-year-old lived an itinerant lifestyle, seemingly centered around high-stakes gambling. He was not known to have strong political beliefs, an interest in firearms, a history of violence, mental-health issues, or anything else that might explain why he would commit such a horrific act. Here's what we do know about the man who viciously took the lives of 58 people, and injured more than 520.
Paddock checked into room 135 on the 32nd floor of the Mandalay Bay Resort and Casino in Las Vegas on Thursday, September 28. A hotel worker told the Times that he had a "do not disturb" sign on the door for three days, so no housekeepers entered the room.
Then, on Sunday night, fire from what sounded like an automatic weapon rained down on the crowd at the Route 91 Harvest music festival. Paddock had several cameras placed around the hotel room, including one in the peephole and two in the hallway, apparently to keep a lookout for police. He had also barricaded the doors to his room and the stairwell.
Jesus Campos, an unarmed security guard who arrived on the floor via elevator, discovered the shooter's position and drew his attention while radioing police for help. Paddock fired "well over 200 rounds" through the door, hitting Campos in the leg. Amazingly, Campos was not seriously injured, and said of his heroic effort, "I was just doing my job."
A SWAT team used explosives to enter the room, and found Paddock dead from a self-inflicted gunshot wound. He did not leave a note, and officials said it appeared as if he had planned to survive the attack and escape. They recovered 23 guns from his hotel suite, including handguns and high-powered rifles capable of piercing police armor.
Images leaked to the media on Tuesday offer a glimpse of his arsenal.
The New York Times notes that at least three AR-15-style rifles are visible in the photos, along with at least a dozen high-capacity magazines. Each can hold up to 100 rounds, compared to the standard U.S. infantry soldier's magazine of 30 rounds.
Two of the semiautomatic rifles are equipped with medium-magnification scopes and two-legged supports, which would have helped Paddock target specific people. It appears he used a hammer to smash hotel windows so he could fire on the crowd of 22,000 below.
Officials said 12 of the rifles were outfitted with a "bump stock," which allows a semiautomatic rifle to fire rounds faster, mimicking an automatic weapon.
"It was preplanned, extensively, and I'm pretty sure that he evaluated everything that he did in his actions, which is troublesome," said Clark County sheriff Joe Lombardo.
Officials said Thursday they are investigating the possibility that Paddock planned additional attacks.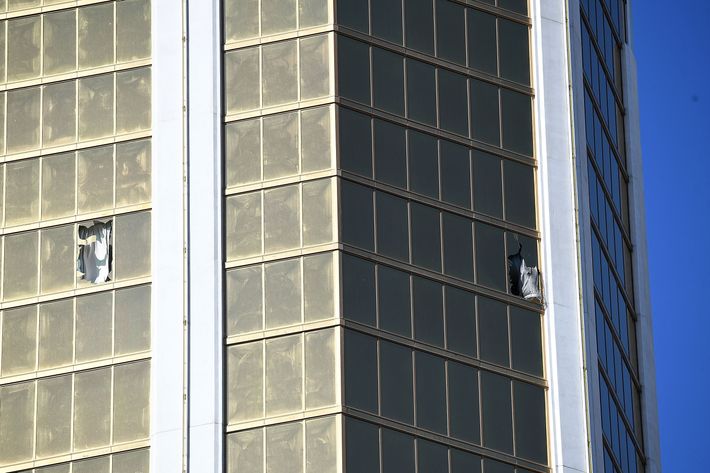 Paddock may have originally been targeting different locations, including in cities outside of Las Vegas. An NBC News report says Paddock researched hotel rooms near Fenway Park in Boston, the Red Sox's home field. He also allegedly booked two rooms at the Blackstone Hotel in Chicago in early August, across the street from Grant Park, the site of Lollapalooza. Paddock reserved two rooms — both of which overlooked the park — for the same weekend as the music festival. Paddock never checked in, the hotel said.
Paddock may have also scouted another Las Vegas music festival that took place the previous weekend. Officials said he rented a room in downtown Las Vegas through Airbnb at the Ogden during the annual Life Is Beautiful Festival, which was headlined by Lorde and Chance the Rapper this year.
His stay at Mandalay Bay was comped, and he requested a room overlooking the festival. On the night before the shooting, Paddock made two noise complaints about this downstairs neighbor, who was playing country music. That guest, Albert Garzon, said he turned down his music after security guards knocked on his door at 1:30 a.m. on Sunday. About a half hour later, another set of guards showed up, and he turned the music off.
The guards told Garzon that the person above him had complained, but he didn't realize it was the shooter until early on Monday morning. "I looked up and I could see his curtain flapping in the wind," he said.
On Monday, law enforcement descended on Paddock's home in Mesquite, Nevada, which is about 80 miles from Las Vegas. Police found another 19 firearms, explosives, and several rounds of ammunition in the home.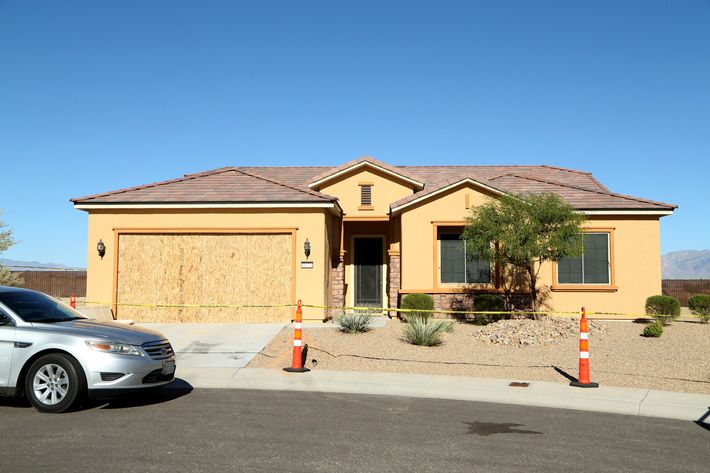 SWAT teams also raided another home Paddock owns in Reno, Nevada. Investigators found several pounds of ammonium nitrate, an ingredient used in explosives, in Paddock's car.
Paddock had no criminal background, aside from a minor citation.
"All of the checks that we have been able to do other than a routine traffic violation here in Nevada and nationwide working with our local FBI partners have been able to find no derogatory history on that individual," Las Vegas undersheriff Kevin McMahill said. "It's one of those really sad, tragic things that a man that's 64 years old that really had no other reason that we can find at least in his history here to go out and wound that many people."
Altogether, police have recovered 47 firearms from Paddock's hotel room and his homes in Mesquite and Reno. Authorities said he bought 33 of the weapons since October 2016. They were purchased at gun shops in Nevada, Arizona, Utah, and Texas, all legally. "There were no red flags at all," said Chris Michel, a Utah gun-shop owner who sold Paddock a single shotgun.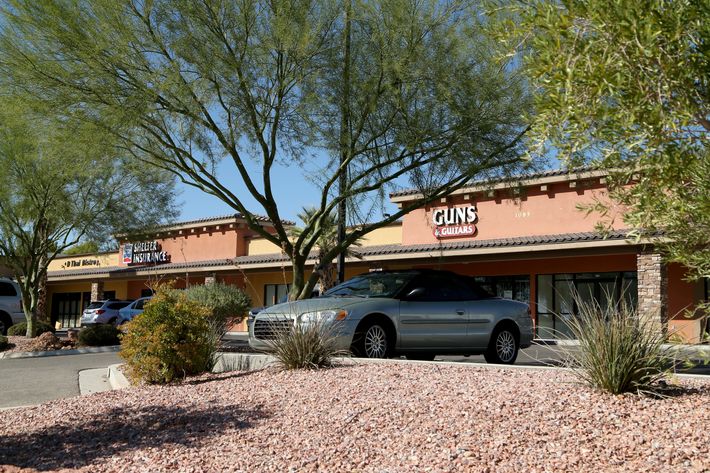 Paddock's Girlfriend, Marilou Danley
In the initial chaotic hours after the shooting, police named Paddock's girlfriend, 62-year-old Marilou Danley, as a person of interest. Later they said she was in the Philippines for the past two weeks, and they do not believe she was involved in the attack.
Danley released a statement upon her return to the U.S. on Wednesday night, saying that a little over two weeks ago, "Stephen told me he found a cheap ticket for me to the Philippines and that he wanted me to take a trip home to see my family." He then sent her money — reportedly $100,000 wired to an account in the Philippines.
"I was grateful, but honestly, I was worried that first, the unexpected trip home, and then the money, was a way of breaking up with me," she said. "It never occurred to me in any way whatsoever that he was planning violence against anyone."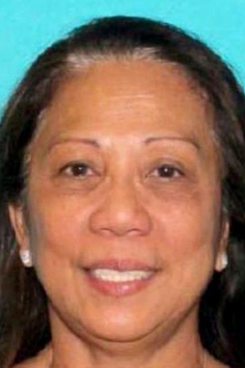 She added that she's cooperating with the authorities, and said, "Anything I can do to help ease suffering and help in any way, I will do."
Danley's brother, Reynaldo Bustos, told ABC News that his sister said she has a "clear conscience" about the Las Vegas shooting. "I called her up immediately," and she said, 'Relax, we shouldn't worry about it, I'll fix it. Do not panic. I have a clean conscience.'"
Paddock was married and divorced twice, but had no children. His brother Eric said he met Danley several years ago when she was working as a "high-limit hostess" at Reno's Atlantis Casino. Danley was married at the time, and left her husband to move in with Paddock in 2013, according to ABC News. She formally divorced her ex, Geary Danley, in 2015. They had been married since 1990.
Danley previously lived in Australia, where she is a citizen. She has one daughter, from a previous relationship, who lives in Los Angeles and is married to the son of William Linton, a prominent CEO of Promega, a biochemistry company.
Eric Paddock said he doubted that Danley knew anything about his brother's plans to attack the music festival. "He manipulated her to be as far away from here and safe when he committed this," he said. "The people he loved he took care of, and as he was descending into hell he took care of her."
"They were adorable — big man, tiny woman. He loved her. He doted on her," Eric said of their relationship. He told Reuters that Danley was sympathetic to his brother's allergy-driven quirks, like wearing gloves to prevent rashes from contact with the residue from cleaning chemicals. He was also unable to renew his pilot's license because he was allergic to pills needed to reduce his blood pressure.
"The reason Marilou looks so plain in that picture they keep posting of her is because for him she would not wear perfumes or hair sprays or anything with scents in it because it affected him," Eric said.
But employees at the Starbucks inside Reno's Virgin River Casino had a different view of their relationship. Esperanza Mendoza, the store's supervisor, told the L.A. Times that employees winced whenever they came into the store because Paddock would frequently berate Danley.
"He would glare down at her and say — with a mean attitude — 'You don't need my casino card for this. I'm paying for your drink, just like I'm paying for you.' Then she would softly say, 'okay' and step back behind him. He was so rude to her in front of us."
While Paddock had apparently avoided run-ins with the law before Sunday's tragedy, his father had a wild criminal record. Patrick Benjamin Paddock — a.k.a. "Big Daddy" and "Chrome Dome" — was a notorious bank robber who spent eight years on the FBI's 10 Most Wanted list. In 1960, he was charged with stealing $25,000 from three bank branches in Phoenix, Arizona.
When FBI agents found him in Las Vegas in the summer of 1960, he tried to run one of them over with his car, but surrendered when an agent fired through his windshield. He was convicted a year later and sentenced to 20 years in prison.
At the time of his arrest, the elder Paddock was living in Tucson with his wife and four children. Stephen was 7 at the time. His brother Eric said of their father, "We didn't grow up under his influence." The four boys were told that their father was dead, and their mother raised them on her own, moving them from Iowa to Tucson to Southern California.
In reality, Paddock's father wasn't just alive — he was living as a free man. He managed to escape from La Tuna federal prison in Texas in 1968. His FBI Most Wanted poster warned that he was "diagnosed as psychopathic," "reportedly has suicidal tendencies," and "should be considered armed and very dangerous."
Federal authorities caught up to Paddock a decade later, finding him living in Oregon and operating a bingo parlor and running various cons under the name Bruce Ericksen. After serving just one more year in prison, Paddock was released on parole. He began running other scams, which according to Slate included claiming to be the pastor of a nondenominational church. In 1987, he was hit with civil racketeering charges in relation to his bingo parlor, and had to pay a $100,000 fine. It's believed that he spent his remaining years in Texas, and died in 1998.
Apparently, Patrick Paddock had little contact with his sons after his initial arrest. "Steve was like a dad surrogate. He took me camping. I liked my brother. He was a good guy," Eric said.
However, it does not seem that Eric and Stephen were recently very close, and as adults, Stephen stopped talking with their other two brothers.
"We didn't talk much. We talked when there was something to talk about," Eric said. "Steve had no help. Steve did not take help. He was a stand-alone guy."
Stephen Paddock attended Cal State Northridge, and his family said he was an accountant. According to federal records, he worked several government jobs from 1976 to 1985: as a postal worker, an IRS agent, and an auditor for the Defense Contract Audit Agency. He was employed at a predecessor to the defense contractor Lockheed Martin for three years in the late '80s. He also owned rental properties across the country, including spots in Los Angeles and a suburb of Dallas, Texas.
Eric Paddock said he and his brother shared a real-estate business for decades, and when they sold it Stephen made about $2 million. "He's a multimillionaire," Eric said. "He helped me become affluent, he made me wealthy."
According to CNN, records show Paddock purchased at least nine other houses, condos, and apartment buildings over the past few decades:
While he took an $11,000 hit on the Florida house when he sold it, the records show Paddock bought and sold another property in Reno, two homes and an apartment complex in Mesquite, Texas, and at least four other properties in California. He profited handsomely from the sale of an apartment building he owned with a former wife and other family members. The building, purchased in 1992, sold for $3.2 million in 2004.
In 2014, he paid $369,022 in cash for the home he shared with Danley in Mesquite, Nevada. He erected a mesh privacy screen around the property, and was forced to take it down after his neighbors signed a petition. He was much less private at a home he owned in Melbourne, Florida, giving a neighbor a key and telling him he could borrow tools if he kept an eye on the house during the long stretches when he was out of town.
Paddock's brother Eric said he took up gambling for fun in his retirement. "It's like a job for him. It's a job where you make money," Eric said. "He was at the hotel for four months one time. It was like a second home."
"He was a math guy," Eric added. "He could tell you off the top of his head what the odds were down to a tenth of a percent on whatever machine he was playing. He studied it like it was a Ph.D. thing. It was not silly gambling. It was work."
Eric said he enjoyed perks from the casinos, like a free stay on the top floor of the Atlantic, and once won a car. "He's known. He's a top player. He's the small end of the big fish."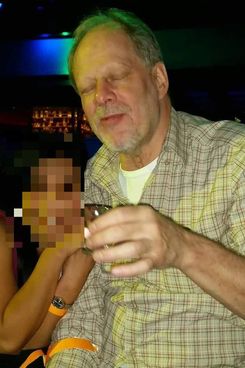 Others confirm that Paddock was a frequent visitor to casinos in Reno and along the Las Vegas strip. According to the Post he was "known to sit for hours playing slot machines and video poker." He was spotted playing video poker at Mandalay Bay three days before the massacre.
An employee at the Atlantis Casino Resort Spa in Reno — the same place where Paddock met Danley — told the Times that there was "not a lot of smiles and friendliness" in his demeanor. "There was not a lot of body movement except for his hands."
He gambled tens of thousands of dollars and indulged in the perks casinos offer top players — though he was not widely known among the most elite gamblers. A person familiar with his gambling history told the Post he was considered a "midrange gambler."
"This is a man who clearly enjoyed gambling. He is someone who won and lost money through the years. He paid all of his bills and did so on time … never having any sort of incident," the person said. "He has the profile of a responsible gambler."
Neighbors said the couple would leave their homes vacant for months at a time while they stayed at various casinos. Per the Post:
Donald Judy, who was his next-door neighbor in Florida until two years ago, said the inside of Paddock's home "looked like a college freshman lived there." There was no art on the walls and no car in the driveway. Just a dining chair, a bed and two recliners. Paddock was constantly on the move, carrying a suitcase and driving a rental car whenever he stayed at the community near Cocoa Beach.




Judy said he never flashed his wealth, often wearing khaki cotton pants, with a polo or other collared shirt and never driving anything nicer than a standard rental car.




"It looked like he'd be ready to move at a moment's notice," Judy said.
Judy said the only other remarkable thing was that they stayed up late and slept until noon. "They always seemed to stay on Vegas time," she said.
Paddock reportedly gambled more than $10,000 a day several times in recent weeks, and sometimes more than $30,000. It's not clear whether he made or lost money on those bets.
Court records show Paddock sued the Cosmopolitan Hotel and Resorts in Las Vegas in 2012, claiming that he had suffered significant injuries when he slipped and fell in the hotel in 2011. According to NBC News, Paddock originally sued for $100,000, intended to cover an alleged $32,000 in medical bills for a hamstring tear and sprained/strained wrist, and for pain and suffering. The arbitrator decided against Paddock, in favor of the casino, in 2014.
An attorney for the hotel, Marty Kravitz, described Paddock as "unkempt" and "slovenly and careless." He said nothing hinted at the crime he would commit years later, but he wondered "what a guy like this is doing at the Cosmo."
"He's just a guy who lived in a house in Mesquite who drove down and gambled in Las Vegas. He did stuff. He ate burritos," Eric Paddock told CBS News. He said he last heard from his brother after he texted to check in on their 90-year-old mother in Florida after Hurricane Irma.
ISIS took credit for the attack in Las Vegas, and it has since doubled down on that somewhat dubious claim, saying Paddock converted "six months ago."
But FBI officials said there is no evidence that he had any ties to international terror groups. The ISIS claim has been met with heavy skepticism among experts, who say it would not be the first time in recent months the group has taken responsibility for a completely unrelated attack — a strategy extremists have undertaken as they've been squeezed on the battlefield.
Police have described Paddock as a "lone wolf," though they are still actively searching for possible accomplices.
Eric said he had no idea what his brother's motive could be. "No religious affiliation. No political affiliation," he said. "He just hung out." Eric wasn't aware of any history of mental-health issues or substance abuse, and he said he didn't know if Stephen had any gambling debts or financial problems. Paddock had been prescribed the anti-anxiety medication diazepam in June, the Las Vegas Review-Journal reported on Wednesday, though it's unclear why the doctor recommended that drug. Paddock also filled a prescription for the same drug in 2016.
Eric said he knew his brother had five guns he kept in a safe, but he didn't hunt and rarely used them. He said Stephen once took his children on a skeet-shooting trip paid for by the casinos, but he wasn't "an avid gun guy at all."
"Something broke in his head is the only thing possible. Did he have a stroke?" Eric mused. "I'm hoping they cut open his brain and find something. There's a data point missing."
Nevada congressman Ruben Kihuen, who was briefed by federal agents on Monday, said law enforcement still has no indication of what drove Paddock to commit such a horrific crime. "Law enforcement were looking through his computer. They couldn't find a motive. As of a couple of hours ago, there was no motive. That's all we know," he said.
This post has been updated throughout.